The Ultimate NBA All-Star Weekend Travel Guide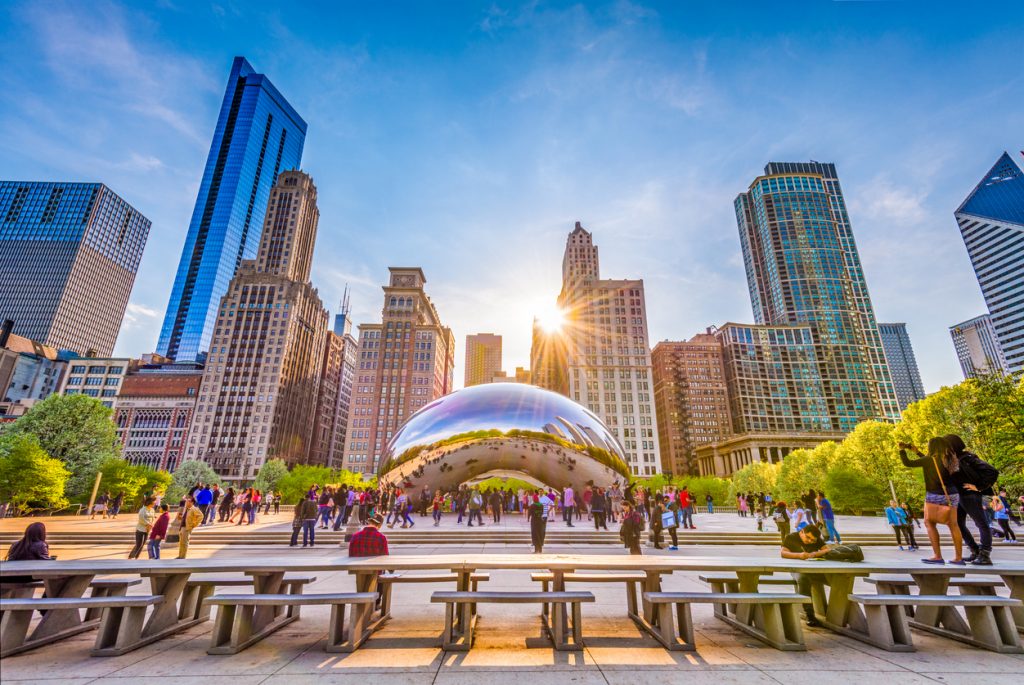 On the weekend of February 14-16, the NBA's best players will converge on Chicago for the 2020 All-Star Game Weekend. The league's annual talent showcase has been held twice before in Chicago — once in 1973 and again in 1988, both times at the Chicago Stadium. This year marks the first time the All-Star Game is being hosted at the current home of the Chicago Bulls, the United Center.
If you're going to the game or any of the pre-game events — or just heading to Chicago to soak up the excitement — here are some all-star suggestions for places to explore while you're there.
United Center's Rep
A basketball matchup as massive as Team LeBron versus Team Giannis deserves a huge platform. Luckily, the United Center is the ideal spot for this showcase of talent: Opened in 1994, the Near West Side venue encompasses almost a million square feet, making it the largest arena in the U.S. In addition to being the home of the Chicago Bulls, the United Center is also home to one of the NHL's most storied franchises, the Blackhawks. In a nod to the Windy City's rich sports history, the arena grounds have statues of Bulls basketball legend Michael Jordan, as well as hockey greats Bobby Hull and Stan Mikita.
When not hosting high-profile sporting events, the United Center is one of the Midwest's premier concert destinations. The 23,500-capacity venue regularly draws A-list classic-rock acts (Elton John), major rock bands (The Black Keys), country superstars (Carrie Underwood), R&B stars (Janet Jackson, Khalid) and pop icons (Demi Lovato). 
The Best Food for Your Chicago Getaway
The United Center itself offers an impressive array of concessions, including Queenie's Supper Club, which boasts a mouthwatering menu driven by steak, seafood, wine and cocktails. However, there is no shortage of delicious food options near the All-Star festivities, meaning you have plenty of places to fuel up before (or after) events.
Head directly east from the United Center and you'll land at the laid-back Billy Goat Tavern. The world-famous eatery stays open late to serve up sandwiches and burgers — and, on weekends, whips up classic diner breakfast until 11 a.m. At any hour, be sure to order their famous signature sammy the "cheezborger" — a cheeseburger on a Kaiser roll with ketchup, mustard, relish, onions, kosher dill pickle chips and (if you prefer) multiple meat patties — for maximum Chicago-style flavor.
Location: 1800 W Fulton St.
North of the United Center is a neighborhood teeming with craft beer emporiums, including the Great Central Brewing Company, Finch Beer Co. and — since 1995 — the Goose Island Beer Company. Relax in their taproom and fuel up with a pint (or two) of the venerable brewer's classic standbys or unique, inventive suds.
Location: 2121 S Prairie Ave., Marriott Marquis Chicago
Spending Valentine's Day evening at the All-Star Celebrity Game at Wintrust Arena? Head a block away from the near South Side venue and you'll find the Showroom Food Hall. Grab a bite to eat at one of the casual food eateries (Winged Warrior Pizza, Argosy Tacos & Things, Hot Licks) and wash it down with some java (Revolution Coffee Counter) or a brew or two from Nomad Beer & Wine.
Location: 1645 W Jackson Blvd.
If you're in search of a place to have drinks and dinner before the Saturday-night dunk and three-point contests, look no further than the Park Tavern. This 10,000-square-foot self-described "urban lodge" is the official bar of the Chicago Blackhawks and is known for its house-smoked meats, hearty pub fare and (awesome bonus!) free shuttles to the United Center. 
Location: 1112 S Wabash Ave., Chicago
On Sunday morning, while NBA stars such as Kawhi Leonard and Joel Embiid are packing in the protein they'll need to bring their A-game, check out a venerable Chicago institution with a huge menu full of deli and breakfast foods galore.
The Best Experiences in Chicago
February temperatures in Chicago might not necessarily be conducive to much extended outdoor time, although hearty Midwesterners tend to bundle up and face the wind.
Location: Water Tower Place, Level 7, 835 North Michigan Ave.
What better way to celebrate the All-Star Game than to immerse yourself in a museum completely dedicated to Chicago's awe-inspiring sports history? (Note: The museum is closed for a private event on Friday February 14 and the Hall of Legends exhibit is closed most of Saturday — but Sunday is fair game and wide open for a visit.)
The Bean
Location: Millennium Park, 201 E Randolph St.
No trip to Chicago is complete without a visit to — and photograph in front of — the Bean. Located in AT&T Plaza, on top of the Park Grill, the silvery sculpture, whose proper name is actually Cloud Gate, distorts reflections in delightful, whimsical ways.
Location: 2771 North Lincoln Ave: February 15, noon–5 p.m.
Talk about an epic pre-game: On Saturday, Lincoln Park rock 'n' roll staple Delilah's is hosting its 22nd annual Vintage Beer Festival. Twenty dollars nets you twenty sample tickets to taste the wares of breweries not just from within the region but from around the world.
Location: 1200 S Lake Shore Dr.
One of the country's best aquariums is located right on Chicago's lakefront. Say hi to some sea otters, penguins, sharks and turtles at the museum — before cheering on reps from the Raptors and Pelicans at the All-Star Game.
You Might Like
There's no doubt that the forthcoming NBA season is going to be an exciting one. For one, it's the Association's 75th anniversary, and it will be celebrating...
The NBA trade deadline and buyout market deals are now in the rear view mirror, and it's safe to say that a handful of teams definitely seized the opportunit...
These players are keeping the thrills coming with killer performances.