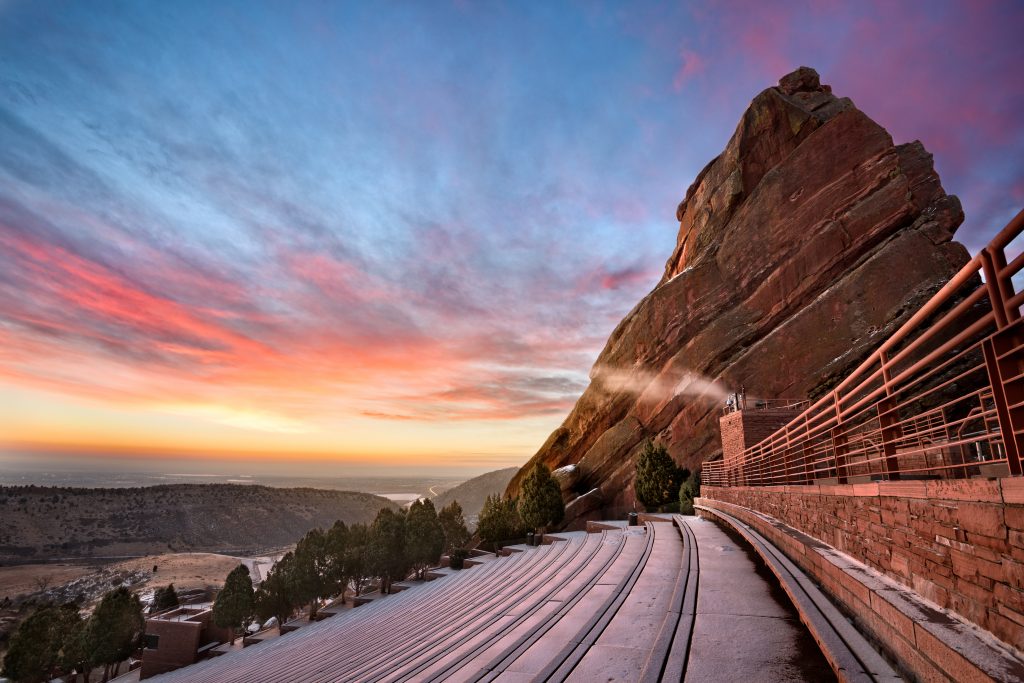 Amphitheaters may be synonymous with ancient Rome, but they have a long history of providing memorable concert experiences here in the United States. Amphitheaters provide a rare opportunity to watch a concert or performance at a spacious outdoor venue, rather than be crammed into some club or theater. There's really nothing quite like sitting underneath the stars and watching your favorite band in their element.
One of the advantages of going to a concert at an amphitheater is that the venue takes advantage of the natural beauty of the surrounding area, creating a unique atmosphere for one-of-a-kind events. Although there have been numerous recent additions to the amphitheater club that provide incredible listening experiences – the Pritzker Pavilion situated smack dab in Chicago's Millennium Park comes to mind – many of the finest examples are also the oldest.
Amphitheaters have a rich history holding outdoor events in the United States, dating all the way back to the turn of the century (that would be the last one, by the way). If you like your music with a tinge of the historic and complemented with naturalistic trappings, you need to check out these amphitheaters:
If there's one thing each one of these venues shares in common, it's their jaw-dropping vistas. Even still, you'd be hard-pressed to find a backdrop as majestic as Washington's The Gorge Amphitheatre.
Unlike the other entries of this list, however, which are all located in or right outside major metropolitan areas, The Gorge requires a bit of a trek. Located between Seattle and Spokane along the banks of the Columbia River, The Gorge offers breathtaking views of the Cascade Range foothills and the Columbia Gorge canyon.
Although The Gorge is pretty renowned as a jam band-friendly venue, with several concerts from The Dead, Phish and Dave Matthews Band this summer alone, it also hosts the more eclectic Sasquatch music festival each year. Sasquatch features a wide variety of music artists, ranging from indie rockers like Spoon and Modest Mouse to hip-hop artists like Tyler, the Creator and Vince Staples. It's a heck of a lineup at a fantastic venue.
The Gorge is more than worth the trip, so go check it out.
One of the newer entries on this list, Shoreline quickly became a must-see venue when it first opened in 1986. Nestled in the heart of Silicon Valley, the amphitheaters offers the perfect environment for watching a concert, which is why it hosts a wide variety of acts each year.
It's a major destination for any major band touring the West Coast. This summer alone, Shoreline has shows lined up for today's top pop and hip-hop artists like Kesha and 21 Savage as well as classic rock royalty like Lynyrd Skynyrd and Steely Dan.
Of course, what a Bay Area venue be without a Grateful Dead concert? Jerry Garcia may be gone, but Bob Weir, Mickey Hart and Bill Kreutzmann have reformed the Dead into a musical supergroup, including blues guitar virtuoso and pop star John Mayer.
The Hollywood Bowl isn't just one of the premier concert venues in Southern California, it may just be the best in the entire country.
Situated in the world-famous Hollywood Hills, this amphitheater has been a must-see destination for music lovers anywhere since it first opened in 1922. Initially, the venue was 100-percent open air, lacking any kind of covering over the stage. In 1926, the Hollywood Bowl's iconic bandshell was erected and continued several decades before it was replaced in 2004.
Like many other venues on this list, the Hollywood Bowl plays host to many classical, jazz and opera concerts, but there are plenty of acts to choose from if your tastes are more rock-oriented. If the idea of watching a concert with the iconic Hollywood sign looming in the background sounds appealing, you have to catch a show at the Hollywood Bowl.
Chicago's nearby North Shore area isn't just known for John Hughes movies – it's also home to one of the oldest amphitheaters in America.
Opened in 1905, Ravinia Park has delighted music fans for over a century, offering picturesque grounds surrounded by woodland. Concertgoers can gather around the stage or lay out a blanket on the sprawling lawn, pop the cork on a bottle of wine and lay back and relax.
True to its historic nature, Ravinia's music programs definitely veer toward the tastes of older audiences. Classical, jazz and folk music are routinely played at the venue. But you can still find your fair share of contemporary artists like Seal, Evanescence and Bryan Adams on the 2018 Ravinia Festival calendar.
If you have a concert venue bucket list, Red Rocks needs to be sitting right at the very top. Red Rocks Amphitheater offers a musical experience you just can't find anywhere else in the world. Situated just outside Denver, the naturally-occurring venue first opened all the way back in 1906.
The distinctive geographical surroundings provide more than just an awe-inspiring backdrop to events – the Red Rocks actually contribute to the venue's acoustic properties.
A who's who of rock 'n' roll artists have made the pilgrimage to Red Rocks over the years: Jimi Hendrix, Bruce Springsteen and U2, among others. For our money, the most "you had to be there" concert has to go to The Beatles 1964 set during the height of Beatlemania.
Red Rocks hosts an eclectic mix of artists, so check out their 2018 calendar and find the show for you.
The best amphitheaters are more than just outdoor venues – they offer incredible concert experiences that blend great music, natural ambiance and sweeping vistas into a unique package.
The summer is the perfect time to head outside for a night of music and entertainment underneath the stars. If your favorite band, singer or artist is playing one of these venues this year, do not let that opportunity pass you by.
Plan your #SummerofLIVE concert schedule today!