Fan Guide for Taking Babies & Little Ones to Their First MLB Game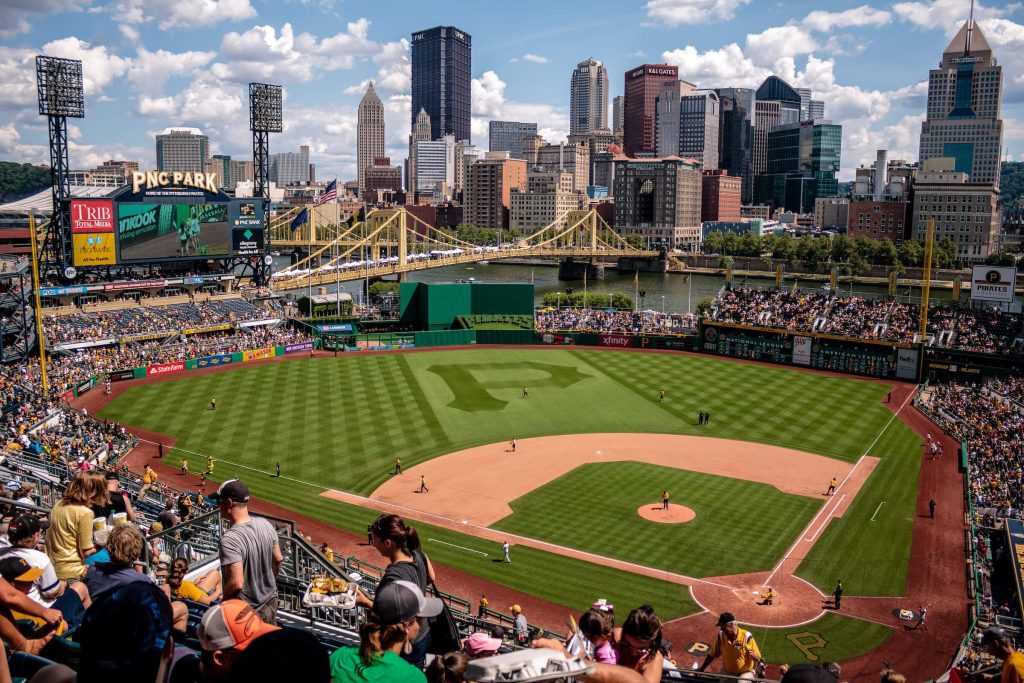 What to Pack | Getting to the Stadium | Entering & Admission | During the Game | Getting Home
Going to baseball games in person is so much more fun than watching them on TV. The seventh-inning stretch, the jumbotron close-ups, the peanuts and even the crackerjacks add so much to the experience — and that goes for kids as well as adults! Although taking your little one to an MLB game might seem daunting, with a little pre-planning and a few game-time strategies, it can be an awesome experience for the whole family.
What to Pack
You won't have much of a ball if the little one is cranky, so here are a few things you can bring to the game to keep everyone comfortable and ensure a smooth experience. It's good to remember that while it's tempting to throw everything into a giant bag, ballparks have individual bag policies, so be sure to check the website of your local stadium before you go.
Bring snacks. Many stadiums allow outside food to be brought in for babies and toddlers, so pack some snacks in line with your kids' dietary needs to keep them happy and satiated. That said, older kids will probably enjoy taking part in the age-old tradition of eating hot dogs and ice cream; check your stadium's website ahead of time to see all of the on-site food options.
Bring layers, blankets and sunscreen. Temperatures at ball games can vary wildly, even during the span of a single game. Be sure to come prepared and pack jackets, hats, sunblock, gloves and blankets, depending on the weather forecast.
Bring a few of their favorite toys. While adults might be fascinated by the game, little ones might not be quite as interested in the action on the field. Pack some of their favorite toys, games and coloring books to keep them occupied.
Bring baby carriers. Some stadiums don't allow strollers (not to mention that it's hardly easy to carry them up and down stadium stairs), so bringing a baby carrier is a great way to make it easier on everyone and avoid having to return to the car to drop off a stroller if it's not allowed inside. Make sure to check the rules of your local stadium.
Bring ear protection. Because of the sensitive ears of little ones, it's a good idea to bring noise-canceling headphones or earplugs to avoid damaging their ears and prevent overstimulation.
Bring a baseball glove. If your kid is old enough, bring along a baseball glove and encourage them to be ready to catch any fly balls that come toward them. It's a great way to keep them engaged — and who knows? They might actually catch one!
Getting to the Stadium
Depending on the weather, taking public transportation to the ball field (if you have it handy in your area) can be a great way to add to the experience and avoid stadium traffic. That said, be sure to check the weather first because rain and extreme cold or heat can be tough on the whole family, in which case driving is always an option.
If you decide to drive to the baseball stadium, do some research into the parking situation ahead of time. Some stadiums have their own parking lots and structures, while others have parking on the streets nearby. Consult a map to get the lay of the land and figure out how far you might have to walk with your little one. It's also a good idea to bring cash for any parking fees in case they don't take credit cards.
Entering & Admission
MLB Child Ticket Policy
There's no minimum age for attending MLB games; babies and kids of all ages are welcome. While you will need to buy a ticket for older kids to attend MLB games, most ballparks allow children under three or four years of age to attend for free if they sit in their guardian's lap. However, policy varies by stadium and there are some exceptions, so be sure to consult the website of your local stadium for its specific ticket policy.
During the Game
There's nothing quite like the electric atmosphere at a baseball game, and there's usually no shortage of opportunities for your little one to take part in game-related activities. Whether it's wearing the gear of your favorite team, doing the wave and the seventh-inning stretch, or dancing and cheering for the jumbotron, your kid is bound to have a great time.
It's also fun to explain the rules of the game to your little ones — try giving them play-by-play rundowns, explaining fly and foul balls and home runs, and identifying each player who's up at bat.
Getting Home
Although it's tempting to rush home as soon as the game has ended, it's a good idea to wait and let the crowds filter out to make it easier to exit the stadium and avoid the stress. On the way home, it can be fun to relive the game and ask older kids what they enjoyed most. Once they recount their favorite moments, they'll probably start looking forward to the next game!