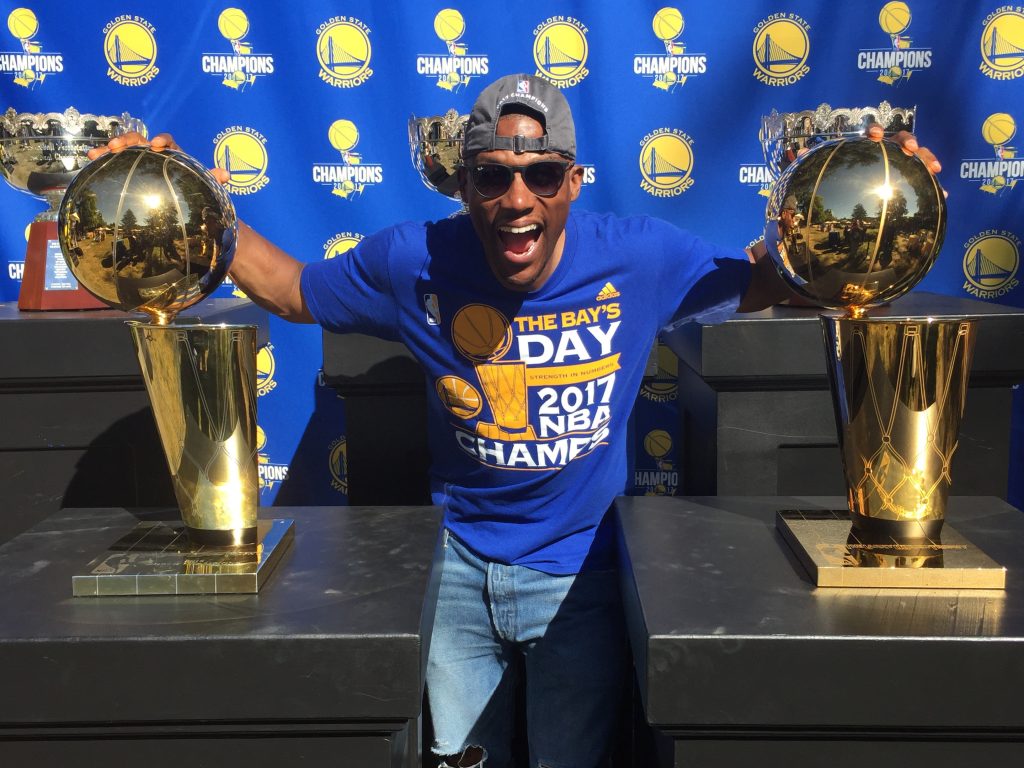 Oakland born and bred, Derrick "DJ D-Sharp" Robinson has been the Golden State Warriors' in-house DJ for all three of their recent title runs. D-Sharp came up in the San Francisco club circuit, before catching on as a touring DJ for Bay Area hip-hop acts like Blackalicious and Lyrics Born, both of the Quannum Projects collective.
D-Sharp has also gone on tour with some of the biggest names in hip-hop and played for President Barack Obama not once, but twice. When we caught up with him, he told us about his come-up, and how persistence and desire led to him catching the big wave he's still riding on with the NBA Champion Warriors.
SEE THE GOLDEN STATE WARRIORS LIVE IN THE NBA FINALS
Ticketmaster: How'd you get started in music as a DJ?
DJ D-Sharp: I went to high school at Skyline [in Oakland] with Souls of Mischief and the whole Hieroglyphics Crew. I was actually Souls of Mischief's first DJ. I didn't tour with them, though, because my Mom wouldn't let me go 'cause I was so young.
I think that Maritime Hall in San Francisco was where a lot of folks [first] got to see me and my skills. It was the springboard for a lot of things that happened for me. I met a couple of guys in the SF club industry who had this party called Sophie's, and I ended up working with them a lot and became a resident DJ for them. These were the go-to parties in SF in 2002, 2003 at different clubs and different venues, so then I got in good with different venues and owners.
When did you start being the Warriors DJ?
So that was actually through the Quannum thing too, because the DJ that they had, [the late] DJ Solomon — God bless the dead — came to a Blackalicious show on our first tour. Our SF stop was at Justice League and Solomon was in the crowd, and he came up to me after and was like, "Yo man, I like your cuts. I DJ for the Warriors, would you be down to do a 2×4 set at the arena?" And I was like "Sure!" We developed a relationship from there, and whenever he couldn't do a gig, he'd send out this email to a bunch of DJs and I [would often] respond. Then the Warriors front office [eventually] told Solomon, "If you can't do it, we want D-Sharp." So I became like the second guy.
But then, tragedy struck and Solomon was killed in Thailand while on tour. And then the team offered it to me in 2011 or 2012.  
Now, you were on tour yourself with some pretty big acts also, right? Did I hear about Lauryn Hill?
So the way it goes, if you really break it down, it was 75 Degrees, then Blackalicious, then Latyrx, then the Quannum Tour. After the Quannum Tour I was Lyrics Born's DJ for three years. And then it was this group called Flipsyde, signed to Interscope, and our first tour was with Snoop Dogg and The Game. It was The Game's first tour overseas. Then after Flipsyde, it was Lauryn Hill and then Kelly Rowland and then Dub Nation… the Warriors!
What's some of the music you listened to growing up that made you want to be a DJ?
I was just a hip-hop head, man. I listened to the whole Yo! MTV Raps era. You know what's funny? When I was coming up, people would ask me if I was from the East Coast. It was all I would get, because I was enamored with East coast hip-hop: Eric B. & Rakim, Marley Marl, Kool G Rap, The Juice Crew, Pete Rock & CL Smooth, X Clan, Black Sheep, The Native Tongues… we can go on.
Let's talk about the arena. What's your goal when you're in there? What's your philosophy spinning at the game?
When I get there, first and foremost I'm trying to have fun. I'm not trying to stress out or overcomplicate things. I just wanna go in there and have a good set and a good time. Second [goal] is pleasing the fans and making sure that the game experience that I'm hired for is something that they'll cherish and remember. So in that, you gotta play fun, familiar songs, stuff that brings back memories for folks, stuff that makes me people go, "I love this song!" or "This song makes me hyped!"
How important is it for the music to be diverse? Especially in Oakland with a really diverse crowd.
Extremely important! And the thing that's dope about that, is that I've done corporate events over the years — between Flipsyde and Lauryn Hill — and I think that's helped me get where I am today. 'Cause it's the same thing out there in corporate land — you gotta be really diverse, play a lot of music, 'cause there's so many different tastes. So I think that helped me in getting prepared for the Warriors. Just knowing how to play to different crowds, genres, different backgrounds and nationalities.
I heard you played for President Obama once.
Yes, I played for President Obama, and I brought him out to Young Jeezy's "My President Is Black"! That was one of the best moments of my DJ career. 'Cause I think when I did it, I don't think people understood it, or it wasn't even like anybody said "Oh my God! You shouldn't be playing this record right now!" It was just a moment for me where I was like, "My president IS black," and that song was hot at the time. And it just worked.
What were the circumstances that he was there and you were there?
So I've DJ'd for Obama twice. The first time was with Goapele, who I still DJ for from time to time. She did a set when he was starting his re-election campaign, and he had a fundraiser campaign stop at the Masonic in San Francisco and we performed for him there. Second time was at Bill Graham Civic Auditorium.
So you talk about greatest moments and you've been spinning for the Warriors across three title runs. What's the most iconic moment you've experienced at a Warriors game?
There are so many! Klay Thompson's 37-point third quarter was epic… Being on the floor when we won the championship on the road in 2015 and I was DJing the watch party at Oracle. Most recently, playing Nipsey Hussle right after learning that he had died. We all learned at the same time on the court right before the game. And when I got a hit during the game, I played "Last Time That I Checc'd," and the players' reaction to it went viral.
What songs pump up the crowd more than anything else?
"Jump Around" by House of Pain, "Party Up" by DMX, and "Blow The Whistle"! [by Too $hort]  I think when the opposing team hears "Blow The Whistle," it strikes fear.
What's everyone's favorite warm-up music right now?
I play a lot of the new stuff during warm-ups, like ScHoolboy Q, Gunna, Lil Baby, 2 Chainz. I know Steph [Curry] likes Bizzle — he's a Christian rapper. And LeCrae. He loves those guys. So I put a lot of that in for him. Bizzle did a really dope Warriors song that I play and Steph is in the video. I always play what's new, though.
Why are you the right person to be the arena DJ for these three-time NBA champions?
I'll tell you something man: It's pretty insane. Because when I became the DJ, it's when we made the playoffs for the first time in six years. So from the moment that I've been the official DJ, it's just been all smash, all gas — nobody thought we'd win a championship. I'm still in awe of it. I mean, we're up for another one right now, as we're talking. And I think we're gonna do it. Like we're gonna have another and it'll be four!
I ask God every day, "Why me?" because of the situation — how we started winning and have had winning seasons ever since. I'm not saying that had anything to do with me though; I think Mark Jackson was the nucleus. He whipped these guys into shape, and then when Steve Kerr came in, he took it to another level.
When I was six years old I loved music. I was always tall growing up and people asked me why I wasn't playing basketball. But I was on the turntables, practicing what I love, trying be DJ Jazzy Jeff. [Laughs] While KD, Steph, Lebron were in the gym putting up shots, I was in my room scratching. And being from Oakland, knowing our culture and Oracle being a 20-minute walk from where I grew up. You can't write this… I used to walk to A's games from my elementary school. It's a blessing.
—Adrian Spinelli
Tags
You Might Like
There's no doubt that the forthcoming NBA season is going to be an exciting one. For one, it's the Association's 75th anniversary, and it will be celebrating...
The NBA trade deadline and buyout market deals are now in the rear view mirror, and it's safe to say that a handful of teams definitely seized the opportunit...
These players are keeping the thrills coming with killer performances.