How to Take Concert & Live Event Photos with Your Smartphone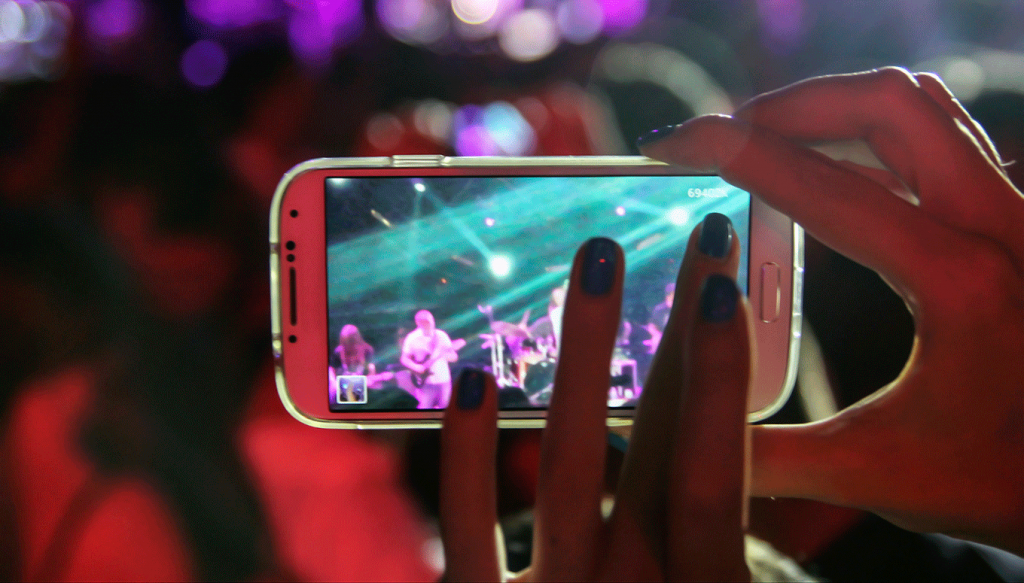 Looking to kick up the quality of your smartphone pics at live events? Content Producer at Live Nation, Colleen Callahan, has a knack for capturing beautiful, candid artist and band photos during live performances. And while she loves taking shots with her DSLR camera, some of her favorite photos are the ones snagged using nothing more than her handy, dandy iPhone.
We caught up with Colleen and asked her to share her secret tricks for taking epic smartphone pics at live events.
1. Get there early—especially if the show is General Admission (GA)—to secure the best position. Want a top shot of your favorite frontman? Double-check YouTube and other fan photos before the show to see where the band is typically positioned on stage. This will show you where to go to find all the best angles.
2. Watch and anticipate. Get familiar with the music so you're more likely to know when certain lyrics and chords will correlate with dance moves and special effects. While this isn't an exact science (no, there isn't a test!), your basic observations will allow you to better predict the optimal moment for snapping a pic.
3. Avoid harsh blues, reds and greens near or in your frame, especially in the background, lighting or special effects. These colors will result in high contrast that you can't fix with a filter. Mixed colors or normal lighting is your comfort zone and usually results in the best look.
4. Take photos during lulls. Smartphones don't have a high shutter speed like professional cameras and there's usually a lot of action going on during the live event. As a rule of thumb, it's best to take photos when there's less movement by the people or elements in view. Equally important: Don't look down or through a screen during your favorite song or act. Instead, look up and soak it all in and wait for a lesser popular song or a break in the action to go back to snapping those pics.
5. Rule of thirds. Speaking of rules, this trick is true for any camera and mainly comes in handy when you're framing up your shot. Imagine two vertical and two horizontal lines spaced equally apart that split your screen into nine sections. This visual will give you a 3×3 grid, better known as the rule of thirds. If you're taking a pic of the lead singer or actor, try to position them at one of the four points the lines create within the frame. Allow there to be more empty space wherever the singer is looking or facing, which will give viewers additional context.
6. Stop trying so hard with zoom. We've all been there. In the back row, on our tippy toes, smartphone high over our head, fingers awkwardly pinching the screen to zoom in to objects that seem miles away. Okay, admit it, it comes out blurry and pixelated every time. Even if you're towards the back or literally in the back row, make the best of your view with a wide shot that takes in the details of the entire scene from your unique perspective.
7. Filters have feelings too. You should consider using filters when they add creative elements to your pic that help pull in the emotion, vibe or feeling you're going after. But try not to overuse filters because they can start to feel worn out.
8. Use an app that's right for you. Try apps like Afterlight ($) to gain more control over image editing and formatting with advanced filters and settings. Read online reviews and possibly even try out a few apps to find the right one for you.
9. And don't forget to enjoy the show. We don't think we need to remind you, but don't let snapping a pic get in the way of enjoying your favorite song or act. You're there for the once-in-a-lifetime moments that make up the experience–and being there is the most important memento.
We hope you find these smartphone pic tips useful, and that your photos turn out extra fresh while staying true to the live moment. For more inspiration, check out some of Colleen's photos of Daughtry, Nico Vega and Switchfoot on tour.
Tags