You'll Never Guess How These 13 Festivals Got Their Names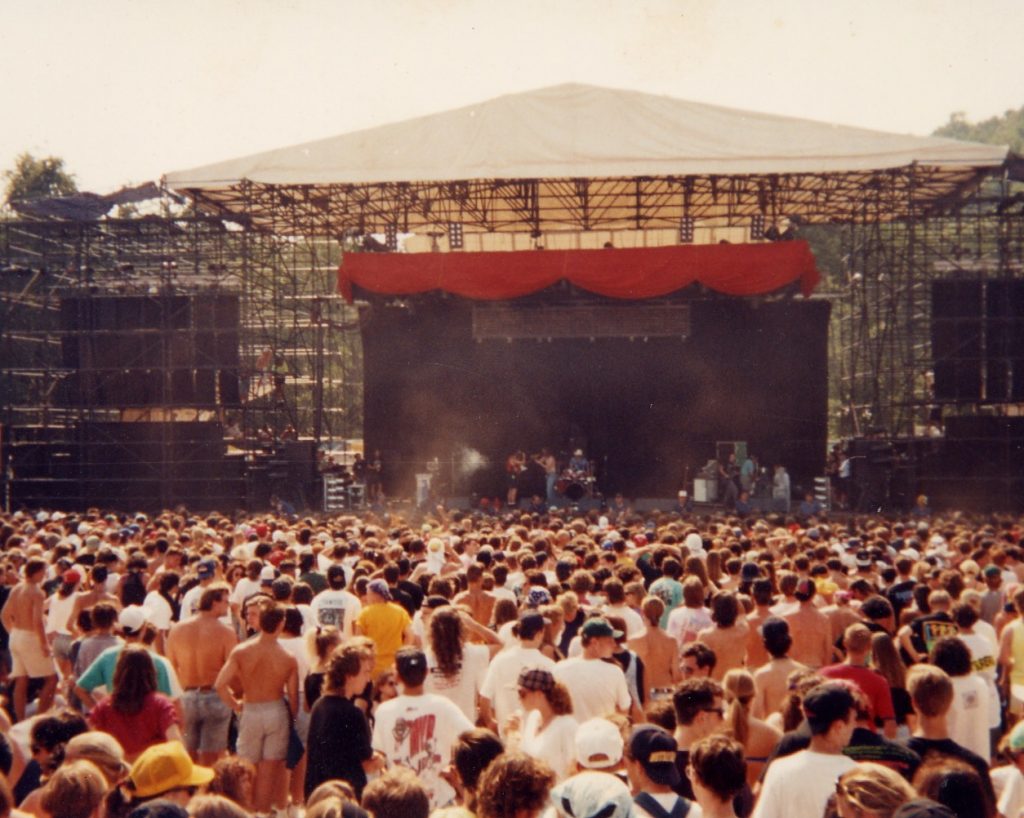 You can probably figure out where classic festivals like Woodstock and Monterey Pop got their names. But what about Bonnaroo, Lollapalooza and Bumbershoot? They might seem silly or nonsensical, but these names are full of meaning and reveal close ties to the communities where the fests sprang up. Read on to learn the stories behind 13 of today's most creatively named music festivals.
1. Essence Music Festival
Dates: Jun 30 – Jul 3, 2016
Name Origin: The Essence Music Festival was named in honor of the magazine that puts on the fest. "The Party with a Purpose" officially kicked off in 1994 to celebrate the 25th anniversary of Essence magazine. For over 20 years, it has brought the best urban soul and contemporary R&B to New Orleans fans.
2. Forecastle
Dates: July 15 – 17, 2016
Name Origin: Forecastle gathers a healthy blend of native Louisvillians and nearby Nashvillians like Jack White and The Black Keys. The festival takes its name from a nautical term – it's the region of a ship where the crew would gather to relax after a rough day at sea. Godspeed, sonic sailors.
3. Sloss
Dates: Jul 16 – 17, 2016
Name Origin: This festival is named after Sloss Furnaces National Historic Landmark, which produced iron for nearly 90 years and has a huge presence in the city of Birmingham, AL. No, the fest isn't focused on heavy metal, but it is bringing another solid lineup for its second year with highlights including Ryan Adams, Death Cab for Cutie, and Flaming Lips.
4. Lollapalooza
Dates: July 28 – July 31, 2016
Name Origin: Once you know what a "lollapalooza" is ("an extraordinary or unusual thing, person, or event"), this festival sounds less like a made up word and more like the most appropriately named event ever. Since it kicked off in 1991 as a farewell tour for Jane's Addiction, each year has brought something new, something remarkable, and something undeniably fun.
5. Watershed
Dates: July 29 – 31, 2016 & Aug 5 – 7, 2016
Name Origin: This riverside country fest at the Gorge Amphitheatre in George, Washington takes its name from the majestic Columbia River watershed. What's more, fans who come to check out megastars like Eric Church, Keith Urban, and Kasey Musgraves can officially call themselves "Shedders".
6. OVO
Dates: Aug 1 – 3, 2016
Name Origin: This festival's initials stand for "October's Very Own". No surprise then that Drake – a Scorpio – used "OVO" for the title of his record label and, since 2010, the festival he masterminded to showcase his friends and collaborators. Started from the bottom, now we're here.
7. Outside Lands
Dates: Aug 5 – 7, 2016
Name Origin: Outside Lands has attracted huge headliners in the past seven years, including Radiohead, Vampire Weekend, and Muse. Held annually at Golden Gate Park, the festival takes its name from the fact that San Francisco's Richmond and Sunset Districts were called the Outside Lands up until the 19th century.
8. Bumbershoot
Dates: Sep 2 – 4, 2016
Name Origin: Though the festival started in 1971, it wasn't until two years later that it adopted the name "Bumbershoot"—a Seattle-born word mashup of "umbrella" and "parachute". It's Seattle's longest-running fest and helped set the table for other popular events in the region.
9. Voodoo Music + Arts Experience
Dates: Oct 28 – 30, 2016
Name Origin: This name is obviously a shout out to the long history of mystical arts in New Orleans. Adding to the supernaturally fun vibe, the three-day festival takes place in late October, and typically coincides with Halloween weekend. Tickets are limited and the headliners are always epic (last year's included Ozzy Osbourne, Florence + the Machine, and The Zac Brown Band).
10. Vans Warped Tour
Dates: Multiple Dates/Locations
Name Origin: Similar to the Essence Fest above, The Warped Tour was also established through a magazine project. The Warped Tour was created in 1995 by Kevin Lyman, in conjunction with the short-lived Warp Magazine. The festival still espouses the counterculture lifestyle and is a breeding ground for young punk and hardcore bands.
11. Bonnaroo
Dates: Jun 9 – Jun 12, 2016
Name Origin: The term "Bonnaroo", meaning "a really good time", has deep ties to Louisiana and Creole culture. With headliners Pearl Jam, Dead + Company, LCD Soundsystem, and J. Cole, it looks like the 15th installment of the festival has lived up to its name.
12. Levitation
Dates: Apr 29 – May 1, 2016
Name Origin: Formerly known as Austin Psych Fest, this annual three-day celebration in the spring attracts trippy acts from around the world for some genre-busting, mind-blowing sonic exploration. The Reverberation Appreciation Society (who began the festival in 2008) renamed the fest "Levitation" after a song by The 13th Floor Elevators, one of Texas' pioneering garage rock and psychedelic acts.
13. Sasquatch!
Dates: May 27 – 30, 2016
Name Origin: This springtime fest is located in a remote, hard-to-spot area of the Pacific Northwest, and that's all the explanation you need for Sasquatch!'s name. This outdoor camping, music, and arts exhibition has grown larger and larger every year since its 2002 debut, just like the legend of Bigfoot.

Tags
You Might Like
As we prepare for Lollapalooza's virtual 2020 installment, let's look back at the moments that made the festival iconic.
Headed to Voodoo? Here's everything you'll need.
The first weekend of Austin City Limits Music Festival was picture perfect.