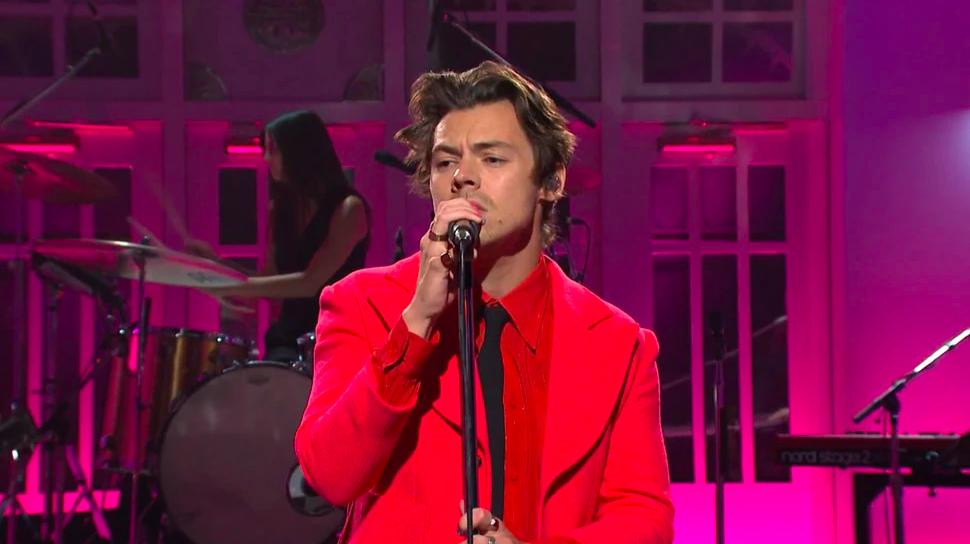 On Saturday night, Harry Styles fans  — who are, no doubt, counting the days until the December 13 release of his second solo album, Fine Line — got a treat to hold them over when he appeared live from New York as host and musical guest for Saturday Night Live. The former One Direction member and current solo sensation nailed his appearance as he performed songs from Fine Line and proved his stellar comedic timing in sketches alongside cast members like Aidy Bryant and Mikey Day. 
Styles kicked off the show with a witty monologue that was mostly behind a piano because, as he dryly noted, "Nothing says 'serious musician' like talking while playing the piano" (and he took his self-effacing humor a step further at one point by taking a sip from a cocktail glass … while the music continued uninterrupted). He teased a One Direction run-in a couple of times and noted his brotherly feelings for his former band.
The debut of  "Watermelon Sugar," which Styles performed while clad in a bright red suit, was one of the night's undisputable highlights. A shimmying soul-pop jam that allows Styles' pleasing rasp to shine, it's a clear descendant of the Harry Styles track "Kiwi" and another sign of the soulful flavor Fine Line is expected to deliver.  
"Lights Up," the first single from Fine Line, got a stripped-down, jazz-influenced treatment where Styles traded off the spotlight with a trumpet player.  
Styles rolled his musical and comedic chops into one fabulous package in "Joan Song," a pretaped skit where Bryant sang about finding romantic solace in her dog. Midway through the tune, the sweater-clad pup transforms into Styles, who gives voice to the dog's gratitude over soaring guitars — and then confesses to eating some of his owner's clothes. 
In another bit, Styles and Day portrayed pilots who forgot to turn off the "talk to cabin" controls on their headsets before engaging in some not-for-passengers'-ears discussions — think raunchy banter about Scooby-Doo and worries about the age of the plane they're flying. 
Styles also tried on a somehow humbling American accent when he played a Sara Lee social-media manager whose inappropriate Instagram captions and comments got him called into his supervisors' office. 
This was Styles' fifth appearance on the show. He was on as part of One Direction three times, and performed songs from his solo debut in 2017, and the timing couldn't be better as far as turning up the excitement for Fine Line and cementing him as a pop-culture force at the top of his game.