Guns N' Roses Extend 'Not In This Lifetime' Tour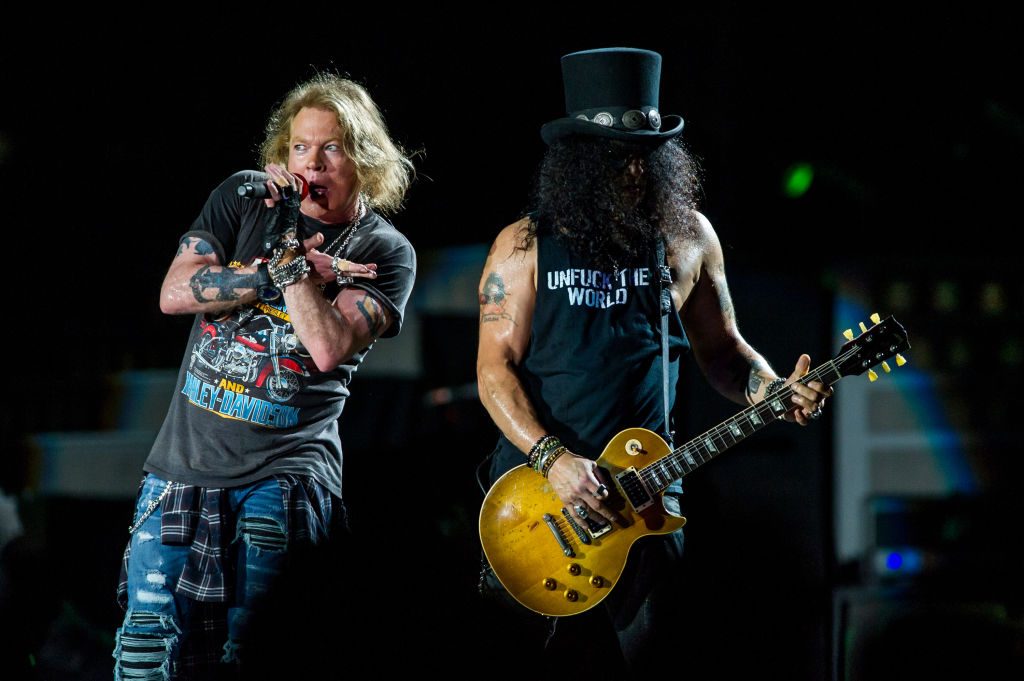 Guns N' Roses have recently added another North American leg of their massive 'Not In This Lifetime' reunion tour. The band has announced 15 additional dates to the tour, including major cities like Philadelphia, Los Angeles, New York, Boston, Toronto, Chicago, Las Vegas, Houston and more. The rockers have also added a date to their current summer run of the 'Not In This Lifetime' tour on August 5th at War Memorial Stadium in Little Rock, Arkansas.
Guns N' Roses most recent date of the tour at Estadio Vicente Calderón in Madrid, Spain started off with 'It's So Easy', 'Mr. Brownstone', and 'Chinese Democracy'. They incorporated multiple covers into their 23-song-set including The Misfit's 'Attitude', Soundgarden's 'Black Hole Sun', Nina Rota's 'Speak Softly Love', Pink Floyd's 'Wish You Were Here', Bob Dylan's 'Knocking on Heaven's Door', and The Who's 'The Seeker'. The iconic band's four-song encore began with 'Don't Cry', featuring The Allman Brothers Band' "Melissa" intro, in honor of Gregg Allman's recent passing. The night concluded with another homage to the late Chris Cornell by playing 'You Know My Name' after the final encore track 'Paradise City'.
After almost 10 years since the band released their last record, 'Chinese Democracy', the rock legends are currently assembling ideas for a new fifth studio album. Guitarist Richard Fortus recently confessed, '"We've been recording a lot of stuff, just ideas, assembling ideas, but not going into a studio and actually tracking a new record. It's sort of too good not to happen at this point, that's how I feel about it."
The 'Not In This Lifetime' tour kicked off in April 2016 and has since run through North America, South America, Asia, Oceania and Europe. With no sign of slowing down on the road, Guns N' Roses are in the middle of their international run which wraps up July 15th in Israel. The band's opening acts range from ZZ Top, Deftones, Sturgill Simpson, Royal Blood, Live and Our Lady Peace on select summer dates.
For a list of remaining dates and ticket info, visit Ticketmaster.
setlist.fm is a free wiki service to collect and share setlists — the list of the songs a band or artist actually played during a concert. Anyone who likes to share their knowledge about setlists is welcome to create an account to add and edit setlists—contribute to our ever-growing collection of nearly 3 million! Follow @setlistfm on Twitter. setlist.fm is a division of Live Nation Entertainment.
Tags