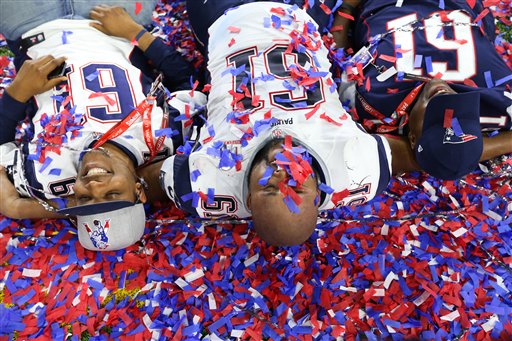 The Super Bowl is meant to be a battle between the two best teams in football. They are often thrilling, memorable affairs that capture the attention of a nation. With so many worthy candidates, it is difficult to choose, but here stands the eight best Super Bowl games of all time.
Super Bowl XLIX (2015): 
This game was just flat out exciting. Russell Wilson and the "Legion of Boom" were trying to win back-to-back Super Bowls against one of the greatest franchises in sports with legendary QB Tom Brady under center. This back and forth contest ultimately ended at the goal line when the Seahawks opted to pass instead of hand the ball to All-Pro running back Marshawn Lynch. Wilson's dart was picked off by Malcom Butler in the end zone to seal Brady and head coach Bill Belichick's fifth Super Bowl win together.
Super Bowl XLII (2008):
After finishing the regular season undefeated, the Patriots were attempting to become the first team since Don Shula's Miami Dolphins in 1972 to win it all with a perfect record. They were heavy favorites against an over-manned Giants squad, but Eli Manning and David Tyree came up with one of the most clutch plays in Super Bowl history. Avoiding an almost sure sack on 3rd and 5, Manning heaved up a prayer that Tyree pinned against his helmet and somehow held on. Thus, the "helmet catch" was born, and the Giants would go on to score and win the game a few plays later.
Super Bowl LI (2017):
The first half featured a Falcons beatdown of the Patriots. Some people wrote off Brady as past his prime and saw this as a sign of a fading Pats dynasty. So much for that theory. Coach Belichick must have given one heck of a halftime speech because the Pats came out on fire in the second half. Down 28-3, they stormed back to force the first ever Super Bowl overtime, and eventually won it all on a pitch to running back James White. It's the biggest comeback in Super Bowl history and gave Brady his fifth ring.
Super Bowl XLVII (2013):
Dubbed the "Harbaugh Bowl," this game featured two brothers coaching against one another, a lengthy power outage, and a riveting comeback by the 49ers which fell short in the 4th quarter when QB Colin Kaepernick couldn't connect with wideout Michael Crabtree on 4th down. The Ravens held on to win and veteran defensive players Ray Lewis and Ed Reed were able to end their storied careers on high notes.
Super Bowl XXXVI (2002):
This is the win that started it all for the Pats. The Rams and their "Greatest Show on Turf" were predicted to beat a relatively unproven New England squad. Belichick, however, devised a crafty defensive scheme which stifled the Ram's high-powered offense, kicker Adam Vinatieri kicked a clutch field goal to dash St. Louis' hopes and thus began the dynasty.
Super Bowl XLIII (2009):
This game had two of the most epic plays in Super Bowl history. The Steelers got a huge boost from James Harrison's wild length of the field interception return before halftime, which was only topped by an unbelievable touchdown catch for the ages. With 37 seconds left, Ben Roethlisberger zipped a pass into the corner of the end zone where a fully extended Santonio Holmes pulled it down to secure the huge win.
Kurt Warner went from grocery store bagger to NFL Super Bowl MVP culminating in a dominant 400-yard performance and a Super Bowl victory with the "Greatest Show on Turf". The game was back and forth and is best remembered for Kevin Dyson's outstretched arm, coming up just a yard short of the end zone denying the Titans their first Super Bowl win.
Super Bowl XXV (1991):
This Super Bowl would be the first of four straight appearances where the Bills would lose. They were a 49-yard Scott Norwood field goal away from winning and potentially setting a course for Buffalo football history.
There's still time to catch more NFL action this season! Purchase tickets here or in the widget below from Ticketmaster – the Official Marketplace of the NFL.
Learn more about the upcoming Super Bowl LIII and check out our Atlanta Travel Guide for things to do, eat, and see surrounding the big game.
You Might Like
Headed to Miami for Super Bowl LIV? We've got your itinerary right here.
Prep like a pro before the NFL's first kickoff of 2019.
The New England Patriots open their 2019 NFL season at home on Sunday Night Football vs. the Pittsburgh Steelers (Sept. 8) in Week 1. Their key AFC East divi...