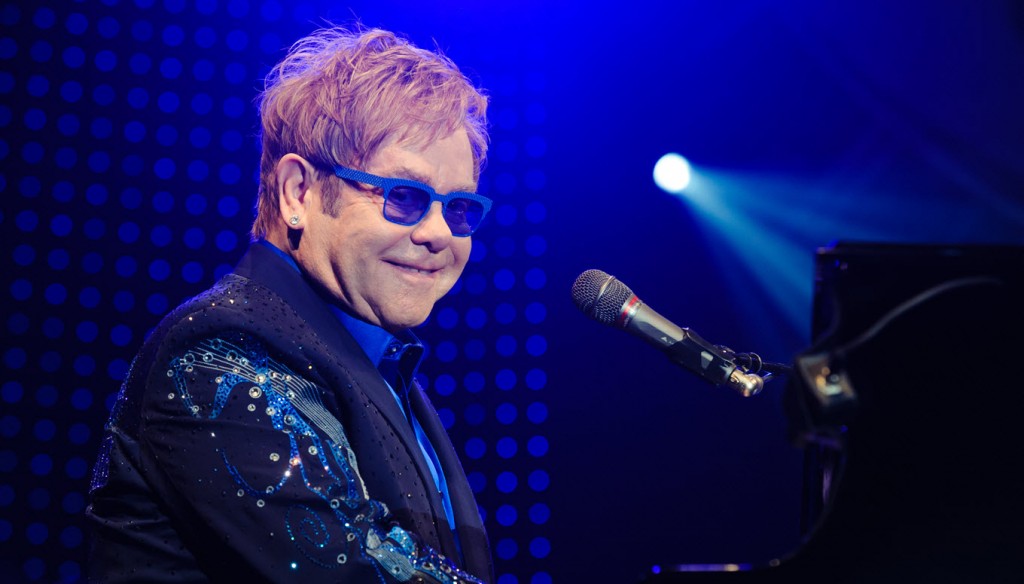 The name Reginald Kenneth Dwight doesn't mean much to the average person. His alter ego, Elton John, on the other hand, is a titan of the music industry, with decades of chart-topping hits and classic albums under his belt.
A triple-threat singer, pianist and composer, Sir Elton Hercules John is a glam rock icon and one of the biggest stars of the 1970s. Together with lyricist and songwriting partner Bernie Taupin, Elton John is responsible for some of the most indelible songs of that era: "Crocodile Rock," "Tiny Dancer," "Bennie and the Jets," "Saturday Night's Alright for Fighting" – the hits just keep coming.
All good things must come to an end, however, and that includes the Rocket Man's career. After more than 50 years touring and creating powerful music, Elton John is finally hanging up his boots and calling it quits.
As the man himself put it: "It's time to come off the road so I can fully embrace the next important chapter of my life."
Don't despair just yet, though. Sir Elton is hitting the road for one final hurrah. The "Farewell Yellow Brick Road" tour kicks off on Sept. 8, 2018, in the United States, before moving on to other parts world. All told, the tour will span five continents across the globe before concluding in 2021.
To guarantee you get a seat to Elton John's final tour at venues such as Madison Square Garden or Barclays Center, be sure to register for Ticketmaster's Verified Fan presale. In the meantime, let's take a look back at his incredible career and the amazing music he's created over the last five decades.
Elton John: The Early Years
Sir Elton's lifelong fascination with music began early – at the tender age of four, young Reginald began to teach himself to play the piano. He soon distinguished himself as a young musical force to be reckoned with. When he was 11, he won a scholarship to study at the prestigious Royal Academy of Music in London.
Reginald would eventually drop out of school to pursue his dream of performing the kind of rock 'n' roll music he grew up with. Immediately, he formed the group Bluesology with some friends. The most notable development to come out of this period was the inspiration for his world-renowned moniker. Taking bits from bandmates Elton Dean and Long John Baldry's names, he landed on the stage persona "Elton John" – and a legend was born.
After responding to a music trade weekly advertisement, Elton got his first gig with a record company and was soon paired up with lyricist Bernie Taupin. It would prove to be a match made in heaven.
Elton's Heyday – The '70s
The John-Taupin songwriter pairing did not bear terribly fruitful results right off the bat, as the duo was mostly relegated to crafting easy-listening numbers for other artists. When the two finally released an album of their own – 1969's Empty Sky – audience response was muted, to say the least. Record sales were stagnant, and their future prospects were very much in doubt.
However, John and Taupin soon hit upon a winning formula: a delicate balance of rock-n-roll-infused anthems and winsome ballads. A string of massive hits ensued.
As captivating as his studio recordings were, though, nothing could touch Elton John's live shows. His performances were electric, drawing equal parts from high-energy rock 'n' roll trailblazers like Little Richard and Jerry Lee Lewis and the over-the-top sensibilities of his glam rock contemporaries. Not content to be stuck behind a piano, Elton became inextricably linked with his outlandish stage persona, complete with oversized glasses, feather boas and a parade of seemingly never-ending goofy costumes.
That mindset helped the artist transition effortlessly into the excesses of the disco era. His biggest hits landed at this time, with chart-toppers like:
Later Years: '80s and Beyond
Although Elton John couldn't maintain his meteoric rise to stardom, he managed to sustain his success into the 1980s with a steady string of modest hits. Without a doubt, his biggest moment from this era was the 1983 release of "I Guess That's Why They Call It the Blues," which shot up to No. 4 on the Billboard Hot 100.
The '90s were a very productive period for Elton, as he reemerged on the international stage with his contributions to Disney's The Lion King soundtrack, including "Circle of Life" and "Can You Feel the Love Tonight." Of course, those achievements paled compared with his reworked version of "Candle in the Wind" to commemorate the untimely death of Princess Diana in 1997. That track would go on to become the highest-selling single of all time in both the U.S. and his native U.K. What's most impressive, however, is that Elton donated all proceeds to the "Diana, Princess of Wales Memorial Fund."
To cap off this decade of renewed success, Elton John was knighted by the Queen of England in 1998 for his achievements in music.
The Final Tour Nears
Sir Elton John has had a career that any musician would envy. With a legion of adoring fans, a string of monumentally successful songs, lauded and revered albums and even a knighthood, he's truly seen and done it all. The last thing left to do is say goodbye. And that's precisely what he aims to achieve with this final tour, giving his fans a chance to take in his incredible live performance and hear those incredible songs one last time.t
If you're a fan of Elton's – or just a fan of great music – you owe it to yourself to witness one of the masters at work. Don't let this opportunity to see Elton John in his element pass you by, because there won't be a next time…