Finding the Relief in Comedy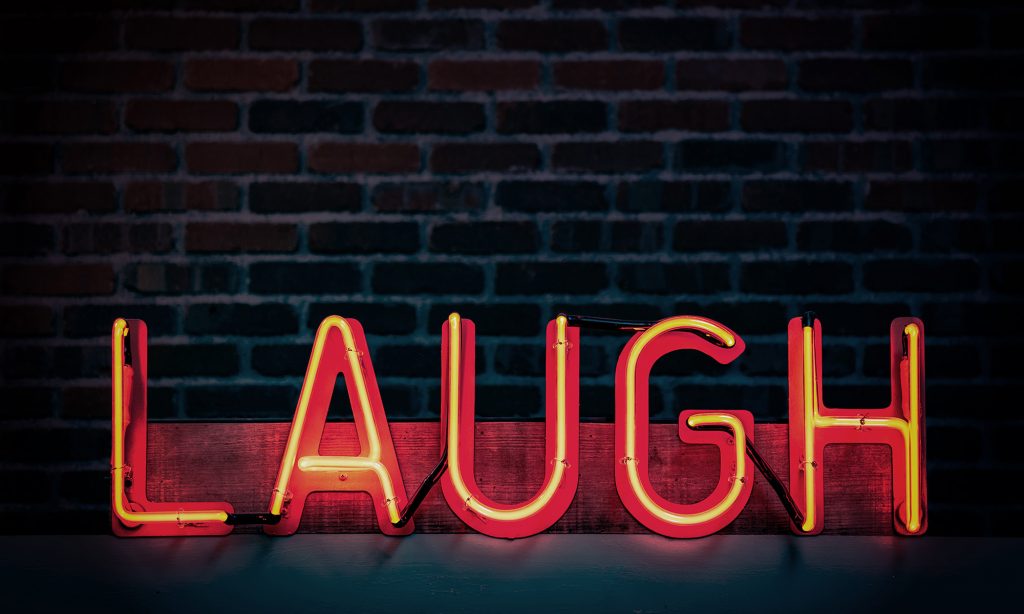 Laughter is the best medicine, and comic relief is a real thing. Those aphorisms are at least partially true because of the endorphins released by a hearty fit of laughter, but there's also something wonderful to be said for the sense of community that's fostered in a room full of people who can't believe what they're hearing but love it all the same.  
That medicine is more essential than ever this year, but when it comes to gathering audiences and tickling their funny bones in 2020, even the comedy world's most seasoned performers, clubs and companies face bigtime challenges. Rather than let their voices go silent, they are adapting and innovating, with examples that range from Kevin Hart teaming with the Just for Laughs festival to present new talent and important conversations online, to greats like Dave Chappelle and Iliza Shlesinger doing what they do in settings very different from the places they know.
Here are just a few of the ways that comedy's biggest talents and most legendary venues are maintaining their connections to everyone who needs a laugh.
Clubs, theaters and the quest for "sanitary hilarity"
Though many comedy clubs and theaters remain closed, others are working hard to give performers and audiences a means to reconnect safely. Common solutions of this new model for venues include contact-free sales of tickets, food and drink; upgrades to HVAC systems; the use of Plexiglas barriers; and mandatory masks.
Local restrictions have meant that venues in many cities have not yet re-opened. But when the situation allows, others have found a way to host folks who could use a laugh. In Toronto in September, Second City resumed its decades-long tradition of topical mainstage shows with "Safer, Shorter & Still So Funny," a live-and-in-person sketch revue that delivered on its guarantee of "sanitary hilarity" (it was operating at less than 20% capacity, among other concessions in the name of keeping everyone safe). Other Toronto venues like the Comedy Bar have worked diligently to be ready to welcome folks back in with protocols such as safety screening at entry and plexiglas barriers.
In Chicago, clubs such as the Laugh Factory and Zanies have also been able to get stand-up comics back onto stages and fans back into seats thanks to improved sanitization protocols, limited capacities and mask policies. More venues are following suit as fans grow more comfortable with the socially distanced realities of the present. Brian Regan, Carrot Top and Tom Segura are just three performers working with well-loved venues to give fans reasons to venture out and get a laugh or two in during the coming months.
Live via the internet
"I hope you're enjoying the show this week," veteran standup Andy Kindler cracked to the unseen viewers of one recent virtual set. "I moved closer to the router."
It's a joke that countless comedians can relate to as they strive to connect with audiences online. Comedy's shift to digital platforms means fans can catch great performances on Instagram, Facebook and Twitch just about anytime they like. But it's no small challenge for a comedian to deal with glitches and work without the feedback that a live audience provides. Given that great timing is essential for great comedy, performers are having to reconsider fundamentals, including how and when to pause for a laugh. Or as Kindler put it, "I'm holding for the applause I hear in my head."
Kindler's zingers point to the challenges of virtual performance. And his recent show was part of a wider effort to address comedy's circumstances by one of its most important institutions: the Just for Laughs festival in Montreal. During this year's edition in October, the star-making event presented a free slate of online conversations as well as performances in collaboration with LOL (Laugh Out Loud), the entertainment company cofounded by superstar Kevin Hart. As a result, the focus of JFL in 2020 was not just on providing laughs but promoting greater diversity in the comedy world and fostering dialog about the many important issues facing the industry. 
With its emphasis on panels and conversations — two formats that may thrive better online than in live performances — JFL's digital edition was a great example of the drive to tailor content to the available platforms. Another has been the online offerings of the Groundlings, the fabled sketch troupe whose alumni include Kristen Wiig, Maya Rudolph and Will Forte. Melissa McCarthy and Ben Falcone are two more alum who have been doing their best to keep the Groundlings' spirit alive by performing exclusive online content. Streaming presentations of the company's regular improv showcases prove that the sight of skilled comics cracking each other up is still a pleasure to behold.
Comedy's next (outdoor) frontiers 
The pandemic has prompted some fresh thinking about where comedy can thrive. One example has been the boom in outdoor shows fostered by clubs like Stand Up NY, which staged as many as forty shows a week in parks all over New York last summer. 
Stand Up NY is also one of many companies that are turning drive-ins and parking lots into comedy hotspots. Though it may seem strange to hear car horns as an audience's way of conveying their appreciation, more and more comedians are getting accustomed to responding to this boisterous form of applause. This fall, the Improv chain of clubs in California has presented its Live Comedy Drive-In series on a rooftop near the Irvine Spectrum Centre — Jon Lovitz, Jay Mewes and Maria Bamford are three of the scheduled performers. Meanwhile, Bert Kreischer, Hannibal Buress and Iliza Shlesinger have all embraced the outdoor format with successful drive-in tours.
In another sign of the times, the hottest venue in recent months was located not in New York or L.A. but just outside Dayton, Ohio. Throughout the summer and fall near his home in Yellow Springs, Dave Chappelle hosted a pop-up series of comedy and music events he dubbed Dave Chappelle & Friends: An Intimate Socially Distanced Affair. The impressive list of comedian guests included Tiffany Haddish, Jon Stewart, Sarah Silverman and Michelle Wolf. Trevor Noah described his appearance as "a memory I'll cherish for the rest of my life." 
Chappelle, proving that he was continually evaluating the value of performance against the need to stay safe, decided to shut down the series in early October due to a possible COVID exposure within his inner circle. It's another reminder that the way forward doesn't necessarily mean a choice between two extremes, but rather a series of choices between what can work as situations evolve. Thanks to the creative thinking and perseverance of performers and venues, though, somehow and sometime the comic relief will come. 
Photo by Tim Mossholder, obtained on Unsplash
Tags
You Might Like
If taking in this classic ballet is part of your traditions, these dance companies have you covered.
Cue up these performances and enjoy them in your jammies.
These streaming performances are proving that the medium can keep the joy coming for both performers and fans.