Detroit Pistons Home Schedule 2019-20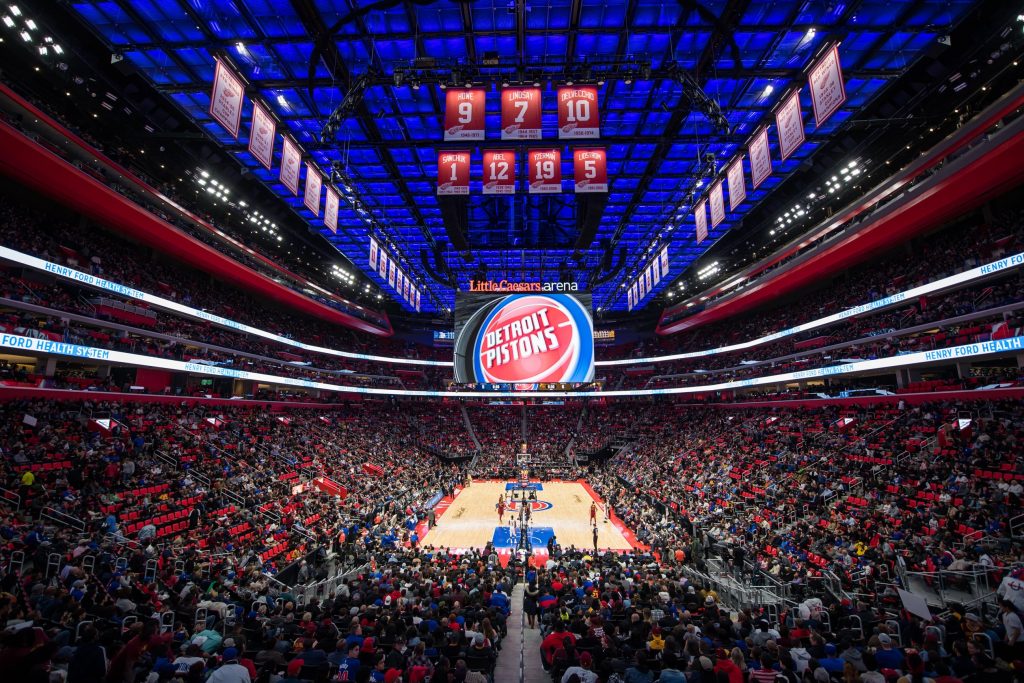 Opening night for the Detroit Pistons at Little Caesars Arena is against the Atlanta Hawks (Oct. 24). Highlights fo the home schedule include visits from the Philadelphia 76ers (Oct. 26 and Dec. 23), Milwaukee Bucks (Dec. 4 and Feb. 20), and the reigning NBA Champion Toronto Raptors (Dec. 18 and Jan. 31).
Other key home matchups include a lone visit from the New Orleans Pelicans (Jan. 13), the Brooklyn Nets (Nov. 2 and Jan. 25), and the Boston Celtics (April 13). A difficult stretch run late in the season includes five home games not to miss with the Golden State Warriors (March 20), Los Angeles Lakers (March 22), Portland Trail Blazers (March 25), LA Clippers (March 27), and Houston Rockets (March 29). The Pistons play a regular season home game in Mexico City, Mexico against the Dallas Mavericks (Dec. 12) for the first time in franchise history.
Detroit Pistons at Little Caesars Arena
The Detroit Pistons were founded in 1941 in Fort Wayne and moved to Detroit in 1957; the team has won three NBA championships, the first in 1988. The Pistons' home court is Little Caesars Arena in Midtown Detroit, which opened in 2017 to make Detroit one of only two cities with four pro sports teams downtown. For NBA games, the arena seats 20,491. (The venue also hosts Detroit Red Wings NHL hockey games, as well as concerts and other special events.) The arena is served by the QLine at the Sproat Street/Adelaide Street station.
Individual game tickets for all games are available now.
Stay up to date on the Pistons all season on Twitter @DetroitPistons.
All game times are local and subject to change.
You Might Like
The pros found and shared creative ways to keep their strength as sharp as ever.
The Home of the Blues celebrates music, sports and entertainment of all kinds.
The Sooner State boasts a premier destination for sports, music and a vast array of other entertainment.