What It's Like to Be the Announcer for the Dallas Cowboys and Stars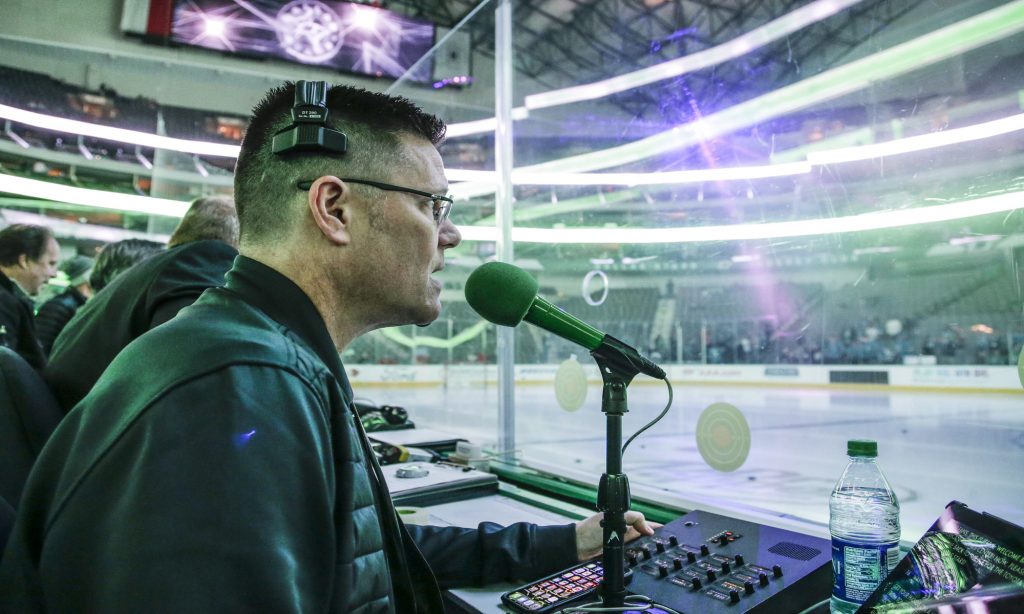 Jeff Kovarsky has been involved in radio in Dallas for over three decades. Known for his love of classic alternative rock — in fact, he tracks anniversaries, milestones and music news on his facts-packed Twitter account — he is currently the afternoon host on the city's classic rock station, LoneStar 92.5.
But music isn't the only thing Kovarsky is passionate about. His sports fandom runs deep, cultivated when he was growing up on the East Coast going to New York Rangers hockey games with his dad. In 2005, he became the music director and DJ for the NHL's Dallas Stars — a gig that evolved into him becoming the in-game host for the team. That led to him landing the same position with the NFL's Dallas Cowboys. Today, he's the public address announcer for both teams.
Kovarsky has nothing but reverence for the people who have held the job before him, and he singles out the late Roger Emrich, who was the PA announcer for the Cowboys, for praise. "Having become a [public address announcer], we have a close-knit community," he says. "We call ourselves the #PABrotherhood and I've gotten to socialize, hang out with or even meet some of the PA guys in the business. There's guys that have been doing it for 35 or 40 years." 
Having this network is invaluable, Kovarsky adds. "We all have these problems as public address announcers that nobody else can really relate to, so we like to commiserate with each other," he says. "Certain things that maybe nobody else could appreciate might go wrong on a given game day — whether something happens in the script that makes you look bad, or you introduce a player by the wrong first name, which I've done once or twice in my early career."

Kovarsky talked to us about public address announcing, memorable moments on the job and what inspires him. Follow along with his Stars-related hockey Twitter account (@jeffk_stars) and a Cowboys-dedicated account (@jeffk_cowboys).
Ticketmaster: Are there any major differences between the two teams in terms of your approach?
Jeff Kovarsky: The main difference between doing public address for the NFL versus the NHL is, the NFL still requires somewhat of a play-by-play approach to their public address. After every play on the field, you have to give a quick recap of what's happened. It's not necessarily like you're doing radio or TV play-by-play — but an example would be, if Dak Prescott threw a pass to Jason Witten [and] Jason Witten gets tackled, then briefly I would say, "Dak Prescott's pass complete to Jason Witt." Cowboys [games are] really a constant three-hour presentation for the public address announcer.
[With] hockey, the game is constantly moving. I'm not doing a live play-by-play. About the only time you'll hear a public address announcer at a hockey game is when I announce the goals and the penalties. It's more reactionary; you wait until there's certain times where you would interject or describe the action.
[But] with both teams, I get to do the starting line-ups, the team intros; that's a lot of fun.
"You've got five seconds to say something, so it better be great."
How has your radio career prepared you to do both things?
I've always been [in] music radio, [and] I've mostly done middays and afternoons. And in both of those it is very music-intensive. The old saying is that nobody's coming to the restaurant for the waiter — you know, that kind of thing. 
Just like in radio, with [public address announcing], you've gotta be brief and brilliant. You've only got a certain amount of time in music radio to talk up the ramp of a song. Every time you open the mic, the modus operandi is to provide some service to the listener. We take that same mindset into PA: You've got five seconds to say something, so it better be great.
Do you have any favorite moments from the Stars or Cowboys games, being in the arena or on the field?
One of the highlights certainly for me was when I was the music director for the Stars. We had the NHL All-Star Game in our building. It was the spring of 2007. I became the public address announcer for the Stars in 2012, so in 2007, I was still doing music. The league came in and they took over the presentation and they said, "You're a DJ, right? You know how to mix?" I was a big rave DJ in the '90s too. 
And they said, "Well, you'd be mixing and scratching while we lowered you on a stage with flames shooting all around you." And I'm thinking to myself, "What are they talking about? What have I gotten myself into?"
Basically, I was lowered from the rafters of the American Airlines Center in Dallas on a stage with a harness hooked underneath a jersey that I had to cut a hole out in the back of so we met the safety standards. And I had a pyro guy with me; on [each] corner was a pyro cannon. I was mixing, like a dance remix of Queen's "We Will Rock You" while being lowered. And — son of a gun — if it didn't look like the coolest thing on national TV.
I've only been doing [public address announcing for the Cowboys] this season. But prior to that, as the in-game host, you never know who you're going to bump into at a game. You know, you forget that the Cowboys are the most valuable franchise in the world, and anybody can show up on the side of the field [for] pregame. It's like, who's going to be here today? So I've done pregame hits with Bon Jovi and Backstreet Boys and LeBron James. I got to hang out with Ann Wilson of Heart; she did the anthem before one game. Much like radio, you never know who's going to come by for an interview. 
What keeps you inspired, as an on-air personality and just throughout life in general?
I've always been able to do what I love. Everything I've managed to do, as I'm knocking on wood right now, is stuff that I really enjoy. I got into radio in the late '80s to educate and change the world with new music. I started out as a specialty show guy that evolved into a regular airshift guy. And I've always been a huge hockey and football fan, and now I'm figuring out ways to get paid to go to these games. It's almost too unbelievable. So I don't ever take for granted how lucky I am to be in this position.