How Far Have Fans Traveled to See the Artists They Love?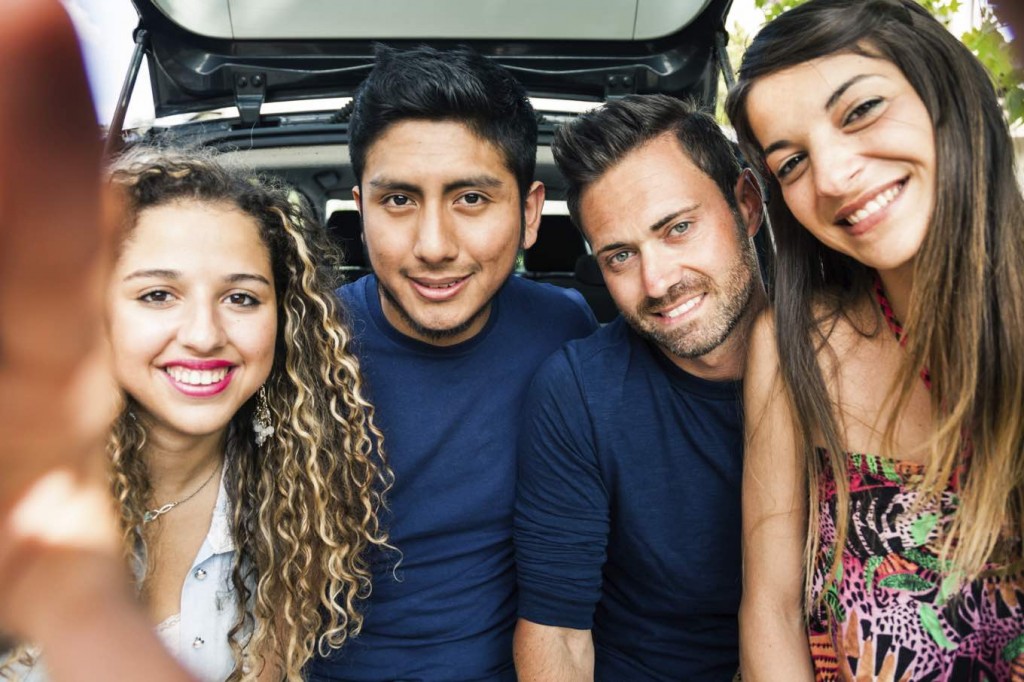 While our passion for music is what moves us to attend concerts, it's planes, trains, and automobiles that actually get us there. How far have you traveled to see a show? When we posed this question on Twitter for #TravelTuesday, we were amazed by how far some fans travel for a once-in-a-lifetime concert experience.
The responses we received got us wondering how far fans usually travel to see a show. Looking at Ticketmaster ticket sales, we found that the average fan travels 43 miles to attend a concert1. Some diehard music fans roam even further – about 10% of ticket buyers have traversed 100+ miles to see a show2. And why wouldn't they? Planning concert road trips to see one of your favorite artists is half the fun.
As for travel time, the Live Nation Festival Fan Study 2014 found that concert attendees spend an average of 1.54 hours total in the car, while festival attendees average 3.14 hours behind the wheel3.
And then there are those willing to hop on a plane for a show – some fans even cross the Atlantic to catch their favorite bands.
Here are some of our favorite Tweets from people who've gone the distance (and then some) to see the artists they love.
300 Mile Trip to see Twenty One Pilots
@Ticketmaster me and my best friend drove almost 300 miles to see @twentyonepilots!!!! ❤️💙 #TravelTuesday pic.twitter.com/pxAaeTrZep

— natawee (@natfos) October 6, 2015
---
8 Hours (One Way!) for the Jonas Brothers
@Ticketmaster 8 hours one way to see the Jonas Brothers in Chicago in 2013. Favorite concert ever and this happened pic.twitter.com/BkR6MbV6sW

— Josie (@_JocelynMae) October 6, 2015
---
Truckin' 950 Miles to see the Grateful Dead
@Ticketmaster 950 miles to see the @GratefulDead

— Shaun Michael (@7smichael) October 6, 2015
---
From Virginia to Toronto for U2
@Ticketmaster Virginia to Toronto, ON Canada for U2 🎶🇮🇪🇺🇸🇨🇦 pic.twitter.com/alXJOtFUyw

— Ste❌e (@Trap_33) October 6, 2015
---
8 Hours on the Road for Fall Out Boy and Paramore
@Ticketmaster Last summer I took an 8 hour trip to see the last night of Monumentour ft. @falloutboy & @paramore 😁 pic.twitter.com/Dn0bLSJrhn

— Megan (@ohhaimegan) October 6, 2015
---
6 Hours of Driving to Dance With Taylor Swift in Baton Rouge
@Ticketmaster Taylor Swift to Baton Rouge, about 6 hour drive to see her! pic.twitter.com/CPCKM9DjoE

— HK (@HKearns13) October 6, 2015
---
A 9 Hour Trip To Dallas to Get "Radioactive" with Imagine Dragons
@Ticketmaster About 9ish hours to see @Imaginedragons in Dallas. It was definitely worth the long drive. They're incredible live. ✨

— Labanya 💕 (@lalalalabanya) October 6, 2015
---
From Georgia to Indiana for One Night With One Direction
@Ticketmaster drove over 560 miles from GA to IN to see 1D! Trying to see them in Dallas in Dec #EMABiggestFans1D pic.twitter.com/kEz9VRDvxU

— Jay /)'w'( (@SavedintheAM) October 6, 2015
---
Jumping across the Pond to Rock Out in London with 5 Seconds of Summer
@Ticketmaster 6,173km to London, England to see 5 Seconds of Summer! #TravelTuesday pic.twitter.com/NfmZ5Uij4U

— Meagan. (@Meaagss_) October 6, 2015
---
Getting International (3 Times) with One Direction
@Ticketmaster I travelled to another countries (3 times) to see One Direction ❤ pic.twitter.com/I7aKHekqwa

— Annie. (@Ania_96) October 7, 2015
---
From Las Vegas to Montreal to Get "Closer" to Kings of Leon
@Ticketmaster flew to Vegas from Montreal to see #KingsofLeon with @VintageSaman 👯🙌🏻

— Sarine (@OnlySarine) October 7, 2015
---
5,000 Miles and 15 States Later…The One and Only Bruce Springsteen
@Ticketmaster 5,000 miles across 15 States, for @Springsteen.

— Connor Kirkpatrick (@Mr_Kirkpatrick) October 6, 2015
---
From Sunny LA to Crisp Canada to Rock with the Rolling Stones
@Ticketmaster from Los Angeles to Montreal to Quebec City for @RollingStones with @xrocknroll pic.twitter.com/E0miiMWm6q

— Joey (@JoeyRuotolo) October 6, 2015
---
5 Hours to See Fifth Harmony – How Fitting
@Ticketmaster 5 hours to see Fifth Harmony and Bea Miller pic.twitter.com/gAj7FtgXMf

— rachel 🌈 (@_Iovebugg) October 6, 2015
---
22 Hours for Rascal Flatts – After All, "Life Is a Highway"
@Ticketmaster 22 hrs total (1300 miles!) to see @rascalflatts 6/12-14; 2 in VA/1 in CT! w/ @RMoses92 & @kimludwin! pic.twitter.com/FW5YuSQ7vA

— Shawna (@PatsFanatic92) October 6, 2015
---
Drove 45 Hours (um, that's a LONG DRIVE!!!) for 5 Seconds of Summer
@Ticketmaster We went to Louisville & Atlanta within 2 days then to West Palm Beach, FL, for 5SOS. 45hrs of driving. pic.twitter.com/rCTDmJVeb7

— Emily Bryant (@emilylanebryant) October 7, 2015
---
TX to MA for 1D
@Ticketmaster I flew from Texas to Massachusetts to see One Direction pic.twitter.com/86e4E1aJZl

— di⁷ (@jimnstime) October 7, 2015
---
Hitting Two Different States for One Direction
@Ticketmaster I went to Ohio and Michigan from Atlanta to see One Direction. It was like 10/12 hour drive. 😍 pic.twitter.com/VLMatvPu1N

— Mel 💕 (@MelissaAnne_x3) October 6, 2015
---
If you've experienced a long distance concert like some of the fans above, consider yourself an elite concert road tripper! Share how far you've traveled to see a concert tour or show with us at @Ticketmaster on Twitter, Facebook, and Instagram. Then, have a listen to the concert road trip playlist below curated by Ticketmaster staff. So would you walk 500 miles?
1. Ticketmaster database, 2015.
2. Ticketmaster database, 2015.
3. Live Nation Festival Fan Study, 2014.
Tags
You Might Like
From pulsating beats to breathtaking performances, we bring you a curated selection of festivals happening across the summer that will leave you with unforge...
As we prepare for Lollapalooza's virtual 2020 installment, let's look back at the moments that made the festival iconic.
Headed to Voodoo? Here's everything you'll need.