Concert Innovation: When Pyrotechnics Began to Light Up the Stage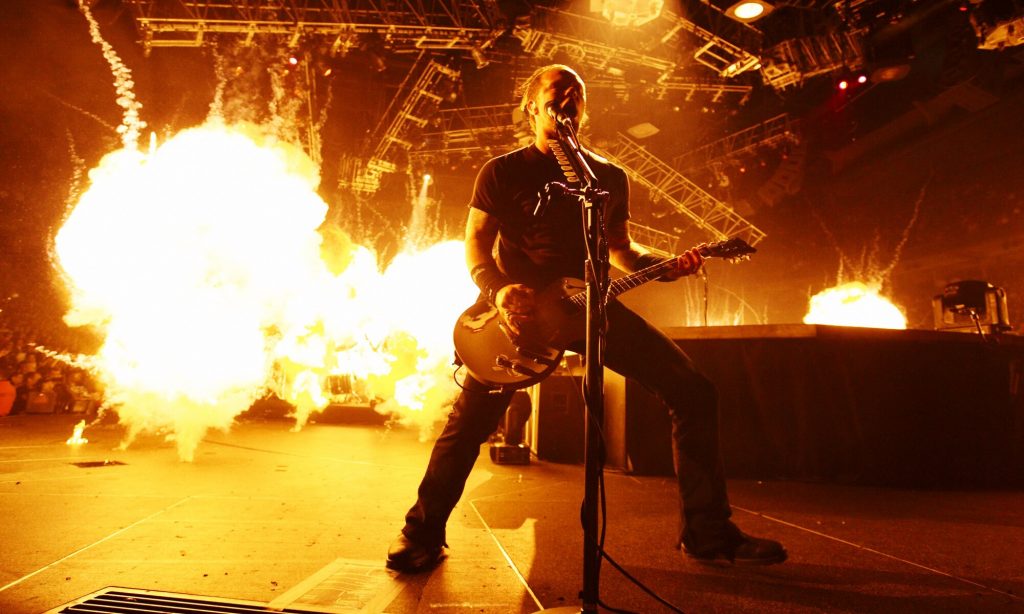 Welcome to our limited series on concert innovations, where we celebrate the ways music performance has evolved over the decades. 
In its infancy, rock 'n' roll was the sound of teenage rebellion, and it was only a matter of time before the insolent attitude expressed in the music spilled over into actual displays of real-life destruction. In the mid-'60s, bands like The Who and The Yardbirds elevated the act of instrument-smashing into ritualistic sacrifice, a tangible and visible outlet for all the pent-up aggression coursing through their songs. But when Jimi Hendrix concluded his legendary set at the 1967 Monterey Pop Festival by dousing his Fender Stratocaster in lighter fluid and setting it ablaze, he forever upped the ante for onstage spectacle. The age of pyro had arrived. 
Given the inherently dangerous nature of playing with fire, it follows that the first artists to truly embrace the use of pyrotechnics in their stage performances were known for pushing the envelope in all aspects of their art — like psychedelic freaks The Crazy World of Arthur Brown and gender-bending shock-rocker Alice Cooper, who, in the late '60s, respectively added flaming helmets and smoke bombs to their cavalcade of DIY stage tricks. The proliferation of pyro continued apace with the evolution of rock 'n' roll into hard rock and heavy metal, as bands like Metallica and Led Zeppelin unleashed plumes of fire to enhance the sensory saturation of their thundering sound.
But as concerts became big business in the '70s — expanding into massive venues like hockey arenas and football stadiums — pyro became less of a shock tactic and more of a choreographed special effect that served to keep fans in the most remote seats engaged, while the bigger rooms allowed for explosions to be deployed more safely. And no band understood the value of a fiery spectacle quite like KISS, who essentially turned concert production into an arms race that persists to this day. (And they weren't just blowing stuff up from a safe distance — Gene Simmons' fire-breathing theatrics would become the hair-raising highlight of any KISS show.) By the '80s, all of rock's big guns — Queen, Van Halen and AC/DC among them — were unloading their arsenals. Even Paul McCartney had gotten into the act, introducing blasts of pyro to punctuate the dramatic chorus of "Live and Let Die."
While rock's uncontested dominance over the pop-cultural landscape began to make room for genres like hip-hop and new country in the '90s, its pyromaniac tendencies have been inherited by artists across the musical spectrum. After wowing audiences with her outrageous outfits in the late 2000s — including her unforgettable spark-shooting brassière — Lady Gaga has transformed her stage act into the sort of (literally) incendiary production that would do KISS proud. Meanwhile, modern-day country acts like Florida Georgia Line and Eric Church make every venue feel like a hot August night in the South thanks to their fiery backdrops. And the typical Beyoncé festival appearance now requires more strategic pyrotechnical planning than most military operations. But as far as pyro effects have come since their late-'60s innovation, they still inspire the same combination of excitement and fear as when Hendrix was turning his guitar into tinder. The history of popular music is one of countercultural movements slowly getting absorbed into the mainstream and being transformed into crowd-pleasing entertainment. And pyro is one of the means through which the biggest stars can stay connected to their rebellious roots, ensuring that every performance carries a high-octane thrill-seeker element — even when you're seated comfortably in the VIP section. 
Photo Obtained by Dallas Fletcher