Broadway Shows For Kids: A Guide to 2017's Most Popular Shows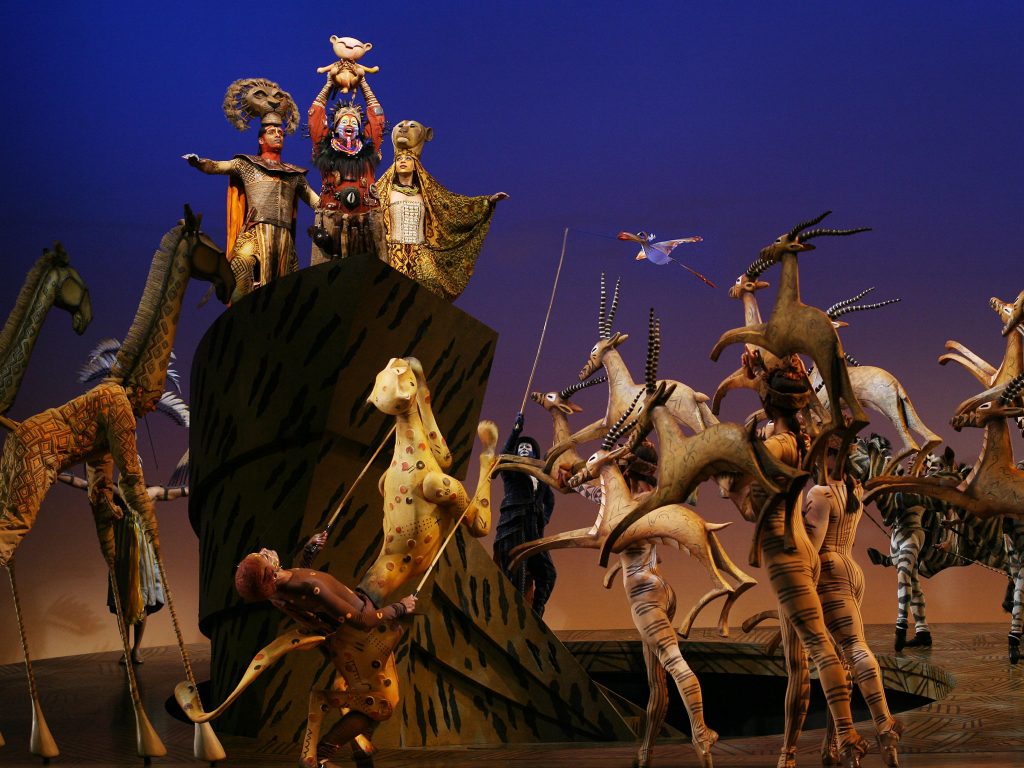 Taking your kids to a Broadway show has become an American right of passage and these days, if you can't make it to the Big Apple, the shows often come to you. We've compiled our picks of 2017's most popular Broadway shows, and broken them up into two categories: For Kids Ages 6 and up, and Parental Discretion Advised (best for ages 13-up). Still, only you know your kids, so be sure to do your research before you fork over cash for tickets. Luckily, our guide is here to help.
For Kids Ages 6 and Up
See it:
On Broadway
Show Notes:
Another Disney classic comes to life on stage in all its bold, brash glory — complete with the songs you loved as a kid (that your kids are sure to adore, too).
Critics Say:
"…an unapologetic embrace of casbah kitsch and a heavy accent on shtick, this is sweet, silly fun." — Hollywood Reporter
Fans Say:
"The show was far more hysterical than the movie ever was and the Genie is a must-see! The entire musical is a burst of color and will keep you clapping for more! Flawless costumes, dance sequences and singing, this is a must-see if you are traveling to Broadway." — Genie93
See it:
Touring and on Broadway
Show Notes:
This show is a smash hit (and the highest grossing Broadway production — ever!) for a reason — its use of enormous puppets to tell Disney's beloved tale makes it a thrilling watch for audiences of all ages.
Critics Say:
"Come to The Lion King with two pairs of eyes, one ear, and half a brain. You will be bombarded by some of the most beautiful and spectacular sights theater can offer from before and behind, so eyes in the back of the head will come in handy." — New York
Fans Say:
"We chose to see Lion King AGAIN on our recent trip to NYC because it is what Broadway is about: creative, unexpected, full of talent. The costumes and use of puppetry makes this appealing to all ages. The singing and dancing is great, and as we all know, the story and lyrics combine some serious themes with humor." — swedishmeatball1
See it:
Touring and on Broadway
Show Notes:
Wicked delves into the women of Oz, exploring the evolution of and relationship between two of the most iconic (fictional) witches in the world. The show is occasionally scary, so make sure your younger theater-goers feel comfortable with darker themes.
Critics Say:
"The lavishly designed musical addresses complex themes, such as standards of beauty, individual morality and, believe it or not, opposing fascism." — Time Out NY
Fans Say:
"My daughter and I found Wicked amazing, The production was entertaining, professional, and memorable. The set with a steampunk theme was a unexpected surprise but added to the overall experience." — MisterFEC
See it:
On Broadway
Show Notes:
Parents might remember Cats as an 80s sensation, but this recent revival has Broadway fans embracing all things Jellicle again. The songs, the make up, the movement — it's even better than it is in your memory (pun intended, of course).
Critics Say:
"Although it remains to be seen whether this revival will live up to the original production's tagline of "Now and Forever," enough time has passed for a new generation of theatergoers to embrace the show, while those who saw the original (and liked it) will probably want to return for a blast of nostalgia." — Hollywood Reporter
Fans Say:
"We took our daughter and grandchildren (ages 8,11 and 13) to the show. They loved it. The girls take dance and they haven't stopped talking about it. My grandson (13) loved the set and the show. We bought them a DVD and they have watched it several times since and are listening to the sound track and singing. Just A GREAT EXPERIENCE. Loved it. I highly recommend everyone to go see it." — verybere
See it:
On Broadway
Show Notes:
Based off the classic film, this Broadway adaptation is incredibly kid-friendly, complete with all the songs you've been singing along to since childhood.
Critics Say:
"It's goofy, loud and imaginative – superatively so, in some key respects. And it delivers two things children delight in: stories about scrappy urchins triumphing over doltish adults." — Deadline
Fans Say:
"This show was a magical journey into the world of Willy Wonka's Chocolate Factory! The expressions on my granddaughters' faces show what a fun-filled wonderful experience it was!" — MEEMAMEEMA
See it:
Touring and On Broadway
Show Notes:
Somehow, the musical version of this hit Jack Black movie is even more charming than the original. And the kids rock hard.
Critics Say:
"This story of a slovenly rock 'n' roll also-ran who teaches a class of overachieving private school students to unleash their inner Jaggers is about as easygoing as a show can be that threatens to break your eardrums. And for its first half, at least, it charmingly walks the line between the cute and the precious, the sentimental and the saccharine." — NY Times
Fans Say:
"An unexpected pleasure!! A fun story that I guarantee will entertain all ages." — Becky 14
See it:
Touring
Show Notes:
The Little Mermaid ended its Broadway run in 2009, but a revamped touring show is breathing new life into this Disney children's classic.
Critics Say:
"The plot follows the Disney version carefully, leaving some of the audience nostalgic for their youth, and invigorating a new generation with adoration for a Jamaican crustacean, a love-sick angelfish, and a tap-dancing seagull." — Broadway World
Fans Say: "The few new songs fit with the story so well, and they're great fun.  The costumes, especially those for Ursula, are cleverly constructed and beautiful.  I really did not want this show to end!" — Krista J
See it:
Touring
Show Notes:
While it's remembered as a family-friendly classic, the show does also deal with adult themes — mainly the Von Trapp family fleeing the Nazi regime — of which parents should be aware.
Critics Say:
"This is a tour — a union tour with Broadway veterans — of notable quality. It lands very deftly in the sweet spot of this show: enough traditionalism to deliver the full "Sound of Music" monty (Alps, conveniently prepared backpacks and all) but also a sense of fresh eyes and enough irreverence to cut the Nutella." — Chicago Tribune
Fans Say:
"Love the music and the overall theme – we took our granddaughter for her 13th birthday and the story and music were perfect for her. The performers never missed a beat! I'm so glad we went – was one of the best performances we've seen!" — Billieblair
See it:
Touring
Show Notes:
You're off to see the Wizard in this stage adaptation of the beloved film, which comes with six new songs penned by Andrew Lloyd Webber and Tim Rice.
Critics Say:
"While there is some adult humor that will fly over the heads of the many children in the Civic Theatre audience this week, there's nothing cynical about this "Oz" tour. It's a loving embrace of the original MGM film with a dash of modern West End panache to appease today's jaded, seen-it-all theatergoers." — San Diego Union Tribune
Fans Say:
"Entertained my four year old granddaughter who was at first a little overwhelmed with the special effects. The wicked witch of the West made her almost jump out of her seat. By intermission my granddaughter and I were locked in and loving the production." — Larry1551
See it:
Touring
Show Notes:
No, it's not the Disney version of Cinderella, but this classic musical is still full of magic, making it a fun show for the whole family to watch.
Critics Say:
"With playwright Douglas Carter Beane's clever reimagining of the classic fairy tale offering updated humor and new characters, the glass slipper fits, and all is right with the world." — Hollywood Reporter
Fans Say:
"The show is for all ages, I took my 6 year old niece and she LOVED it! I also enjoyed that show was short, just a little over 2 hours. The show kept my niece's attention through out the entire show. I highly recommend this show to anyone who has a little girl who loves Princesses, but spoiler alert–It is different from the Disney version of Cinderella. The music is great and it is super funny!" — BroadwayNerd16
See it:
Touring
Show Notes:
I loved this well-done revival when I saw it on tour in Los Angeles, but be warned — the second act is on the longer side. Might be a show for the little ones to skip and save until they can sit in their seats without getting bored.
Critics Say:
"In one of the greatest scores in Broadway history, this spot-on cast is gifted with classics such as "I Have Dreamed," "Hello Young Lovers," "Shall We Dance" and "Getting to Know You" — music so pure it doesn't need much more than a light operatic touch. It's refreshing just to sit back and enjoy a musical in which the performers aren't jockeying for notes as if they were contestants on American Idol." — Hollywood Reporter
Fans Say:
"Fabulous production, great way to spend a wonderful day with the whole family." — Delsina363
See it:
Touring
Show Notes:
A touching look at the untold story of the inspiration behind J.M. Barrie's Peter Pan. While embraced by nearly all audiences, the actual tale of Peter and friends doesn't feature much in the musical, and very young kids might struggle to stay engaged.
Critics Say:
"What a wonderful evening! The show was delightful! It was a pleasure to look around the theater and see an audience that included children, parents, and grandparents, each of them invested and entertained." — WBBTZ TV
Fans Say:
"We took our teenage granddaughter to the show. She had seen it on Broadway, and I was hoping she wouldn't be disappointed with this performance. She loved it, and of course, we did too. Music was wonderful and the actors gave their all." — Gladwecame
See it:
Touring
Show Notes:
It's impossible not to sing along to this feel-good romantic romp, that uses ABBA's catchy disco tunes to tell the story of a young woman's quest to discover the identity of her dad before she gets married.
Critics Say:
"If you looked around the audience at this show, you saw patrons ranging anywhere from 16 to 79. Both the cast and the patrons were having a blast. The last 5 minutes felt more like an ABBA concert than the bows of a musical, in the best way. Even if you aren't a fan of ABBA, you'll be a fan of Mamma Mia!" — DCMetroTheaterArts
Fans Say:
"Voices and acting were first rate! Excellent in every way I can imagine. My 10 yr old granddaughter, her mother, aunt and I loved it from start to finish." — Pomsmom
Parents' Discretion Advised
See it:
Touring and on Broadway
Show Notes:
Has there been a more buzzed about show in recent memory than Hamilton? The show, like it's titular character, is revolutionary. Some little kids (like mine) may know all the words to the songs, but this one is best saved for older children, as strong language abounds, and themes of war and violence are a through-line of the show.
Critics Say:
"The USA is, undeniably, where musical theater — storytelling featuring fleshed-out characters, propelled by words, music and dance — took shape and thrived in the 20th century. But there has been nothing on Broadway in the past 20 years to rival the riveting, exhilarating and haunting Hamilton…"  — USA Today
Fans Say:
"Not only was the cast wonderful, but the material they had to work with – just, wow. "Hamilton" grabs your attention from the first note and it holds onto it the entire time you're watching the show….Some moments are more serious, while plenty of others are just hysterical; no matter what the tone of the scene was, I was always having fun and enjoying the performance. By the end of this historic tale you may want to shed a tear, or may feel goosebumps, or both…" — Larissa G
See it:
Touring
Show Notes:
This show, from the creators of South Park, is heavy on adult themes: religion, sexuality, and racism are all tackled with sharp wit, brilliant voices, amazing dance performances, and yes, crude jokes. Parents may want to check it out first before bringing their bigger kids along, or at least listen to the soundtrack so you know what you're getting into!
Critics Say:
"It's a show where you catch yourself laughing one minute, mouth agape the next, eventually wiping away tears, and, finally, cheering. Stone and Parker are famous for their take-no-prisoners, nothing-is-sacred approach to humor." — NY Daily News
Fans Say:
"An irreverent, satirical look at Mormon youth missions with hilarious absurdist humor and with a core message of humanity's ultimate quest for meaning and hope." — Confu
See it:
On Broadway
Show Notes:
The show recently walked away with six Tony Awards, including Best Musical. And the accolades are well deserved, it's an incredibly touching look at anxiety, suicide, and processing life's heaviest moments as a teenager.
Critics Say:
"Dear Evan Hansen is beautiful to look at it, slickly directed, and moving, but also biting and subversive-and so may have more to say about teen suicide, parenting, and internet lunacy than the most finely worded op-ed column." — Daily Beast
Fans Say:
"Great show with terrific songs, compelling story and consistently outstanding performances. Ben Platt deservedly gets most of the notice and he is brilliant.  But the other cast members (his mother, his best "friend", the entire Murphy family) are also excellent. The "f" word is dropped frequently and the subject matter is for mature audiences only, so you probably wouldn't want to take kids younger than high school but I have to say, I got chills multiple times during the performance." — Bill T
See it:
Touring and on Broadway
Show Notes:
With music and lyrics by Cyndi Lauper, this Tony-Award-winning show delivers an uplifting message with killer tunes.
Critics Say:
"This is an unapologetic celebration of queer culture that revels in a sense of shared humanity, the things we all have in common no matter how we look or who we love. That social justice thrust now give these "Boots" a real kick." — Mercury News
Fans Say:
"The show was fabulous! The songs were great and the message of tolerance and acceptance wonderful! It was funny and uplifting! I would highly recommend this show!" — 10888
Tags