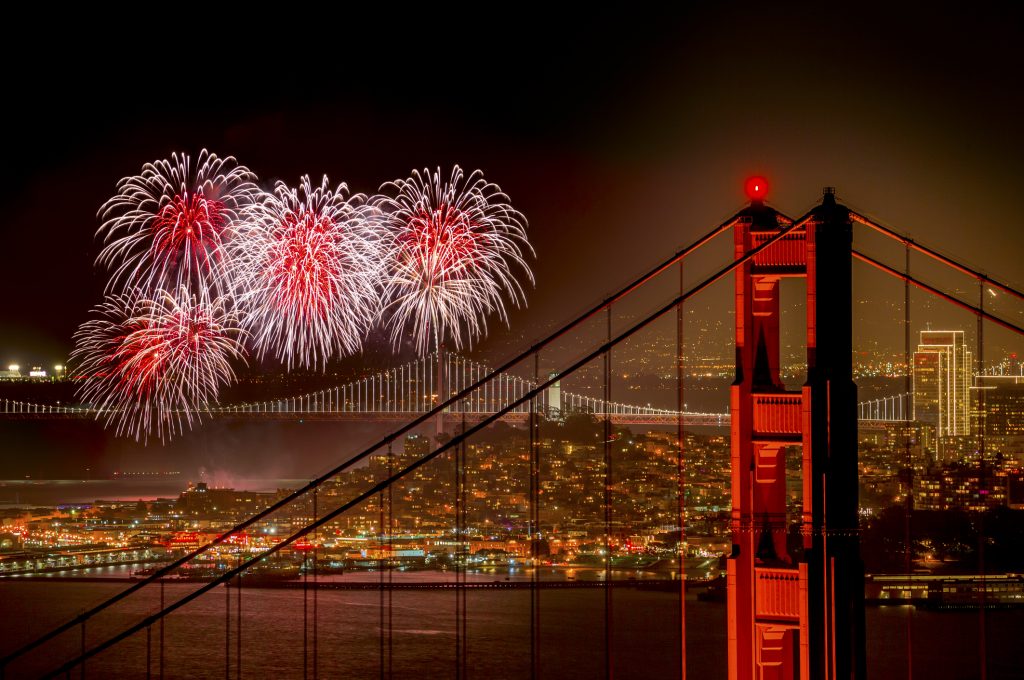 The Bay Area is a foodie's dream. Restaurants abound, from the classic American fare that you treasure on game day to more adventurous offerings. One thing is guaranteed: You will not go hungry at San Francisco sporting events — and you might even discover a new favorite cuisine.
Bars & Restaurants Near Chase Center
Headed to catch a game at the new Chase Center in Mission Bay? The world is your oyster (literally in this case) as far as culinary options.
Atwater Tavern (295 Terry A Francois Blvd.) is a waterfront bistro that serves up fresh seafood (yes, oysters included), burgers, and a loooong list of cocktails. Don't get too transfixed by panoramic views of the San Francisco Bay, or you might miss the beginning of the game!
Moshi Moshi (2092 3rd St.) serves up sushi and soba if you are in the mood for delicious, low-key Japanese fare. We recommend the bacon-wrapped mochi and the onion koroke to get your dining experience started.
STEM Kitchen and Garden (499 Illinois St.) prides itself highly on fresh food; so much so, that a lot of the ingredients and produce they use are grown in the garden onsite. Said garden is the perfect place to dine, and there is even bocce ball for a little dinnertime competition.
Bars & Restaurants Near SAP Center at San Jose
Downtown San Jose is stuffed with good dining; this is just a handful of the many options near the SAP Center.
BlueFin Japanese Restaurant (754 The Alameda) has a lovely dining room with high ceilings and exposed brick, the perfect place to enjoy its excellent cocktails and extensive saki menu — and you're literally steps away from the arena.

Nearby,

District (65 N San Pedro St.) has just what you want before a game: shareable charcuterie, pizzas and small plates, with some fabulous wines and whiskeys to boot.

If you're

really

looking for wine, head to

Vino Vino (87 N San Pedro St.). The menu is short but the list of local wines from Santa Cruz Mountain and Santa Clara Valley wineries is long — and luscious.

Every menu option feels special at the unassumingly named

Firehouse No. 1 Gastropub (69 N San Pedro St.). We're talking charred octopus, crusty bread and cheese or beef marrow. Try them all.
Bars & Restaurants Near Oakland-Alameda County Coliseum
Because the Coliseum (like most) is marooned in a sea of concrete, you have to venture a bit farther afield for dining options, but there are plenty of gems. 
Quinn's Lighthouse Restaurant and Pub (1951 Embarcadero) overlooks the Embarcadero Cove Marina and offers great American comfort food: burgers, chowders, jalapeño poppers and (fittingly) a nice dose of seafood like clams and mussels.

Looking for a family-friendly spot?

Marzano (4214 Park Blvd.) is an excellent choice for wood-fired Neapolitan pizzas and pasta dishes.

If you've got a large party, try

Paulista Brazilian Kitchen and Taproom (4239 Park Blvd.). Sink your teeth into a delicious stuffed coxinha, and check out the amazing selection of local craft beer and wine. Plus: cashew ice cream!
Grand Lake Kitchen (576 Grand Ave.) is vintage Bay Area. Situated right by Lake Merritt, this thriving neighborhood is full of foot traffic. Which means there's great people-watching, and they offer a "smoked fish tower." What else do you need? The extensive dessert list doesn't hurt either, and you can get your cocktail on.
Bars & Restaurants Near Haas Pavilion
If you head over toward the Haas Pavilion, you can fill up on cheap, quick eats just like any self-respecting Cal student before the big game — or try something a little more upscale.
KoJa Kitchen (2395 Telegraph Ave.) started out as a food truck before opening this stylish brick-and-mortar space, where they serve up a gourmet Korean/Japanese hybrid sandwich to die for.

Located inside the Graduate Hotel,

Henry's (2600 Durant Ave.) is a creation of Chris Kronner of Tartine fame. The food is not fussy, but it's all done extremely well, supplemented by a limited, but fun, cocktail list.

For a romantic pre-game spot, try Julia's Restaurant in the

Berkeley City Club (2315 Durant Ave.). Classy French food is served in a Julia Morgan-designed building; pop over to Morgan's Bar and Lounge next door for a drink afterward.

If you

really

want the Cal experience, go to

Top Dog (2534 Durant Ave.) and grab yourself a sausage sandwich to go. Kielbasa, linguiça, chorizo… they've got it all.
Bars & Restaurants Near Avaya Stadium
Avaya Stadium is home to riveting soccer games, but the food and drink is a close second. There's excellent food on-site, thanks to a totally eclectic food truck scene. But if you must leave, try some of these restaurants.
Smoking Pig BBQ Newhall (530 Newhall Dr.) is close to the arena, and they serve light vegetarian fare (jk). This place is an altar to the pig, with delicious smoked meats, signature cocktails, brisket and more.

Nearby

Mod Pizza (530 Newhall Dr.) is a build-your-own-pizza chain with wood-fired ovens and fabulous salads, perfect for a pre-game feast.

A little farther out, try

Men-Bei Ramen (1349 Coleman Ave.) to slurp up some noodles in a casual environment. There's not a lot of space, so beware if you're with a big group.
Mango's Mexican Grill (1860 The Alameda), on the other hand, can

totally

accommodate big groups. It's got a foosball table, classic Mexican food and that all-important pre-game ritual: the margarita.
Bars & Restaurant Near Sonoma Raceway
The Sonoma Raceway is essentially a hillside, so don't expect much in the way of food out there! Head to Novato, seven miles away, for the closest restaurants.
Chianti Cucina (7416 Redwood Blvd.) is an affordable, family-friendly Italian joint — just what the doctor ordered before you go watch some drivers tear it up.

Vegetarians and meat-eaters alike will dig the generous portions at

Batika India Bistro (868 Grant Ave.). Dig into scrumptious pakoras, samosas and kabobs — some say it's the best Indian food in Marin.
Maya Palenque (349 Enfrente Rd.) offers authentic, all-organic Mexican food. It's moderately priced, and the chili verde is to die for.

The fittingly-named

Hilltop 1892 (850 Lamont Ave.) has actually been on this Novato hilltop since 1892. Take in the panoramic views while filling your belly with classic American food and craft cocktails at this Marin institution.
Bars & Restaurants Near War Memorial Gymnasium
The University of San Francisco campus isn't in the middle of a thriving restaurant district, but if you know where to look, there are plenty of great spots to fuel up before a game at the War Memorial Gymnasium.
Bistro Gambrinus (1813 Fulton St.) is perfect for pre-game brews, and you can sop up the hops with American and Eastern European fare without emptying your wallet.

If ale is your primary objective, try

Barrel Head Brewhouse (1785 Fulton St.), which has 40 beers on tap. Soak in the industrial-chic surroundings and sample an eclectic menu that includes fish and chips

and

lumpia.

Just next door is

Jannah (1775 Fulton St.), an authentic and affordable Iraqi-Californian restaurant. Try the kelecha, a snack with stuffed dates and cardamom, or jannah, made with pomegranate molasses. Plus falafel, kabobs, and delicious muhamara (walnuts and red peppers). Yum.
Bistro Central Parc (560 Central Ave.) offers traditional French cuisine, if you want to get your fancy on. Escargot before college basketball: Why not?
Bars & Restaurants Near Maples Pavilion Stanford
Where do Cardinals eat before big games at the Maples Pavilion? If you want to stay close to the pavilion, prepare to do like the students do.
Cardinal Sushi Bar (2051 El Camino Royale  #101) is where Stanford brainiacs go to get their sushi and noodle soups. This place is open late if you get the munchies after the game.

There are no frills here, but

Kali Greek Kitchen (451 California Ave.) has the delicious Greek staples you love: pita, salads or rice plates loaded with falafel or lamb, trimmed with stellar local produce. Try their mint cucumber lemonade.

Try

The Axe & Palm (520 Lasuen Mall) on campus for the full-on collegiate dining experience: Think burgers, fries and shakes.
Don't miss the Coupa Cafe (655 Knight Way), a local Venezuelan chain. The food is local, organic and sustainable (of course), and delicious coffee drinks butt up against stuffed cornmeal cakes known as arepas (yum!) of all stripes.
You Might Like
Whether you're a long-time local or just in town for a quick trip, the entertainment experts at Ticketmaster have you covered!
Whether you're a die-hard basketball fan, enthusiastic concertgoer or simply looking for something extraordinary to do, the Vivint Arena in Salt Lake City, U...
The Mile-High City hosts thrilling sports, music and other entertainment events in its stadium.