8 Iconic Co-Headlining Tours From Present to Past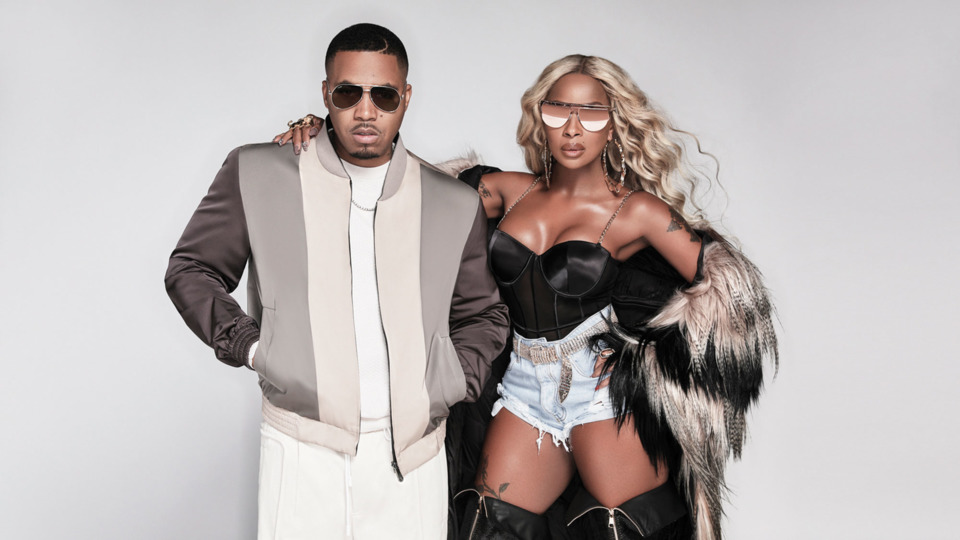 There's a big, exciting trend popping up all over this year's concert schedule: the co-headlining tour. Yes, 2019 is the year to get the ultimate 2-for-1 concert experience from some of music's hottest stars. To celebrate, we've gathered a few of this year's top co-headlining tours, alongside some of the best dream teams of yesteryear.
1. Mary J. Blige & Nas: The Royalty Tour 2019
R&B and hip-hop royals Mary J. Blige and Nas are certainly no strangers to the stage — nor are they newbies to the co-headlining experience. Blige toured alongside Maxwell back in 2016 and D'Angelo in 2012, while Nas shared the bill with Lauryn Hill in 2017. The two music icons first joined forces way back in 1997 for the single "Love Is All We Need." This year, they came together in the studio again for the single "Thriving," before heading out on The Royalty Tour, in which they've covered nearly three decades of their greatest hits, fan faves, and collaborations with the utmost sophistication. 
2. Third Eye Blind & Jimmy Eat World: The Summer Gods Tour 2019
Rock heroes Third Eye Blind and Jimmy Eat World are giving fans a sweet jolt of nostalgia (and a few brand-new tunes, too) with The Summer Gods Tour. Third Eye Blind frontman Stephan Jenkins said his main goal for the tour was to spread the "blissed-out state of aliveness" he's experienced enjoying good music in the heat of the summer. And so his band is bringing the hits, including "Semi-Charmed Life" and "How's It Going to Be," along with tracks from their upcoming sixth studio album, Screamer, to outdoor stages across the U.S. They've invited Jimmy Eat World along for the ride to celebrate their own 25th anniversary as a band, giving fans such goodies as "The Middle" and "Pain," as they also prep for an upcoming new album.
3. Meek Mill & Future: Legendary Nights Tour 2019
Two of the decade's biggest rappers, Meek Mill and Future, have teamed up to prove their living-legend status with the Legendary Nights Tour. Meek Mill, who's touring in support of 2018's Championships, and who's also been spending the bulk of his time advocating for criminal justice reform (which includes a new Amazon docuseries, Free Meek), is filling up his set with plenty of bangers, including the Drake-assisted "Going Bad." Meanwhile, Future — who has also once co-headlined alongside Drake — is taking to the stage armed with fresh tracks from his 2019 album, THE WIZRD, and follow-up EP Save Me.
Throwing It Back
As awesome as these current tours are, they probably took a little inspiration from some of the unforgettable co-headlining tours that have come before. 
4. Jay-Z & Beyonce (The Carters): On the Run Tour 2014; On the Run II Tour 2018
There's no stopping music's most powerful couple, who stormed stadiums around the world back in 2014 for their first On the Run Tour. The King Hov and his Queen Bey literally shone on stage with multiple top-designer ensembles and plenty of bling, coordinating and choreographing every last detail as they shared and swapped places in the spotlight over a hit-filled 36-song setlist. Every night kicked off with the triumphant "'03 Bonnie & Clyde" and featured the duo's other big collaborations, like "Crazy in Love" and "Drunk in Love." It all went down so well, The Carters returned in 2018 for On the Run II, which coincided with the release of their collaborative album, EVERYTHING IS LOVE.
5. Elton John & Billy Joel: Face to Face Tour 1994, 1995, 1998, 2001, 2002, 2003, 2009, 2010
Legendary piano men Elton John and Billy Joel made history as one of the most successful musical team-ups with their Face to Face Tours, which spanned some 15 years. The first tour, held in 1994, saw the two duetting and covering one another's songs along with their own respective hits. They came back for another round in 1995 and then extended the tour beyond North America in 1998. The duo reunited five more times between 2001 and 2010, before John and Joel went their separate ways. Now, it looks like the Face to Face franchise is forever a thing of the past, with the Rocket Man currently on his own Farewell Yellow Brick Road Tour.
6. Guns N' Roses & Metallica: Stadium Tour 1992
Rock gods Guns N' Roses and Metallica organized one of the first major co-headlining tours in the summer of 1992 and, predictably, experienced a few unfortunate setbacks along the way. At the time, GN'R were promoting their Use Your Illusion I & II albums, while Metallica were plugging their self-titled album, a.k.a. The Black Album. During the tour, Guns N' Roses' Axl Rose damaged his vocal chords, but the more catastrophic event came when Metallica's James Hetfield suffered second- and third-degree burns from a pyrotechnics mishap. Fun fact: Rose wanted Nirvana to be the opening act for the tour, but Kurt Cobain turned down the offer. Imagine that lineup.
7. Tim McGraw & Faith Hill: Soul2Soul Tour 2000, 2006, 2017 
Long before today's power couples were Tim & Faith, country music's long-reigning couple who first matched up in 1996 when Hill was the supporting act for McGraw on his Spontaneous Combustion Tour. Four years later, they took to the road as husband and wife for their first Soul2Soul Tour, which showcased both McGraw's classic country-rock style and Hill's refined country-pop appeal. They'd return again in 2006 and 2007 for the Soul2Soul II Tour, an even grander affair, which became the highest-grossing country music tour of all time. It'd take another decade for the two to come back together for Soul2Soul: The World Tour in 2017 and 2018. It was another massive success, proving their unwavering commitment to their fans — and each other.
8. New Kids on the Block & Backstreet Boys: The NKOTBSB Tour 2011
Boy bands forever! New Kids on the Block and Backstreet Boys made more than a few girls (ahem, women) ecstatic when they merged to become the swoon-worthy supergroup NKOTBSB in 2010. The nine-guy team then released a self-titled compilation album, including the collaboration "Don't Turn Out the Lights," before trotting around the globe for the NKOTBSB Tour in 2011 and 2012. They've since hinted at a possible reunion, which the world awaits with bated breath.
Make sure to catch Mary J. Blige and Nas on their current co-headlining tour. Tickets below!