7 Iconic Live Harry Styles Moments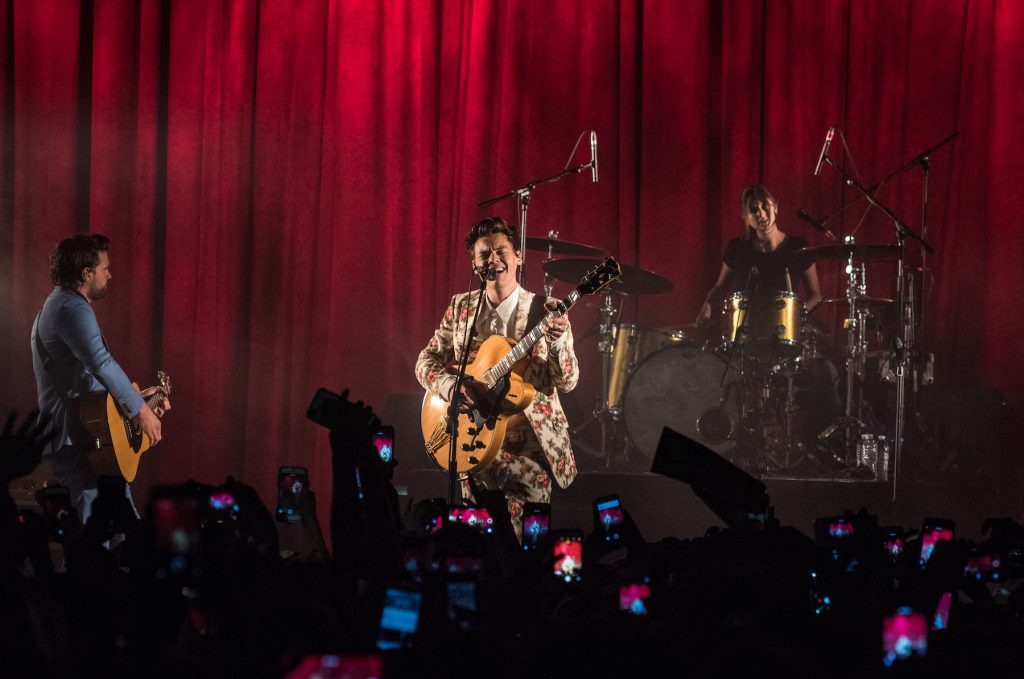 To say Harry Styles' first solo tour had a few highlights is a bit of an understatement. There were floral Gucci bell-bottoms, there was bona fide Jagger swagger, there were even near-Olympian feats — who could forget that time Styles caught a gummy bear thrown from the crowd in his mouth? Fans received gift after gift from the former One Direction star as he ran his rock-heavy debut LP, 2017's Harry Styles, around the globe. As the charismatic singer-songwriter readies a psychedelically inspired follow-up, Fine Line, we find ourselves reminiscing over the best bits from his 2017 to 2018 Live on Tour outing. 
Harry Performs "Landslide" With Stevie Nicks
Throughout setlist reshufflings, Styles kept Fleetwood Mac's 1977 "The Chain" in his encore, but those lucky enough to catch his warm-up gig at West Hollywood's legendary Troubadour club were treated to something historic in its own right as Stevie Nicks performed three duets with Styles: his "Two Ghosts," her "Leather & Lace," and that other Mac classic, "Landslide."
Harry "Covers" 1D's "What Makes You Beautiful"
Directioners everywhere breathed a sigh of relief (after they were done screaming) when Styles deployed his former band's biggest hit on the first night of his tour. It was a bold move for an artist in the midst of reinvention but Styles made it his own with a little grit and twang.
Harry Debuts Two New (Still Unreleased) Songs
Styles kicked off the 2018 European leg of Live on Tour by unveiling not one but two brand-new songs. While the chiming, shout-along "Anna" was more than welcome, it was the darkly surging "Medicine" that made headlines for a lyric appearing to embrace same-sex love.
Harry Rides Hard for Inclusion, the Whole Time
Sure, Styles sold merch that read "Treat People with Kindness," and he often greeted crowds by saying something like, "Please feel free to be whoever you want to be in this room." But one of the tour's most memorable traditions was born at the tour kickoff in San Francisco, when a fan threw a pride flag on stage and Styles happily incorporated it into his set. That played out time and time again (with an array of flags representing oppressed peoples, in fact), creating a safe enough space that one California fan had Styles help her come out to her mom mid-gig.
Fans Repay Harry With an Arena-Sized Rainbow Flag
By the time Styles reached London's 30,000-strong O2 Arena, fans had used social media to mobilize around a hugely special and especially huge project. As he sang the words to "Sweet Creature," the crowd turned the massive space into one big rainbow, using cell phone lights and bits of colored paper to pay Styles back for accepting them as they are. 
Harry and Kacey Musgraves Cover Shania Twain
The mighty Kacey Musgraves opened Styles' North American arena dates, and she returned to the stage at Madison Square Garden to join him in a cover of Shania Twain's "You're Still the One," a song that Styles introduced as "one of my personal favorites." Their harmonies ring true as Styles strums, and kids in the crowd discover a love for '90s country-pop. 
Harry Belts Out "Kiwi" Three Times in a Row 
Nearly a year after that Troubadour warm-up gig, Live on Tour made it full circle, back to Los Angeles for a grand finale at The Forum in Inglewood. And yet, Styles wasn't ready for it to end. When he introduced "Kiwi" as "the last song of the night," he wasn't lying — but he wasn't exactly being truthful, either. With his battle-tested band behind him, Styles danced, shouted, and sweat as he performed the rip-roaring single not one, not two, but three times in a row.