2018 was full of memorable and epic live events, but which ones defined the year in entertainment?
This year alone, Ticketmaster provided 500 million tickets to fans in 29 countries. Now, tens of thousands of fans have voted to crown some of today's most amazing artists with Ticketmaster's annual Ticket of the Year honors.
And the 2018 winners are…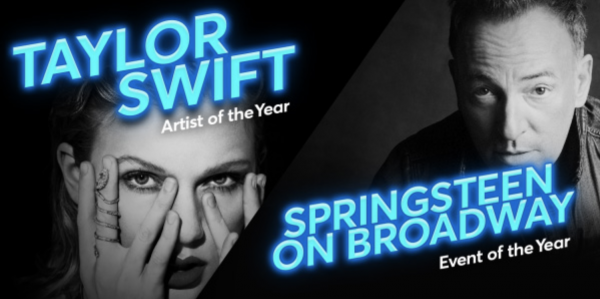 Read on to recap all the magic (and broken records) that fans experienced from this year's honorees.
---
2018 Event of the Year:
In October 2017, previews kicked off for the run of Springsteen on Broadway. The idea was to create a closer, quieter connection with The Boss' true believers than ever before, with a show that combined solo acoustic performances on guitar and piano with the kind of between-song storytelling Springsteen had long since become famous for at his sell-out stadium shows.
Springsteen initially planned for his run in Broadway's 960-seat Walter Kerr Theater—the smallest venue he'd played in four decades—to last for just eight weeks. But you know Springsteen fans. Their demand created such a clamor that The Boss had to change his plans.
And as demand continued to far exceed ticket supply, Springsteen gave into the passionate power of his fans yet again, extending the run for a second and third time through December 15, 2018 – leveraging Ticketmaster's Verified Fan program along the way to help get tickets directly into the hands of his fans.
Over 200 shows later, Springsteen has now played to more than 200,000 fans in that intimate theater on W. 48th St.; praised everywhere from Rolling Stone to The New York Times for a revelatory performance that peeled away the rock-star persona to allow fans to commune with the real Springsteen, in a one-of-a-kind experience packed with passion and power.
It's no wonder that our fans voted for Springsteen on Broadway as the 2018 Ticketmaster Event of the Year.
---
2018 Artist of the Year:
What inspired US fans to name Taylor Swift as 2018 US Artist of the Year after her blockbuster Reputation tour came to a close? Let us count the ways. 
For one thing, Swift was starting from a place of strength. After all, the album Reputation was certified triple Platinum, with its biggest single, "Look What You Made Me Do," going Platinum four times over. The album boasted a larger-than-life production, the tour production matched it in spades. From Swift's high flying over her audiences, to surprise guests, and the gigantic, building-sized snake sculptures looming over the stage, Swift has forevermore upped the standard for stadium tours.
Speaking of stadiums, Swift broke attendance records at one after another, throughout her tour's 53 shows. She raised the bar for touring records set by everyone from Metallica to One Direction and even U2. And at several of them she became the first female ever to headline multiple nights, giving her longtime "girl power" theme some real teeth.
Like Springsteen on Broadway, Swift's Reputation tour was also powered by Ticketmaster's Verified Fan, enabling a staggering one million fans to gain access to tickets early, safely, and quickly based on their engagement and passion for this powerful performer.
The tour became the biggest-selling North American run by any woman ever, and guess who Swift beat out for that honor? Yep, you guessed it: herself. She actually set the previous record with the 2015 tour for her album 1989. 
It's no wonder the Reputation tour earned rapturous reviews everywhere from Variety to Billboard and beyond, and her fans were "Ready For It" as they dub her Ticketmaster's 2018 Artist of the Year for the US.
---
Make a resolution to see more shows next year! Check out our Holiday Gift Guides for inspiration, and the widget below for events happening near you right now.