2018 was full of memorable and epic live events, but which ones defined the year in entertainment?
This year alone, Ticketmaster provided 500 million tickets to fans in 29 countries. Now, tens of thousands of fans have voted to crown some of today's most amazing artists with Ticketmaster's annual Ticket of the Year honours.
And the 2018 winners are…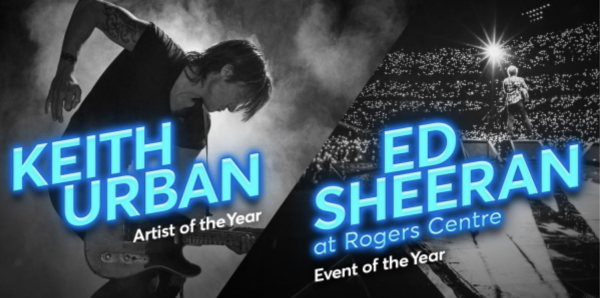 Read on to recap all the magic that fans experienced from this year's honourees.
---
2018 Ticket of the Year:
A pair of very special 2018 dates on British folk/pop superstar Ed Sheeran's historic ÷ tour inspired fans to vote for the shows as Canada's Ticket of the Year. Over the course of two nights at Toronto's renowned Rogers Centre on August 30-31, the redheaded troubadour played to more than 98,000 people, grossing over $8.5 million. The shows were part of a tour that began in March 2017 in support of Sheeran's ÷ album, an international sojourn that turned into a kind of never-ending odyssey, lasting all the way through 2018 with dates scheduled into August 2019 and no end yet declared.
In other words, as long as there are fans somewhere in the world clamoring for Sheeran's presence, be they in Europe, Latin America, Africa, or Asia, he's been willing to work them into his plans. Assuming he actually wraps it all up sometime in 2019, it's been estimated that this epic worldwide trek could become the highest-grossing tour ever, not to mention the most-attended. But in the midst of all the madness, his sweet summer evenings under the opened dome of the Rogers Centre stood out as highlights of his history-making journey.
Snow Patrol delivered strong opening sets, but when Sheeran stepped out on the stage, the link between the singer/songwriter and his fans was palpable from the start, only strengthening over the course of his approximately two-hour performance. It takes a special kind of performer to go out there all by himself, armed with only an acoustic guitar and a honeyed voice, and bowl over tens of thousands of people, but that was the task at hand, and Sheeran showed himself to be more than up to it.
Of course, he did have some assistance from all those admirers, whom he exhorted to clap and sing along with him. From debut single "The A Team" to new songs like "Castle on the Hill," "Galway Girl," and "Don't/New Man" to set-closing fan fave "Sing," Sheeran delivered a show that was alternately tender and electrifying, maintaining a warmly intimate feel throughout. However many more bravura performances Sheeran delivers on this heroic tour of his, the singer's time at the Rogers Centre will stand out in perpetuity.
---
2018 Artist of the Year:
The combination of a killer new album and a top-tier tour to support it was just what it took for Canadian fans to vote for Keith Urban as Artist of the Year. To begin with, the album's lead single, the straight-up feminist anthem "Female," couldn't have dropped at a better time, riding a wave of popular passion around the topic of women's empowerment in fall 2017. And in April 2018, when the New Zealand-born country superstar released his 10th studio album, Graffiti U, it quickly became Urban's sixth No. 1 record on the U.S. country album charts and topped Billboard's Canadian Albums chart.
Urban's Graffiti U World Tour turned out to be just as exciting as the album itself, if not more. With 62 shows in 58 cities, covering North America, Europe, and Australia, Urban mounted a two-hour-plus show that packed dozens of tunes into the set list, ranging from Graffiti U hits like "Coming Home" and "Parallel Line" to classics like "But for the Grace of God" and "Days Go By." And whether he was playing to 16,000 rabid fans at the Budweiser Stage in Toronto or rocking the 19,000-seat Rogers Arena in Vancouver, Urban gave his all at every show, bringing a complete emotional commitment to the task of connecting with his audience.
Urban didn't skimp when it came to the opening acts for the tour, either. For the North American leg of the tour, the openers were Kelsea Ballerini, Lindsay Ell, and Julia Michaels, while Cam, Brett Eldredge, Chase Rice, and Drake White will be aboard for the European jaunt.
The technical side of the Graffiti U World Tour pretty much defined "cutting edge," with four huge video screens, a heavy-duty lighting setup, and a second stage that let Urban get closer to those seated furthest away. Urban's open-minded embrace of modern electronic production was realized in real time—no backing tracks here—with multitasker Nathan Barlowe taking breaks from playing the guitar to handle the loops, samples, and drum-machine rhythms via a high-tech electronic setup he nicknamed The Phantom System.
The guitar-hero side of Urban that fans have always loved was on display during the shows as well, with his trademark licks appearing in abundance. But six-string bravado aside, it might have been the moments when he materialized on that second stage for solo takes on tunes like "Kiss a Girl, "Who Wouldn't Wanna Be Me," and "You Look Good in My Shirt" that made the most visceral connection with his fans.
The European and Australian legs of Urban's international trek will take him all the way through March 2019, but from the time he closed the Canadian portion of the Graffiti U World Tour at Rogers Arena in September 2018, it was already obvious that this was one of the musical events of the year.
---
Make a resolution to see more shows next year! Check out the widget below for events happening near you right now.