16 Hot EDM Festivals for 2015 and Beyond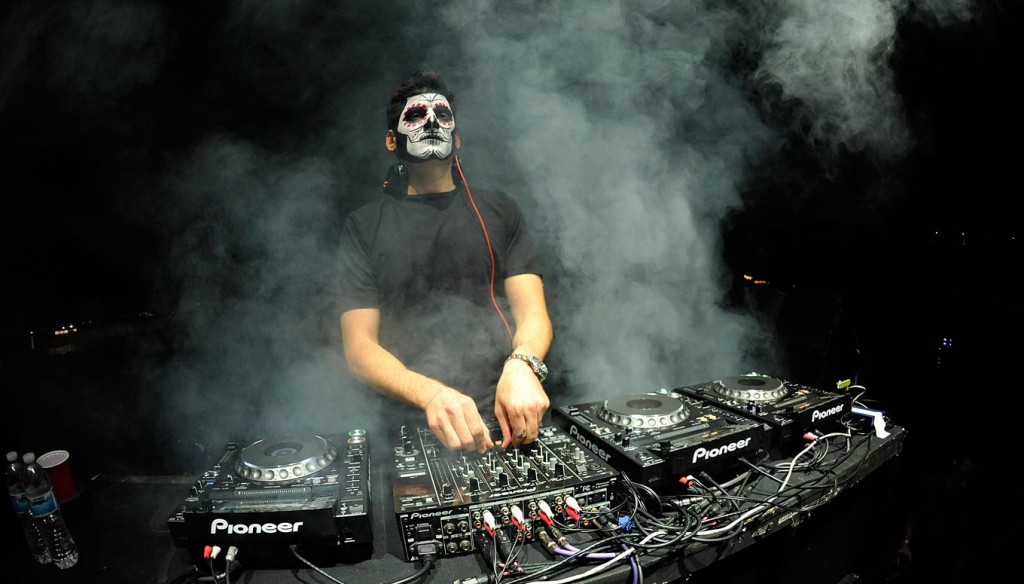 Over the last few years, EDM has swept the nation faster than the speed of light. It encompasses an infinite variety of ever-changing sounds and styles, from house and techno, to nu disco and funk, to dubstep and drum & bass — and so much more. Whether EDM is performed with a live band or as a DJ set, it unfailingly thrives in a festival atmosphere, where the production quality is first-rate and the crowd sentiment tends to be pleasantly unified.
As we approach the most wonderful time of the year — music festival season that is — Ticketmaster has taken the liberty of sharing our top electronic dance music festivals in the US and Canada for 2015 and beyond. Whether it's the brilliant artists, or the awe-inspiring aesthetics, or simply the unforgettable experiences that these events inspire, the below festivals are must-dos for every dance music fan. Did we miss any of your favorites?
1. Electric Daisy Carnival (EDC)
Since its inception in 1997, the Electric Daisy Carnival has gone from a one-day Southern California event to a weekend-long festival held in various parts of the states as well as Mexico, Puerto Rico, and the U.K. It is yet another impressive feat by Insomniac and typically features multiple stages with a variety of prominent dance styles, including house, electro, drum & bass, dubstep, and more. Next up is EDC New York on Memorial Day Weekend (May 23-24), and then EDC Las Vegas from June 19 to 21.
Here's the first artist confirmed to play EDC Las Vegas http://t.co/dE6PNYUz8D pic.twitter.com/ESY6NvNUEk

— Dancing Astronaut (@dancingastro) February 20, 2015
So #EDCPR is over… Next is #EDCMX ! Followed by #EDCNY ! And then… @EDC_LasVegas ! Ahh! Can't wait! @insomniacevents pic.twitter.com/3u31JJmfz8

— ØNYXUS (@Onyxus_music) February 23, 2015
2. Beyond Wonderland
Beyond Wonderland is spearheaded by dance music's leading promoter, Insomniac, and like fellow Insomniac events, it is widely celebrated for its extravagant, dreamlike production and of course, top-notch talent. The two-day event starts on March 20, so if you want to see Tiesto, Hardwell, Aly & Fila, Benny Benassi, Green Velvet, and more, we'd highly recommend snatching your tickets today!
#TBT to the light tunnel at #BeyondWonderland '11 ❤️❤️
Don't miss out on our return to SoCal ➼ http://t.co/yNnIXP7Mdo pic.twitter.com/o5cbDSlUIt

— Beyond Wonderland (@BeyondWland) February 19, 2015
3. Electric Forest
Hidden away in Rothbury, Michigan's beautiful wilderness, Electric Forest is a mystical, fantasy land that provides the perfect escape from real world trials and tribulations. Not to mention, this year's lineup features a few of the top trailblazers in the game: Bassnectar, Skrillex, Kaskade, Flume, and Big Gigantic just to name a few. If you're looking for a unique festival experience, Electric Forest is for you.
The moment is now! Please welcome the artists who will be joining the #ForestFamily at #EF2015! http://t.co/fyOMmWIU9K

— Electric Forest ⚡🌲 (@Electric_Forest) February 11, 2015
4. Electric Zoo
If you're a dance music fan, Labor Day weekend is certainly best spent at the annual Electric Zoo Festival on NYC's Randall's Island. It was nominated for the International Dance Music Awards' "Best Music Event" for four consecutive years, and after the recent collaboration with ID&T (creators of TomorrowWorld), this year's lineup (TBA) is indubitably destined for greatness.
Tier 1 is SOLD OUT & #EZoo Tier 2 has officially begun. Get tix/info here: http://t.co/8ZplZUztiM pic.twitter.com/m8eSNLxmoQ

— Electric Zoo – #StayInside to #SaveTheSummer (@ElectricZooNY) January 27, 2015
5. Euphoria
The Merriam-Webster dictionary defines euphoria as "a feeling of great happiness and excitement," and that couldn't be a better depiction of the Euphoria Music & Camping Festival. Featuring a lineup that's relatively unconventional and distinct, Euphoria holds its own in a market full of EDC's and Ultra's. Catch the party April 10-12 at Carson Creek Ranch in Austin, TX.
In case you missed it, the #EMCF15 Phase 2 dropped today! More TBA! <3http://t.co/bTL6NhhopH pic.twitter.com/k7pMca9JrZ

— Euphoria (@euphoriafest) February 13, 2015
6. HARD Summer & HARD Day of the Dead
HARD is not only known for throwing killer dance music events, but also for being one of the only EDM promoters that consistently focuses on up-and-coming talent in addition to the big name headliners. Since its first festival in Downtown Los Angeles in 2007, HARD has developed several different branches, the two most notorious festivals being HARD Summer (August) and HARD Day of the Dead (late October-early November). Neither festival has confirmed headliners as of now, but definitely keep an eye out in the coming months.
7. Holy Ship!
The only thing better than a dance festival is a dance festival on a vacation cruise ship, and that's exactly why we love Holy Ship. Started by HARD Events mastermind Gary Richards (AKA Destructo), Holy Ship sets sail from Miami twice a year, and both trips inevitably sell out within minutes. Read more about the holy experience in Gary Richard's recent interview with Billboard.
Feb Cruisers make some noise for the @Holy_Ship! 2015 February Schedule!

We comin' for ya..

See you soon! pic.twitter.com/cRAS6Ku0tU

— Holy Ship! (@HOLY_SHIP) February 6, 2015
8. Lightning in a Bottle
If you missed the recent Lightning in a Bottle lineup announcement, prepare to be amazed. In addition to exponentially improving its lineup year after year, Lightning in a Bottle boasts a "transformational" aspect, advocating programs in sustainability, personal health, social cohesion, and creative expression.
9. Mad Decent Block Party & Boat Party
Besides having nearly every female in the universe fawning over him, DJ/producer Diplo's accomplishments include the founding of the Mad Decent record label as well as its multi-city Block Party and more recently added Boat Party. The boat party is scheduled for November 11 to 15, and stay tuned for details about the summer Block Parties.
DO NOT MISS THIS!

Sign up for the pre-sale now…

Do it @ http://t.co/NWb8c0UEto pic.twitter.com/DKjvEy6OZg

— maddecent (@maddecent) February 6, 2015
10. Movement
Movement is designed for the more seasoned festival goers, typically spotlighting a highly-refined roster of underground acts intermingled with techno/house favorites. For over a decade, the festival has been hosted in the city known as birthplace of techno, Detroit, Michigan. This year, the lineup has maintained its primacy with Disclosure, Richie Hawtin, Dog Blood (Skrillex & Boys Noize), and even Snoop Dogg performing as DJ Snoopadelic.
90 days until #MovementDetroit 2015! pic.twitter.com/0amTLvjS4r

— Movement Detroit (@MovementDetroit) February 23, 2015
11. SnowGlobe
Tickets for SnowGlobe's 2015 bash sold out nearly a full year in advance — need I say more? It is the premiere annual New Year's Eve event for dance lovers across the globe and while the temperatures of Tahoe are freezing cold, the constant stream of quality music and positive vibrations is sure to keep you warm.
#FBF || Main Stage at SnowGlobe Music Festival [12.31.14]http://t.co/wDG7ZpRbxP pic.twitter.com/T0Db8F1I8l

— LJ Laboratory (@LJLaboratory) January 30, 2015
12. Spring Awakening
The dance music scene is alive and thriving in Chicago, and Spring Awakening is proof. Described as "…a who's who of the industry's biggest and brightest" by THUMP, this year's three-day lineup encompasses headliners Zedd, Hardwell, Tiesto, Eric Prydz, Diplo, and nearly every other act your heart may desire — plus more to be announced.
13. TomorrowWorld
As the United States' version of the largest electronic musical festival in the world, Belgium's Tomorrowland. TomorrowWorld has done an excellent job at holding down the fort here in the states. In merely the span of two years since it was launched, it has witnessed the likes of Armin Van Buuren, Tiesto, Hardwell, Kaskade, Diplo and more. This year's festival is set to take place in its birthplace, Chattahoochee Hills, Georgia from September 25 to 27.
14. Ultra Music Festival
With Ultra Music Festival and the annual Winter Music Conference coinciding in late March, Miami has rightfully become the dance music Mecca in the Spring time. Ultra was founded in 1999, and over the years it has expanded to every corner of the globe, including Brazil, Ibiza, Croatia, Korea, and more. This year, Ultra Miami will be from March 27 to 29, and phase 1 headliners include heavyweights Tiesto, Afrojack, Alesso, Armin Van Buuren, David Guetta, and Avicii.
With @ultra 2015 only 36 days away, here's my fave #TBT of @SteveAngello from Ultra 2014 (photo cc: @Visualbass) pic.twitter.com/qA6GDSkfof

— Steve AngelloToronto (@steveangellotor) February 19, 2015
15. Digital Dreams
Hosted annually by Bud Light, Digital Dreams has maintained the rank as Canada's largest electronic music festival for several years. The fact that only three headliners have been announced, but they are Armin Van Buuren, Carl Cox & Friends, and Pete Tong, is a clear sign that it is not one to miss this year. Mark your calendars now, as the festival is set for June 27 to 28 at The Flats at Ontario Place.
16. VELD
Back for the third year, Toronto-native Deadmau5 will be headlining this year's VELD festival, alongside Hardwell and many more artists to be announced. Ink Entertainment and Live Nation have teamed up to put on the August 1-2 event, and tickets went on sale on Feb. 19 — get 'em while they're hot!
This Summer, #UnitedWeAre with @Hardwell​ at VELD Music Festival 2015! #VELD2015 pic.twitter.com/X3BSsQ46I0

— Veld Music Festival (@VELDFest) February 18, 2015
Tags
You Might Like
From pulsating beats to breathtaking performances, we bring you a curated selection of festivals happening across the summer that will leave you with unforge...
As we prepare for Lollapalooza's virtual 2020 installment, let's look back at the moments that made the festival iconic.
Headed to Voodoo? Here's everything you'll need.