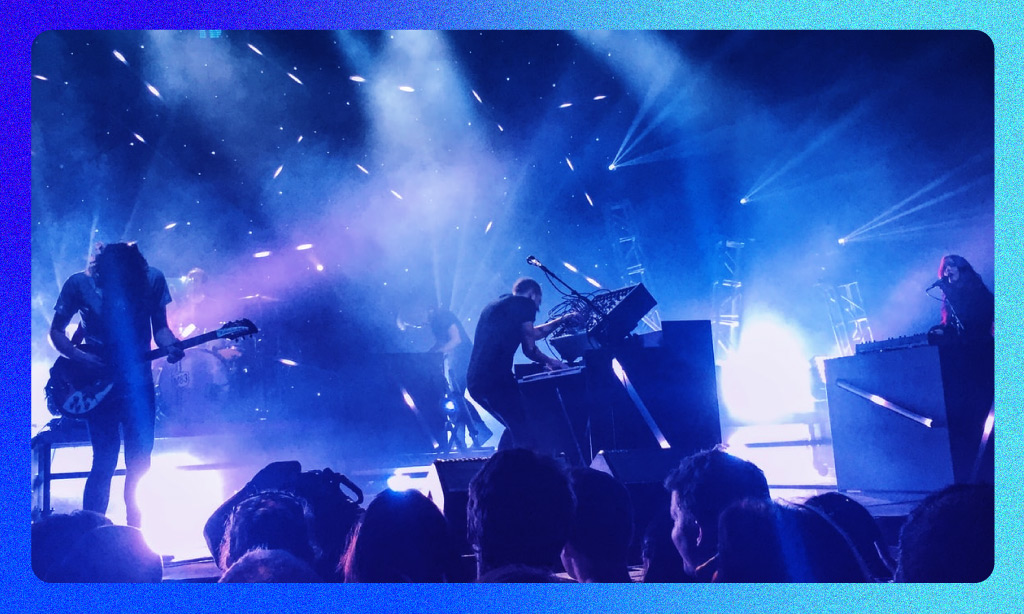 Sometimes, your plans change and you can't make it to the concert — even when you really, really want to go. We get it. That's why we make it super easy to sell your concert tickets to another fan when you can't be there. 
To give you even more flexibility, we're waiving Ticketmaster's portion of fees for fans selling their concert tickets. Selling on Ticketmaster is convenient, and with this program, you keep 100% of your list price. For example, if you set your list price for $75, and your ticket sells, you will receive the full $75.
Please note, Ticketmaster does not control the majority of overall ticket fees. Read on to learn more about what fees are waived by this promotion.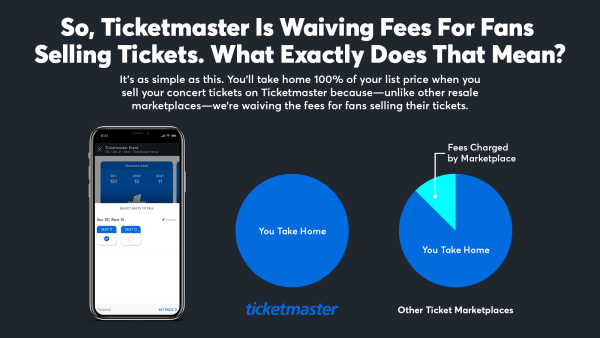 Selling with Ticketmaster

Where should I sell my concert tickets if I can't make it?
Ticketmaster offers you the most flexibility. If your plans change and you can no longer attend the show, you can conveniently and safely sell your tickets on Ticketmaster to another fan. Fans consistently tell us they know the tickets they buy on Ticketmaster are legitimate, which means you will sell your ticket faster with Ticketmaster than on other marketplaces.
No Fees
Why sell with Ticketmaster?
Unlike other ticketing marketplaces, Ticketmaster is waiving fees for fans selling their tickets. That means you'll take home 100% of the list price you set for your tickets.

What events are eligible?
You can sell concert tickets with no fees attached anywhere resale is available. If you don't see a Sell button on your event details page, or the button is grayed out, the event organizer has not enabled tickets to be resold and selling your tickets through Ticketmaster is not an option.

How do I know if my concert tickets are eligible?
To see if your tickets are eligible, click the Sell button next to your event in My Account. If you see "Zero Seller Fees" once you've selected the tickets you want to sell, you'll know your tickets are eligible. See the example below for reference.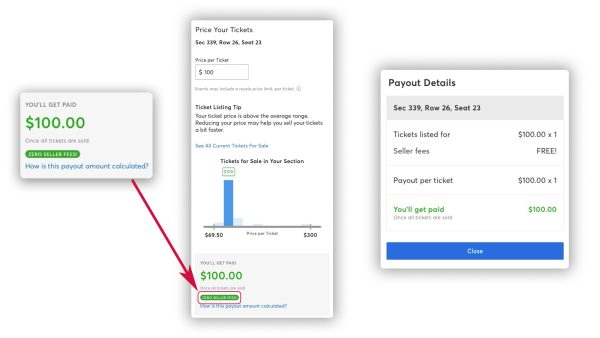 What if I purchased tickets during the promotion, but sold them after the program ends?
We will waive our portion of fees on eligible tickets sold after the promotional period has ended as long as the tickets were listed while the program was active.

What if I listed my concert tickets for sale before the program started?
If you listed your tickets for sale before the program started, you can edit your listing. Once you repost your tickets, the fee waiver will be applied.

Does Ticketmaster control all fees?
Ticketmaster does not control all ticket fees. Ticket prices and fees are set by event organizers at the initial onsale. Typically the artist keeps the majority of the ticket's face value, and the venue keeps the majority of the ticket fee. Ticketmaster retains a small portion of that original fee, which is used to provide the software, equipment and services that event organizers need to manage their tickets. Since these fees are ultimately set by event organizers, they are not currently included in this promotion.
If a ticket is resold on Ticketmaster, we collect a fee to help cover the technology to support that resale transaction between fans. This is the fee that is waived for this promotion. Fans will only be able to take advantage of this promotion if the event organizer has enabled tickets for their show to be resold.

How long will the promotion last?
Ticketmaster continually evaluates fan programs. Check back here for any updates or program changes.