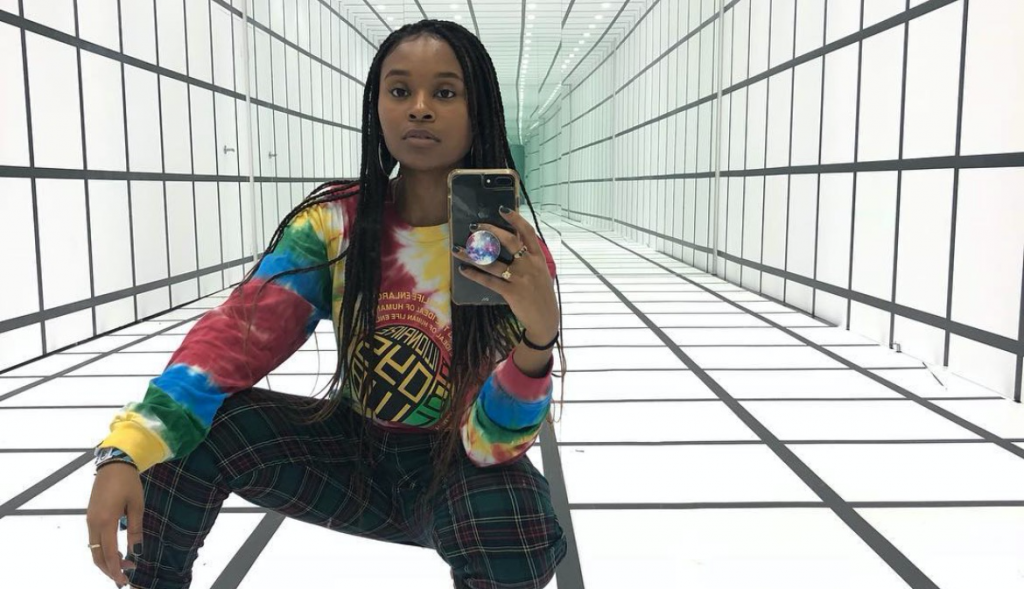 Ashleigh Hill is a music lover that explores the mystic and magic behind the artistry in music and culture, working at the intersection of community, experiences, and media at TheFutureParty. She's obsessed with live music, making it difficult to choose a favorite artist. However, she finds new music daily and has around 20 mixes on Spotify for your happy listening! 
Have you heard of Clubhouse? Less than a year old and already valued at $1 billion, Clubhouse is a drop-in audio app still in beta that is driving culture. It allows for authentic connection and celebrates thought leadership, with shakers such as Alisa Jacobs, Swan Sit, & Leah Lamarr. There is a wide variety when it comes to format on the app—conversations, game shows, "shoot your shot rooms", comedy stand ups, karaoke, and more. Clubhouse is an exciting new playground, taking on a new style of venue for creators and artists alike. 
March is Women's History Month. Shout out to all the epic women out there! This month and every month, I host a variety of conversations on Clubhouse centered around Women with TheFutureParty, a community-based media company. Women are making moves on this platform, and I truly believe it'll be a place to level the playing field, making all voices heard. 
Here we highlight five conversations around Women coming up on the schedule in March with TheFutureParty. All topics are diverse in subject matter, so I hope one of them interests you and that you're able to join. You too can contribute in making waves and empowering equality for all!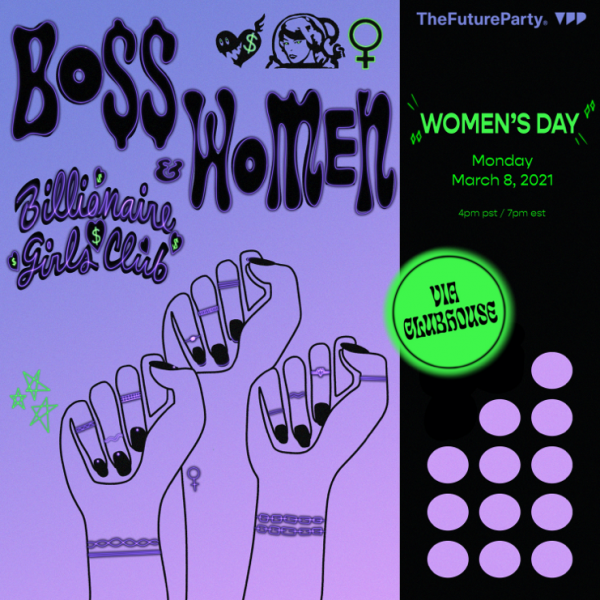 Artwork by Claudia Africano
Monday March 8 @ 4PM PST
Boss Women & Billionaire Girls Club 💸🤑💖 is a conversation with female entrepreneurs in honor of International Women's Day. Come chat to explore "where the money resides", successes & challenges, and experience mentorship guidance from the greats. ✨💲💚
Hillary Alexandre

, PR & Marketing at BBC Icecream & Billionaire Girls Club, comes together with myself to curate a conversation on International Women's Day celebrating and connecting needle-pushing women. Hillary is the hardest working woman I have met when it comes to pushing gender equality and elevating the voices of women and communities of Color. I admire her drive. 
Every Wednesday @ 3PM PST
Girls with Kicks: HYPEBAE Stigma 👟 is a community for female Sneakerheads, empowering all sneaker lovers & advocating for inclusive sizing. Last week we broke down female sneakerhead culture & the stigma surrounding the industry. 👟🛹⚡️ Join us this week as we explore this further. 
Hosted weekly in the club with

Chelsea Ma

, Co-Founder of

Takeon Label

. She

cares deeply about inclusivity in women's sizing and product quality. She is a pioneer opening up the conversation to others to challenge the issue and drive change. 
Every Wednesday @ 4PM PST
Crypto Art & NFTs: Art vs. Hype is an evening about bridging the gap between the traditional art world and the emerging NFT space.
Hosted weekly by

Olive Allen

, an incredible virtual artist working at the intersection of art and technology.
Every Sunday @ 10AM PST
🔮 Blockchain Baddies: Cryptosphere & Crypto Culture 101. Welcome to the cryptosphere! It's time to catch the 411 and dive into blockchain. We know our stuff, you can too. We'll start at the beginning of the space, share the basics, and explore the future. ⚡️
Hosted weekly by some incredible and intelligent women at

Blockchain Baddies

, led by

Karsen Woods

,

Claudia Africano

, & myself. Claudia is an absolute STAR. She's an artist, muralist, and merchandise designer for a variety of musicians and designers. Karsen is also a true shaker herself—a brand evangelist, hypegeek, and completely clued in to the Metaverse. These two ladies inspire me everyday in their encouragement towards educating others and trying to find value in everything and every one. We are curating conversations around cryptocurrency and blockchain technology by educating, exploring the future, and providing a space for women to have their voice heard in a male dominated ecosystem. 
Every Monday @ 2PM PST
🎶🎙 Let's Talk Music: Women in Music, For the Ladies! Calling all music lovers: join our show every Monday to discuss the week's hottest new music & artists, industry trends, and more. Each week, hear unique perspectives from friends in the industry. 
I host this conversation weekly alongside

Claudia Africano

,

Ben Marienthal

, and

Paul Yurick

. Ben is a cause-driven marketer, a supporter of us ladies, and a beautiful human being himself—a connector and creator. Paul is my sidekick at TheFutureParty, and on Clubhouse. We collaborate on all things experiences, community, and collaborations. He's a true team player and most importantly, THE community wizard. Last week, we curated an exciting group of women in the music industry. As the title states, it's for the ladies!
Women are making moves and Clubhouse is a place to nourish that. What innovations are you looking to make? What discussions are you looking to have? Feel empowered to have them, use your voice, and don't be afraid to speak up. I admire all of the women contributing and taking part in the conversations above (and am honored to call them my friends) and throughout the platform. A special thank you to ALL the Ladies.
Take a look at my upcoming programming with TheFutureParty and join us on our journey to change and grow the world. Thank you for reading.