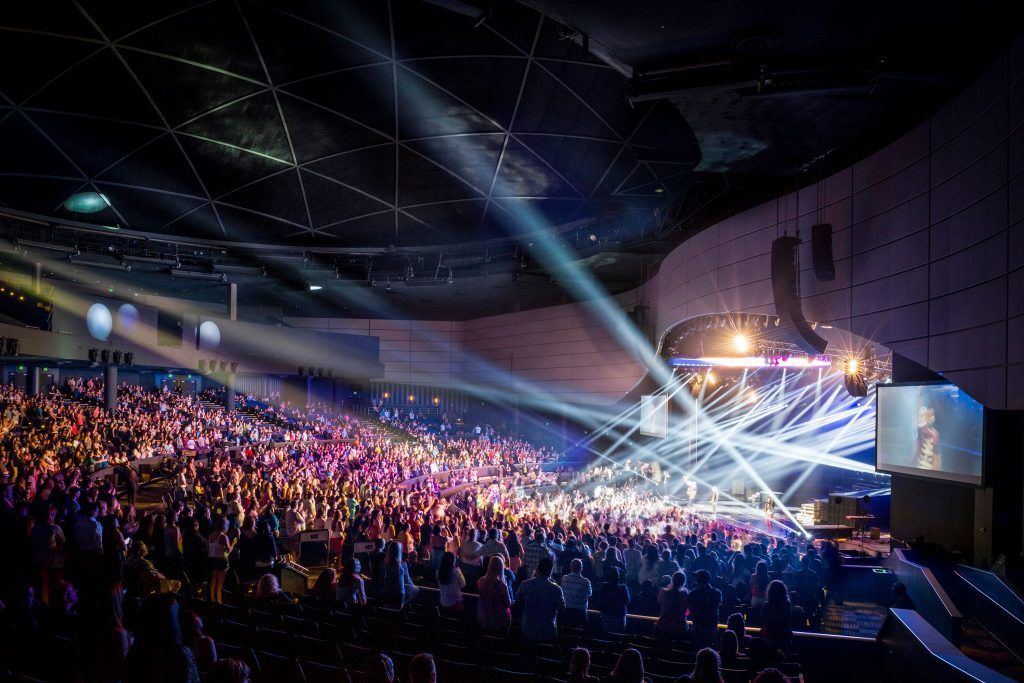 Zappos Theater at Planet Hollywood History
Featuring one of the largest video and projection installations in the world, with a groundbreaking D&B sound system that's just as impressive, Zappos Theater at Planet Hollywood is a great place to enjoy A-list entertainment in Las Vegas. On the site of the legendary Aladdin Hotel and a vital part of the Planet Hollywood casino complex since it opened in 2003, the auditorium was known as the AXIS and the Aladdin Theatre for the Performing Arts. In 2018, the Zappos Theater began its new life as a stage for many of the music world's biggest icons.
Zappos Theater at Planet Hollywood Performers
After the original theater's long life as a regular stop for superstars like Neil Diamond, Zappos Theater's modern history began with an opening gala in 2000 featuring Enrique Iglesias. As the AXIS, it played host to residencies for Britney Spears, Jennifer Lopez, Backstreet Boys and Christina Aguilera. Gwen Stefani began her Just a Girl residency at the Zappos Theater in 2018.
Planning Your Visit to Zappos Theater at Planet Hollywood
Visitors can complete their experience with dinner and drinks at one of Planet Hollywood's many culinary destinations. There are cool and casual options like Gordon Ramsay Burger and P.F. Chang's. Upscale options include the Strip House steakhouse and Koi, the Las Vegas edition of one of America's most famous restaurants for Japanese-inspired cuisine.
Zappos Theater at Planet Hollywood Frequently Asked Questions
What are the parking options at Zappos Theater?
Planet Hollywood's on-site covered parking is accessible via the garage and valet entrance on Harmon Avenue.
Does Zappos Theater serve food?
Yes. In addition to the many food and drink options in the Planet Hollywood complex, visitors to Zappos Theater can take advantage of the many concession stands.
What are the seating options at Zappos Theater?
General admission, reserved and VIP seating options in the 7,000-capacity venue differ with each show — Gold Circle and VIP Table options provide the most unforgettable views. Find tickets here.
What are the Zappos Theater safety & security guidelines?
Expect bag and visual security checks for events — large bags, large backpacks and suitcases will not be allowed inside the theater. For the latest on the venue's rigorous safety and sanitization protocols and policies, find more information here.
You Might Like
Everything you need to know about Miami's hub for sports and entertainment.
Xfinity Center History Since 1986, Xfinity Center has been Massachusetts' premier venue for outdoor concerts in a tree-lined setting. Originally known ...
Gainbridge Fieldhouse History In the heart of Indianapolis, Indiana, Gainbridge Fieldhouse has hosted a dizzying number of all-star athletes and world-class ...