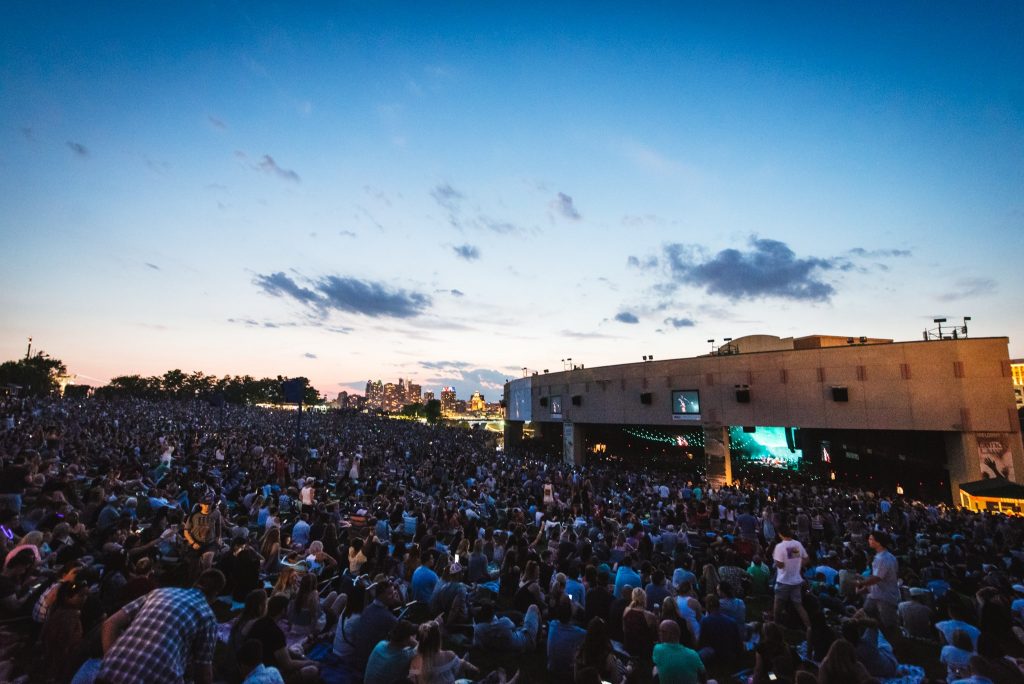 BB&T Pavilion History
Since 1995, BB&T Pavilion has been the Philadelphia area's premier indoor-outdoor venue. Located on New Jersey's Camden Waterfront across the river from Philly, BB&T Pavilion has a capacity of 25,000 during the summer concert season, while its fully enclosed indoor configuration can hold up to 7,000. BB&T Pavilion's former names include Blockbuster-Sony Music Entertainment Centre, Tweeter Center and Susquehanna Bank Center.
BB&T Pavilion Performers
In June 1995, BB&T Pavilion (then known as the E-Centre) threw a grand opening celebration featuring the music of Sir Andrew Lloyd Webber. The venue has since hosted concerts across the spectrums of popular and classical music, and it's been the site for radio-station-sponsored festivals like WMMR's MMR*B*Q and WXPN's XPoNential.
Planning Your Visit to BB&T Pavilion
At 1 Market St. in Camden, the family-owned Victor's Pub offers burgers and cheesesteaks as well as Italian-influenced specialties, and the same block is home to Fevzi's Mediterranean Grill, Market Street Pizzeria, and Fresh Mex. If you're coming to the pavilion via the RiverLink Ferry, you'll be right near Old City, one of Philadelphia's most vibrant neighborhoods — National Mechanics (22 S. 3rd St.) serves up innovative bar food in a hulking old bank, Han Dynasty (123 Chestnut St.) keeps its Sichuan kitchen open late, and Amada (217-219 Chestnut St.) is a tapas joint helmed by Iron Chef Jose Garces.
BB&T Pavilion Frequently Asked Questions
What are the BB&T Pavilion parking options?
Parking is available in lots along the Camden waterfront. BB&T Pavilion is also within walking distance of PATCO's Camden Waterfront stop and the Entertainment Center station on New Jersey Transit's River Line. From May through September, people on the Pennsylvania side of the Delaware River can take the RiverLink Ferry, a shuttle between Penn's Landing and the Camden Waterfront.
Does BB&T Pavilion serve food?
Nachos, hot dogs, cheeseburgers and other fast-food options are available at BB&T Pavilion's concession stands.
What are the seating options at BB&T Pavilion?
Outdoor shows have assigned seating and general-admission options. The general-admission section is the BB&T Pavilion's lawn, and lawn chairs are available to rent. (Fans cannot bring in their own lawn chairs, though blankets are OK.) ADA seating and accommodations are available for patrons with disabilities. Premium seating options are also available.
What are BB&T Pavilion's safety & security guidelines?
All guests are subject to pat-down searches and/or walking through metal detectors. For more information, including details on prohibited items and BB&T Pavilion's policies, visit the venue's information page.