Vegas Golden Knights Home Schedule 2019-20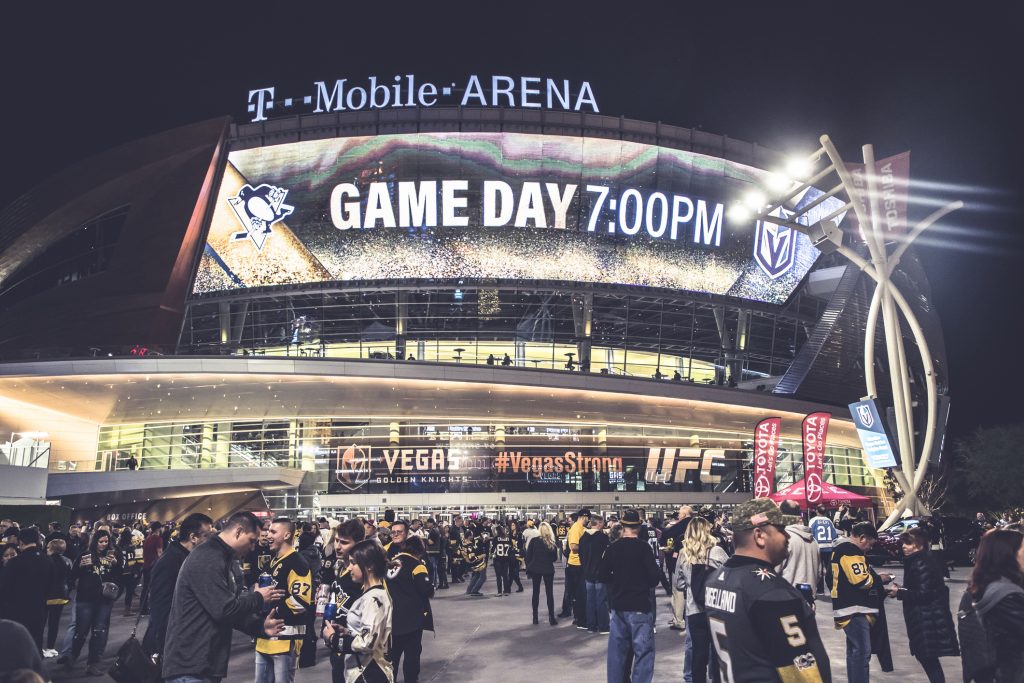 The 2019-20 season for the Vegas Golden Knights begins at home against the San Jose Sharks (Oct. 2). They host the Stanley Cup® Champion St. Louis Blues (Jan. 4) as part of a season-high seven-game homestand against the Arizona Coyotes (Dec. 28), Anaheim Ducks (Dec. 31), Philadelphia Flyers (Jan. 2), Pittsburgh Penguins (Jan. 7), Los Angeles Kings (Jan. 9), and Columbus Blue Jackets (Jan. 11).
The Golden Knights' Pacific Division slate includes five games with the Coyotes, as well as four times each with the Ducks, Calgary Flames, Edmonton Oilers, Kings, San Jose Sharks, and Vancouver Canucks. They host the Blues again on Feb. 13.
Vegas Golden Knights at T-Mobile Arena
The Golden Knights are the NHL's youngest team. They joined the league as an expansion team in the 2017-18 season and moved into T-Mobile Arena, which opened in 2016. The Golden Knights promptly turned in one of the best inaugural seasons in sports history. They set NHL records for the longest winning streak and most total wins in an expansion season, and were the first expansion team to ever win its division.
The Knights' 2017-18 success carried into the postseason, where they won the Western Conference and advanced to the Stanley Cup® Final. They ultimately lost in the finals to the Washington Capitals, but the Knights were just the third team in NHL history to make it to the Stanley Cup® Final in their first season. They were the first team to do it since 1968.
Vegas Golden Knights Seating Chart – T-Mobile Arena
Individual game tickets for all games are available now.
Stay up to date on the Golden Knights all season on Twitter @GoldenKnights.
All game times are local and subject to change.
NHL, the NHL Shield, the word mark and image of the Stanley Cup, the Stanley Cup Playoffs logo, NHL Ticket Exchange, and the word mark NHL Winter Classic are registered trademarks and the NHL Winter Classic logo, NHL Heritage Classic name and logo, NHL All-Star logo, and NHL Stadium Series name and logo are trademarks of the National Hockey League. All NHL logos and marks and NHL team logos and marks depicted herein are the property of the NHL and the respective teams and may not be reproduced without the prior written consent of NHL Enterprises, L.P. © NHL 2019. All Rights Reserved.
You Might Like
Browse the St. Louis Blues schedule at Enterprise Center and find your favorite NHL tickets.
See the Columbus Blue Jackets schedule at Nationwide Arena and plan for the NHL season.