Vancouver Canucks Home Schedule 2019-20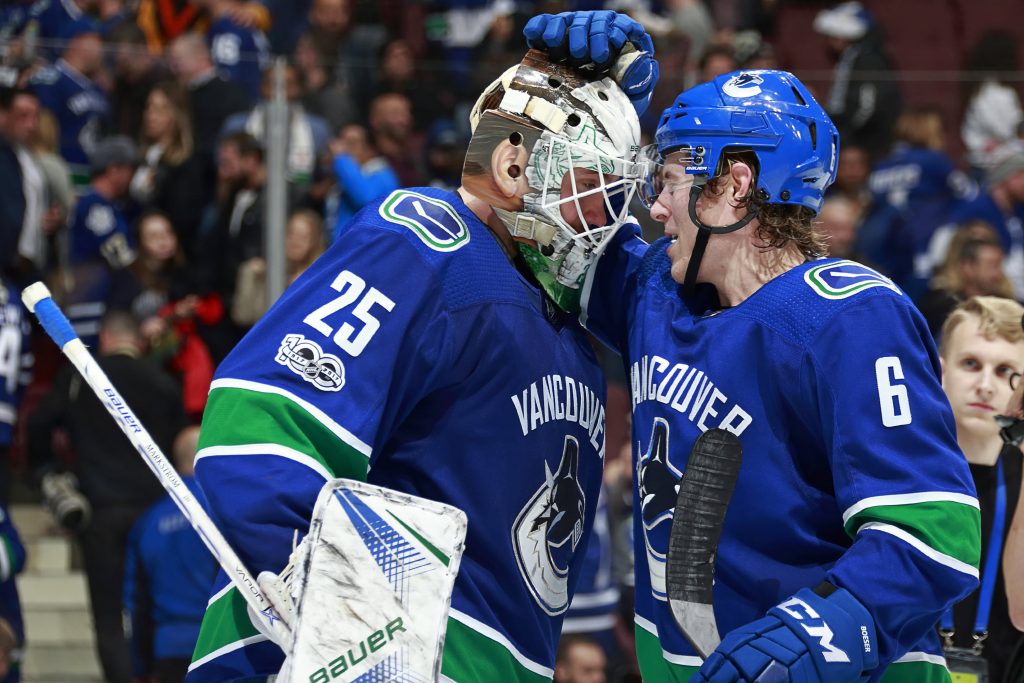 The Vancouver Canucks begin their 50th season in the NHL® at home against the Los Angeles Kings (Oct. 9), who the Canucks first faced in their debut season in 1970-71. They host another key matchup later that month against the Washington Capitals (Oct. 25). Their longest home stand of the season is six games from February 8-22.
The Canucks have different Era Series that acknowledge decades in Canucks history. November has a 1970's celebration where greats from the inaugural decade of Canucks hockey will be showcased during the game against the St. Louis Blues (Nov. 5). December has a 1980's celebration against the Buffalo Sabres (Dec. 7) with memories of the white towel and Vancouver's first march to the Stanley Cup® Final. January has a 1990's celebration of the Black Skate jersey against the New York Rangers (Jan. 4). They wrap up their regular season with a Fan Appreciation Night against the Vegas Golden Knights (April 4).
Vancouver Canucks at Rogers Arena
A member of the National Hockey League since 1970, the Vancouver Canucks play in the NHL's Pacific Division. Their home stadium is the 18,910-seat Rogers Arena in Vancouver, which was the hockey venue for the 2010 Winter Olympics. The Canucks are coached by Travis Green.
Vancouver Canucks Seating Chart – Rogers Arena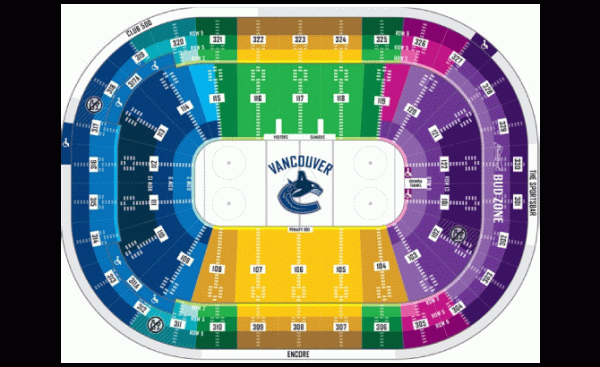 Individual and group tickets are available for all home and away games.
Stay up to date on the Canucks all season on Twitter @Canucks.
All game times are local and subject to change.
NHL, the NHL Shield, the word mark and image of the Stanley Cup, the Stanley Cup Playoffs logo, NHL Ticket Exchange, and the word mark NHL Winter Classic are registered trademarks and the NHL Winter Classic logo, NHL Heritage Classic name and logo, NHL All-Star logo, and NHL Stadium Series name and logo are trademarks of the National Hockey League. All NHL logos and marks and NHL team logos and marks depicted herein are the property of the NHL and the respective teams and may not be reproduced without the prior written consent of NHL Enterprises, L.P. © NHL 2019. All Rights Reserved.
You Might Like
One more place to catch excellent entertainment on the strip.
"The Rock" is a solid destination for an endless parade of sports, music and other entertainment.
Welcome to the home of the NHL's Blue Jackets, hosting events that cover the spectrum.