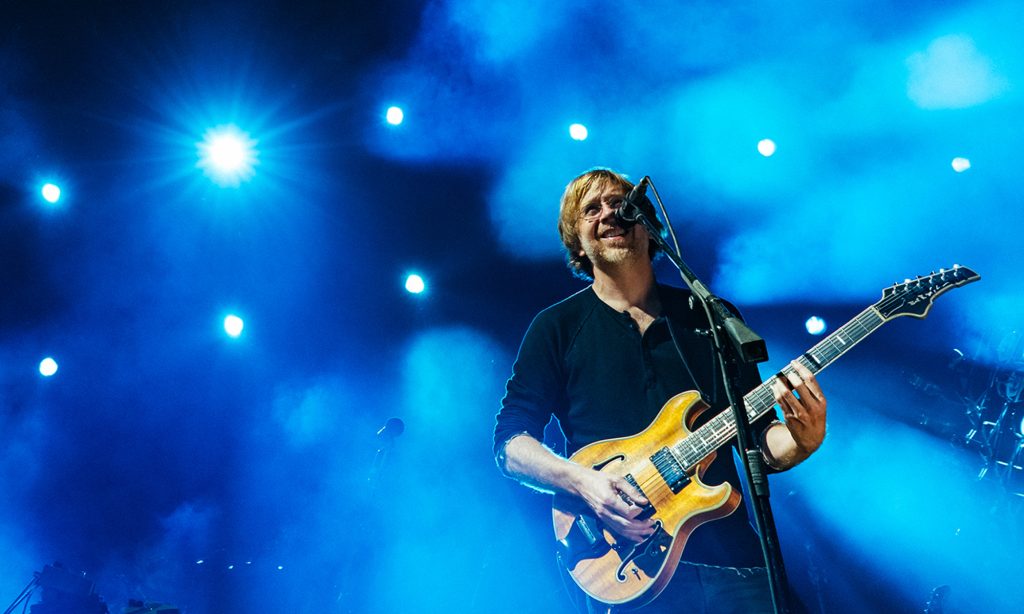 This week, we've got major tour announcements from Phish's frontman, who will be heading out on the road in 2020 with his Trey Anastasio Band. Also, Lana Del Rey, who's been treating fans to big-name guest appearances and stunning covers on her latest West Coast jaunt, has just shared new Midwest dates for next month. In sports, the New York Yankees celebrate a clean sweep against the Minnesota Twins, as college football fans gear up for the Red River Showdow
n between the Oklahoma Sooners and Texas Longhorns tomorrow.
1. Trey Anastasio Band Announces 2020 Tour
Phish frontman Trey Anastasio just keeps on jamming. He'll be heading out on the road next week for a string of acoustic shows, before joining back up with the band for an arena tour that concludes with another New Year's Eve of Phish at Madison Square Garden. In 2020, he'll return to the road with the Trey Anastasio Band, starting on January 10 in Port Chester, New York, before heading to the West Coast and swinging down to the South, closing out the short tour on February 1 in New Orleans. Tickets go on sale today. Also, watch for his new documentary, Between Me and My Mind, now available on Amazon and iTunes.
2. NCAA Football's Red River Showdown This Saturday
It's that time of year for one of NCAA football's greatest rivalries: The Red River Showdown. This Saturday, the No. 6 Oklahoma Sooners and the No. 11 Texas Longhorns battle it out at their annual duel in Dallas. Tune in tomorrow at 11 a.m. central time for kickoff to see if Oklahoma can repeat their win from last year. 
3. Lana Del Rey Extends U.S. Tour
Lana Del Rey is closing out her short West Coast tour today in San Diego, but, thankfully, she's just announced another set of dates in November for the Norman F-cking Rockwell! Tour in support of her latest acclaimed album of the same name. The singer-songwriter will head to Albuquerque on November 3, then trek around the Midwest and end in Nashville on November 19. We hope she continues to add surprise guests (like when Joan Baez joined her onstage in Berkeley, California, last Sunday). Tickets go on sale today.
4. The Yankees Sweep the Twins in American League Division Series
The New York Yankees took no time in advancing to the American League Championship Series, quickly eliminating the Minnesota Twins in Game 3 with a full sweep earlier this week. They'll be taking on the Houston Astros, who took home their own ALDS title last night after an intense five-game series. 
5. BABYMETAL Return with New Album, Metal Galaxy
It's BABYMETAL's galaxy — we're all just living in it. The Japanese kawaii metal band are back with their third studio album, Metal Galaxy, now as just a duo. Su-metal and Moametal continue to unite the cute and the fun with some powerfully in-your-face heavy metal. Catch the band at The Forum in Inglewood, California, tonight or in Portland next Tuesday or Seattle next Wednesday before they head back across the Pacific.
You Might Like
Plus: The Smashing Pumpkins return, Netflix Is a Joke Fest and more.
Plus: Maren Morris announces tour, the NFL combine and Kraftwerk turn 50.
Plus: NCAA Men's Basketball rankings, a new album from Grimes and The National hit the road