Toronto Maple Leafs Home Schedule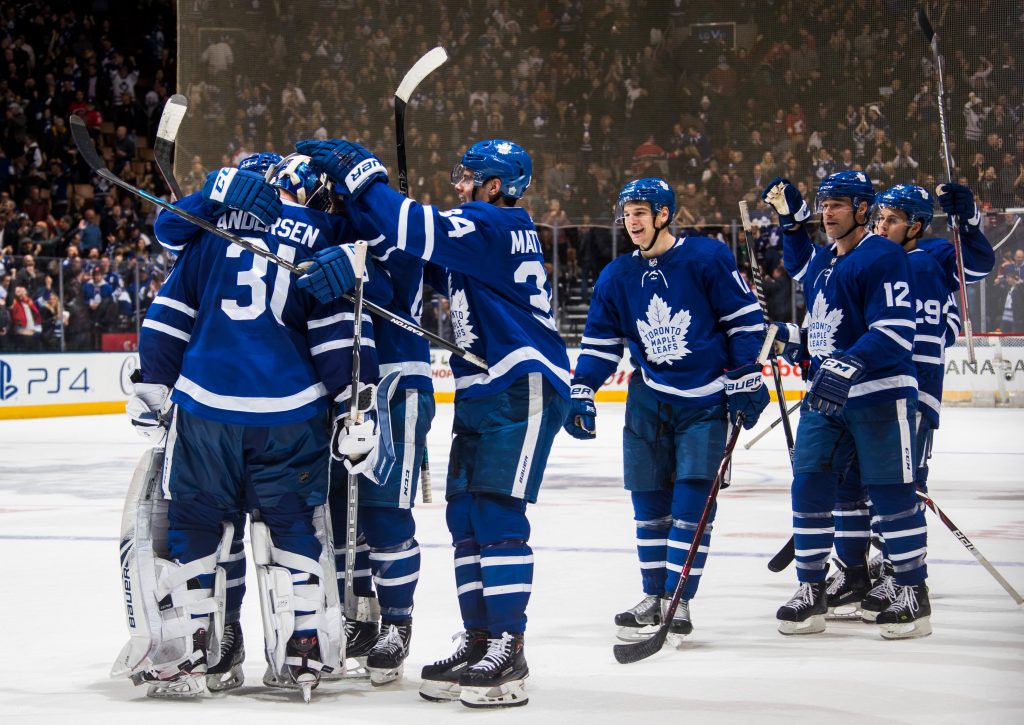 The puck drops on the 2018-19 NHL season in Toronto on Oct. 3 against arch rival Montreal Canadiens, whom the Toronto Maple Leafs will also host on Feb. 23. The Boston Bruins come to Toronto on Nov. 26 and Jan. 12. The Leafs will host the Stanley Cup® Champion Washington Capitals twice (Jan. 23 and Feb. 21), and also host the Western Conference Champion Vegas Golden Knights on Nov. 6.
The "Battle of the QEW" will be fought against the Buffalo Sabres at the Scotiabank Arena on Feb. 25 and March 2, and the Leafs will duke it out against the Ottawa Senators in the "Battle of Ontario" (Oct. 6 and Feb. 6). Another hot matchup to watch is when the Detroit Red Wings visit on Dec. 6 and 23.
Toronto Maple Leafs at Scotiabank Arena
Members of the NHL's Original Six, the Toronto Maple Leafs have a legacy dating back to the founding of the National Hockey League in 1917. The Leafs have 13 Stanley Cup championships, the last coming in 1967. They play at the recently renamed Scotiabank Arena, which seats 18,819, and are coached by former Detroit Red Wings and Anaheim Ducks head coach Mike Babcock.
Individual and group tickets are available for all home and away games.
Stay up to date on the Maple Leafs all season on Twitter @MapleLeafs.
All game times are local and subject to change.
NHL, the NHL Shield, the word mark and image of the Stanley Cup and the word mark NHL Winter Classic are registered trademarks and the NHL Winter Classic logo, NHL All-Star logo and Original Six are trademarks of the National Hockey League.  NHL and NHL team marks are the property of the NHL and its teams. © NHL 2018. All Rights Reserved.
You Might Like
A brief history of the league's most powerful packs on ice.
The National Hockey LeagueⓇ has some of the most passionate fans in all of sports. All the teams in the NHLⓇ have very loyal fans, but when a genuine followi...