Ticketmaster Top 10: Songs for Karaoke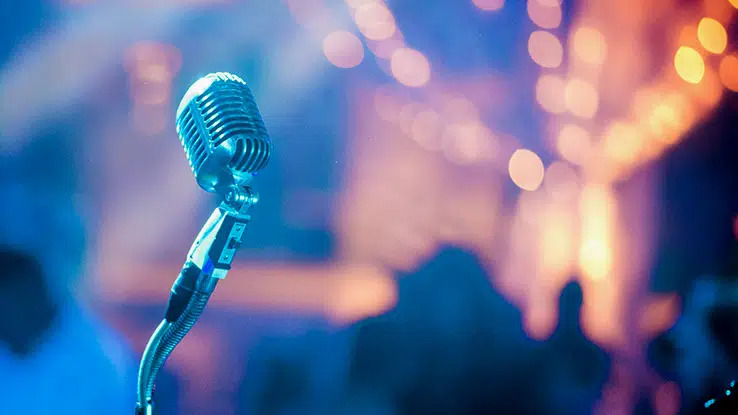 Something magical happens on karaoke stages. With a mic in one hand and a pint in the other, our troubles recede into the background as we belt out our favorite tunes in a dive bar for a crowd of strangers or our best friends in a private karaoke room. We become one with the music as we fearlessly embody our favorite pop, rock and country stars. Here are our top 10 pics for the best karaoke songs — from Lynyrd Skynyrd and Darius Rucker to Rihanna.
Usher — "U Remind Me"

This upbeat R&B tune is a real crowd-pleaser. Telling the story of a sensitive man who can't be with a woman because she reminds him of someone who broke his heart, "U Remind Me" is great for crooning and doing your best emotive Usher impression. Come ready with some impressive dance moves for the long instrumental mid-song breakdown. Pro tip: Watch Usher's "U Remind Me" video for some dance move inspiration.
Find Usher tickets
Lynyrd Skynyrd — "Sweet Home Alabama"

Who doesn't love this down home country-rock classic? "Sweet Home Alabama" thankfully doesn't require tremendous vocal range, so anyone with the right attitude and a bit of spirit can rock the mic. Don a cowboy hat and an embroidered button-down shirt and add some air guitar licks to the guitar solo midway through the tune to really get the crowd riled up.
Starship — "Nothing's Gonna Stop Us Now"

This feel-good power ballad has all the makings of the perfect karaoke song. Soaring choruses, an inspirational message and '80s synths — what's not to like? Not to mention you can pull your best friend or significant other up onstage with you to make this rocking duet pure magic.
Find Starship tickets 
Carrie Underwood — "Before He Cheats"

Who doesn't love a powerful revenge song? This multi-platinum hit that showed us a whole new side to Carrie Underwood is a fan favorite. Singing it properly takes some serious sass, attitude and vocal chops, or at least a few beers and a similar story you can relate to that'll get you in the right frame of mind.
Alicia Keys — "If I Ain't Got You"

Alicia Keys' world-weary and melancholy tune is more fitting for an emotional catharsis than a party vibe, and that's just fine; there's a time and a place for everything. "If I Ain't Got You" is another one of those challenging tunes that requires some serious vocal chops to do it justice, or you can just give it your best shot, sing off-key and have some fun with it.
Find Alicia Keys tickets
Luis Fonsi Featuring Daddy Yankee — "Despacito"

It's hard to think of a song that gets more people out on the dance floor than "Despacito." Imagine the tropical shores of Puerto Rico as the opening steel-sting guitar notes waft through the air, hinting at the irresistible Latin rhythms to come. The romantic pop-reggaeton ballad that soundtracked every wedding and house party around the world in 2017 is tailor-made for karaoke. Don't forget to grab your bestie to be your hype man (or woman) and rap/sing Daddy Yankee's parts.
Find Luis Fonsi tickets | Find Daddy Yankee tickets
Billy Joel — "Uptown Girl"

People of a certain age will remember when Billy Joel's "Uptown Girl" blared from every radio from the east to the west coast in 1983. Arguably one of Joel's  most famouos songs that everyone knows the lyrics to, it chronicles the plight of a blue collar "downtown man" trying to woo a sophisticated uptown girl. That said, it's perfect for singalongs in all of its doo-wop glory.
Find Billy Joel tickets
Darius Rucker — "Wagon Wheel"

This feel-good country ditty is the ideal sing-along song for when the drinks are flowing and spirits are high. Originally written by Old Crow Medicine Show and Bob Dylan (yes, that Bob Dylan), its evocative images and simple chorus make it perfect for karaoke. Seriously, who wouldn't want to croon "Rock me mama like a wagon wheel"? Extra points for bringing along some friends to sing back-up harmonies and getting the entire crowd to join in at the end.
Rihanna Featuring Mikky Ekko — "Stay"

Singing this steamy duet about a couple that's unable to resist the love between them will amp up the intensity of any date night. Streamed 1 billion times and counting on YouTube, this powerful tune co-written by guest vocalist Mikky Ekko is one of Rihanna's best and will challenge even the most skilled singers to belt it out with pure emotion.
Find Rihanna tickets | Find Mikky Ekko tickets
Ed Sheeran With Beyoncé — "Perfect Duet"

Written by Ed Sheeran for his wife-to-be Cherry Seaborn, this romantic, heart-felt ballad was rereleased as a duet with none other than 28-time Grammy winner Beyoncé. It's always more fun to have a partner for karaoke crooning, and duets like this are ideal for just that.
Find Ed Sheeran tickets | Find Beyoncé tickets
You Might Like
Whether you're looking to sing your pain away, ask for forgiveness or forget about that ex who broke your heart, there's a breakup song for you. Here's our l...
Looking for the best songs about friendship? Check out our curated list and rock out with your BFF!
Looking for a dose of nostalgia with the best songs of the 2000s? Check out our curated list, brought to you by the entertainment experts at Ticketmaster!