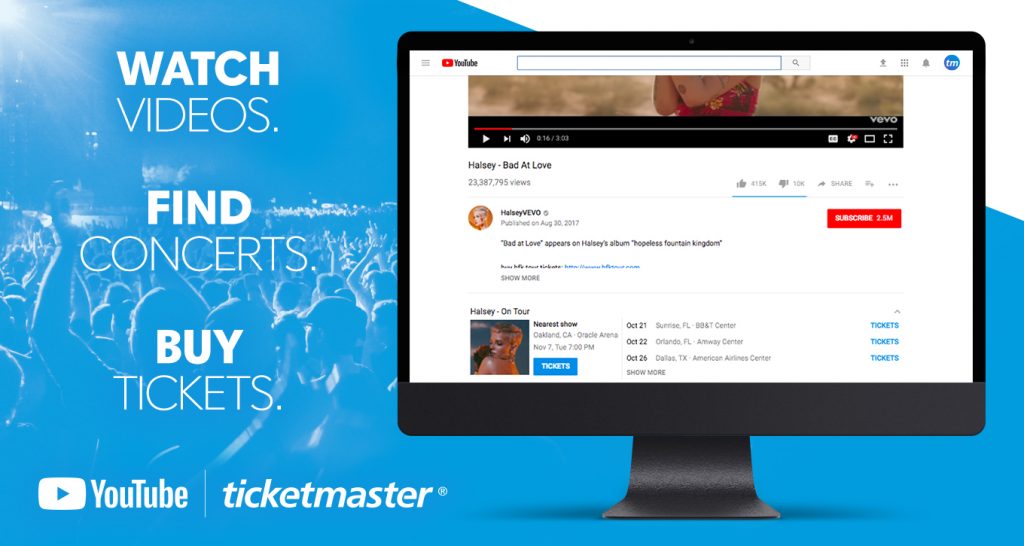 Ticketmaster's priority has long been to make it easier for you to discover events and get tickets into your hands, and thanks to a partnership with YouTube, there's a new way to find out about your favorite artists' concerts.
Artists' official YouTube channels now have concert event listings integrated right into the pages!
This year alone, Ticketmaster is on track to deliver nearly half a billion tickets to tens of millions of fans attending their favorite events. Now, we're bringing the ability to easily find that vast selection of events to YouTube's massive fan base.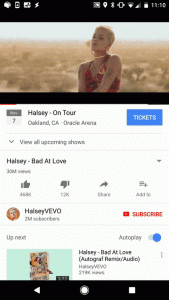 Here's how it works: while watching an artist's official music video on YouTube, you'll see upcoming U.S. tour date information (this has already been rolled out for hundreds of artists) appearing just below their videos. You'll also notice that events closest to your location are listed first. From there, simply click on the "Tickets" button for the show you prefer, and you'll be redirected to Ticketmaster where you can grab seats to the hottest shows, from massive stadiums to the coolest clubs.
That's it! You now have your Ticketmaster Verified Ticket. No hassles and no problems.
With YouTube and Ticketmaster both having massive audiences of music lovers, this integration is a natural fit. That same fit is also what makes the experience so seamless across desktop and mobile (including YouTube Red members).
We'll continue to expand event listings for all artists in North America with plans to expand globally.
We're always thinking of ways to help you discover concerts and get tickets to the shows you love.
Enjoy the show.
Tags
You Might Like
All the tips and tricks you need to get the most out of your Ticketmaster account.
Learn more about the latest Ticketmaster technology.
Your working guide to ticket sales, match sessions, on-site activities and more before this year's tournament.