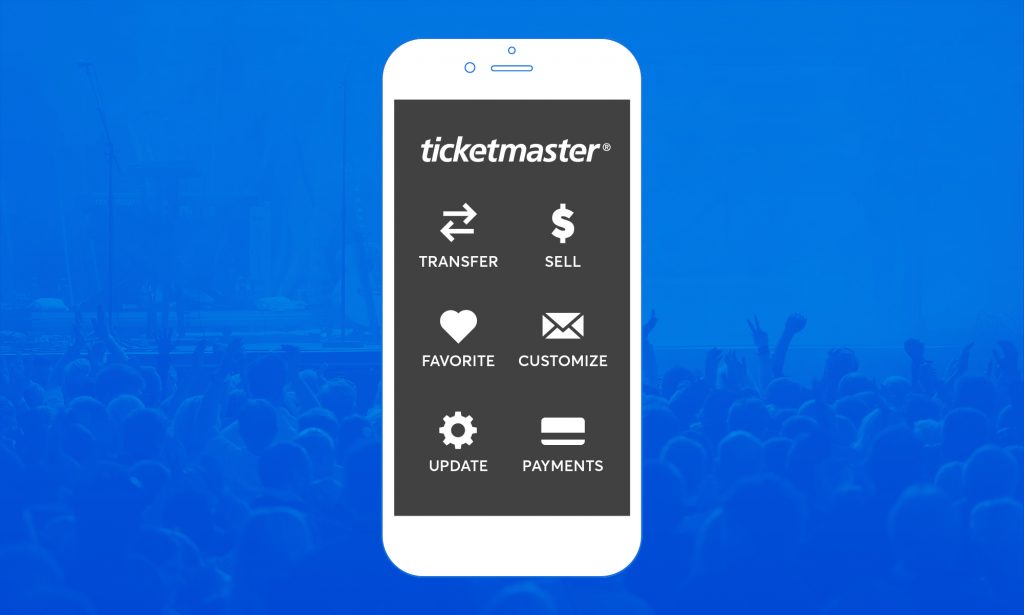 When it comes to live events, your Ticketmaster account is equal parts helping hand, secret weapon, and trusty BFF that makes sure you never miss out.
You're probably already familiar with the basics: you can buy tickets to hot concerts, big games, and acclaimed theater shows with your Ticketmaster account – but that's just the tip of the iceberg.
From selling and transferring tickets, to getting customized alerts and offers so you never miss the events you love – there's so much more to harnessing the features of your very own Ticketmaster account. It's a super powerful tool that puts awesome features right at your fingertips.
If you're already signed in, here's how to access your My Account page: just hover over your name on the Ticketmaster homepage, wait for the menu to drop down, and click on 'Your Account.'
Don't see your name? Simply sign in and follow these same steps to access your account and everything it unlocks for a personalized live event experience.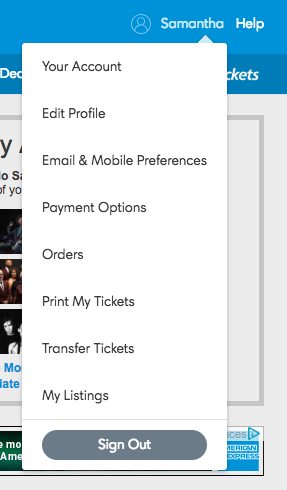 Here's a full rundown of all the helpful things you can do with your Ticketmaster account so you can live it up at even more live events.
1. Transfer tickets to a friend or another excited fan.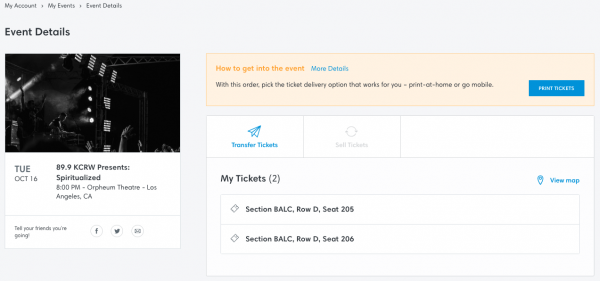 Transferring tickets from your account is super easy and completely free. Whether you bought tickets for friends or want to give your tickets to someone because you can't make it, we've got you covered.
So how do you transfer? Simple: just go to your account and click the Transfer button on your Event Detail page for the show you can no longer attend, then follow the simple steps. If your button is Blue, it means Transfers are available for your event. Grey means the event doesn't accommodate Transfers. If you take advantage of an offered Transfer, the recipient will get an email to complete the transfer, and you'll get an email as soon as they accept. Bam!
2. Sell your tickets if you can't make it after all.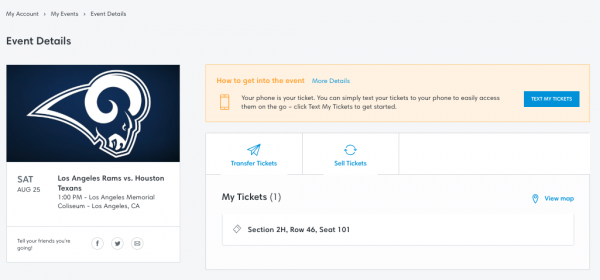 It happens: you're beyond excited to go to an event, then something comes up and you can't make it. The good news is you can sell your tickets to another fan right from your Ticketmaster account. It doesn't cost you anything to sell and it's 100% safe for both you and the buyer – you get paid and they get in to the event with total assurance.
To sell, look for the Sell button on your order in your account – it'll be blue with two arrows in a circle formation. Then just follow the simple steps to set your price and enter your debit card or checking account info for hassle-free payment when tickets sell. And of course, you can always edit or remove your listing if you change your mind.
3. Add Favorites and never miss your most-loved act again.
We hate to play favorites, but this is probably the most fun feature in your account (see what we did there?)
Favorites are great because they're all about you – and the stuff you're into. Add your favorite artists, teams, shows, and venues to tell us what you want to see, and we'll tell you before tickets go on sale. Plus you'll get other insider perks like presales and special offers for your favorite artists. You can even get a comprehensive update of any upcoming dates when your Favorites are coming to your area.
But you don't have to wait for us to ping you – you can add, remove, or see which of your faves have upcoming events at any time by visiting Favorites in your account.
Click through this gallery to check out how all your Favorites get followed, and the show listings you'll receive when they come back to your town.
4. Update your Event Categories to see all sorts of new and exciting things you may not have known about before.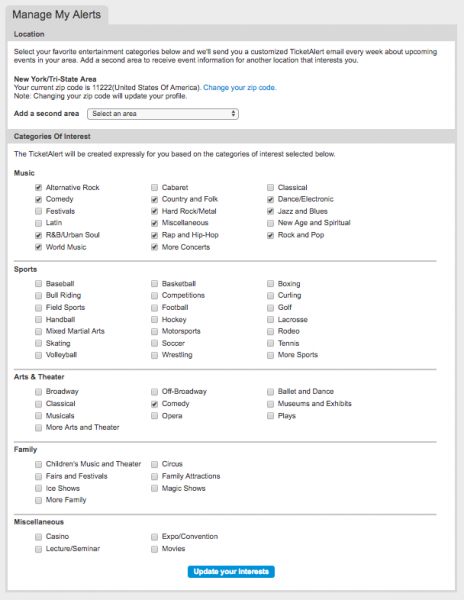 Sure, you attend a lot of concerts – but how about trying out a new genre? How about local festivals in your area? What if someone you love wants to cheer on their favorite team, or your parents want to catch that theater production before final curtain call? Expand your Categories of Interest and you'll get even more updates on the best events to attend across every possible type that Ticketmaster has to offer.
5. Stay in touch over email and mobile.
Ticketmaster emails are totally customizable – so you can get all the info you want, and nothing you don't.
To manage what you receive from us, head to Edit Subscriptions in your account to select the types of alerts, offers, and tips you want to get, both via email and mobile alert.
6. Make your onsale checkouts smoother than ever by storing your payment info.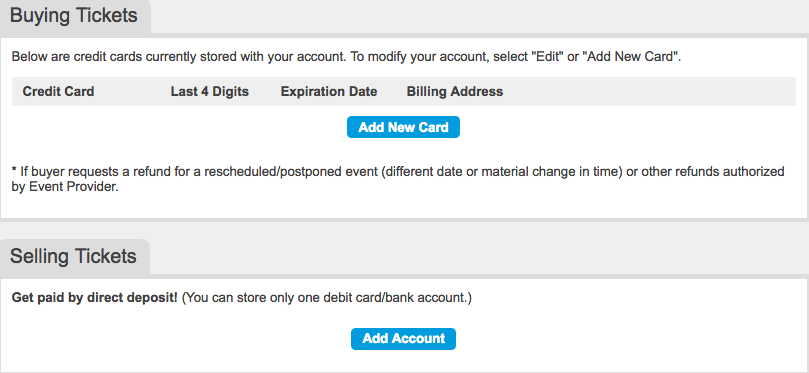 This is arguably the least sexy of all the account features, but hey, it's important – keeping your payment info up to date means you won't have to waste precious time entering billing information during a busy onsale.
So make sure to update your payment info, and ace that onsale like a boss.
The live event experience is all the more a snap with our app.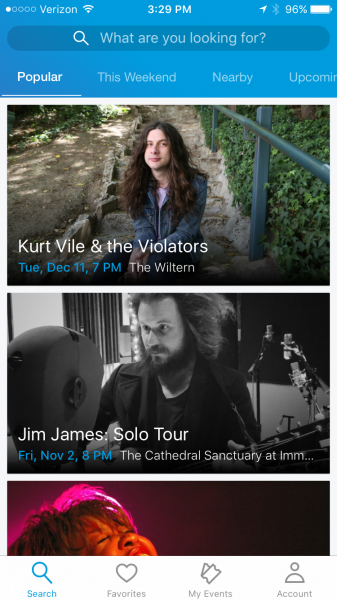 As you've read, there's so much you can do with a Ticketmaster account, and you can do it with ease of your own rhythm on our free apps for iOS and Android. Stay up-to-date with all of your Favorites, make any necessary transactions, get in the door with the scan of a mobile ticket, and expand your event horizons in one simple place – all on the go.
Tags
You Might Like
Your working guide to ticket sales, match sessions, on-site activities, and more before this year's tournament.
Learn more about the latest Ticketmaster technology.
Everything you need to know when buying tickets for the K-Pop sensation's limited dates in the U.S.