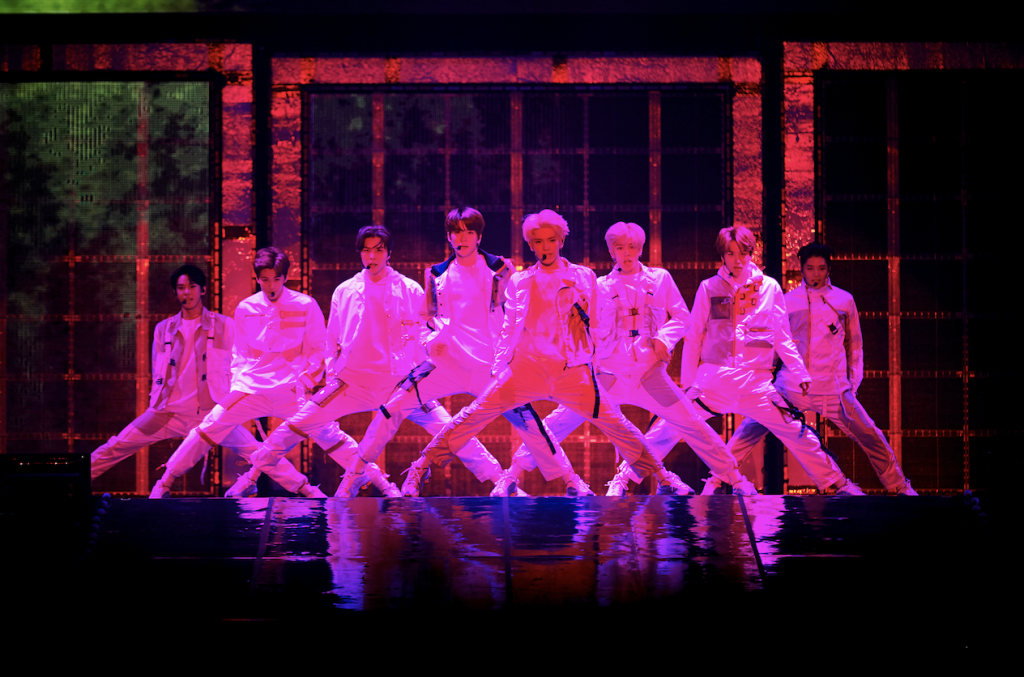 As K-Pop continues to dominate American airwaves, NCT 127 proves there is strength in numbers. Now standing nine members strong: the crew consisting of Johnny, Haechan, Mark, Taeyong, Yuta, Taeil, Jungwoo, Jaehyun, and Doyoung is stopping through major cities coast-to-coast with their infamous coordination and sharp choreography.
Despite the group's growing global fame, members of NCT 127 (standing for Neo Culture Technology and the longitude of their hometown Seoul, Korea) are excited that they are still finding creative footing and are super focused on pleasing their fans as they barrel past 700,000,000 views on YouTube – yes, you read that many zeroes correctly.
Peel back the layers even more on this talented team as a few of its members throw down on this edition of Ticketmaster 10.
---
Ticketmaster 10 with NCT 127
1. What's the first song you learned to play and why?
Taeil: I sang "Lately" by Stevie Wonder a lot, because it was one of the only pop songs I knew when I was young.
2. What's your favorite memory attending a show as a fan, and why?
Haechan: My first-ever concert was a SHINee concert. It was definitely the most memorable because it was my first one. I got to see the group that I respect so much perform live, and it was meaningful because I got to listen to all of my favorite songs. The whole experience really made me think a lot.
3. Describe your performance style in one word.
Taeyong: Rose. A lot of our fans gave me that nickname. On stage, I want to be as beautiful as and leave as strong of an impression as a rose does.
4. If you could have dinner with anyone, who would it be and why?
Doyoung: J. Cole – I think we would have a really genuine and relaxed conversation. And I'd learn a lot from him.
5. Fill in the blank: I would be a nervous wreck if I knew _______ was in the audience watching me. Why?
Doyoung: [SM Entertainment record label founder] Mr. Soo-man Lee – I always get nervous in front of him.
6. What's the first lyric you wrote that you were really proud of, and why?
Mark: I'm still working on finding my lyric that really represents me. I don't think I ever felt 100% pleased with my own work, but I know I'm still in the developing process. Hopefully I'll be able to answer this question soon!
Taeyong: There are a lot of lyrics I've been working on — that have yet to be released — on a variety of different topics. I hope I get a chance to share them with everyone someday.
.
7. What's your dream collaboration? Why do you want to work with that person?
Mark: There are so many artists that I respect and admire. I can't really choose just one. Any opportunity I'd get to collaborate on a song or work with someone on a project, I'd take in in a heartbeat.
8. Fill in the blank: If a music lover is into ______, ______, and ______, they'll love NCT 127.
Jaehyun: Style, performance, and an unexpected twist.
9. Who do you do it for and why?
Yuta: I can confidently say that it's definitely for all the fans that support us. We had our own solo concert for the first time this year, and I know it was only possible because of all the support and love we receive from our fans. And I just want to give back to all our fans by putting out even better music and performances.
10. What are your words to live by? Any life advice?
Jaehyun: Seize the day. Always be thankful.
Encore!
Van, boat, bus, or airplane?
Taeil: Van! Because we're usually in vans, it's the most comfortable for me.
What's been your favorite show to binge on the road or resting?
Johnny: Game of Thrones.
What food/drink could you not live without if you were stuck on a deserted island?
Yuta: Meat and water. That's all I need. I really love meat, and water's really all you need to survive.
What's a skill outside of music you are working on / mastering?
Mark: I want to learn how to cook. I'm far from mastering cooking, but it's something that I have in mind. I try watching what the other guys do when they cook when we all eat together at home. My bandmates are great chefs, so I have a lot of people to learn from. Hopefully, I can cook and someday make you guys my own dish.
What's your most-used emoji?
Jungwoo: I think I use smiley-face emojis the most. 😊
Catch this talented crew as they take the country by storm on their first U.S. headlining tour – grab tickets to see NCT 127 here or in the widget below.
You Might Like
Revisit our Ticketmaster 10 interview with pop phenoms Chloe x Halle.
Revisit our 2019 interview with the keeper of good vibes.
The wrestling brothers and businessmen let us know what makes them tick in this Ticketmaster 10 interview.