Taylor Swift reputation Stadium Tour Verified Fan Presale FAQ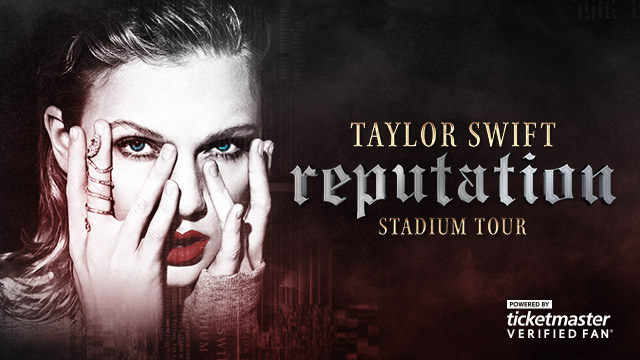 TAYLOR SWIFT reputation STADIUM TOUR PRESALE  POWERED BY TICKETMASTER VERIFIED FAN
Due to overwhelming demand, more dates have been added to the Taylor Swift reputation Stadium Tour and this is your opportunity to shop for tickets, without racing against bots and scalpers! Check out the new dates below:
May 11 – Santa Clara, CA – Levi's Stadium

July 11 – Washington, DC – FedExField

July 13 – Philadelphia, PA – Lincoln Financial Field

July 22 – East Rutherford, NJ – MetLife Stadium

July 26 – Foxborough, MA – Gillette Stadium

August 31 – Minneapolis, MN – U.S. Bank Stadium

October 5 – Arlington, TX – AT&T Stadium
Ticketmaster designed fan-first technology to separate actual, human fans from the bots and scalpers trying to cheat their way to tickets. Our system aims to prevent these big and bad bots from buying up all of the tickets – just to resell them at extremely high prices. With our unique fan-first technology, every registrant is reviewed to make sure they are real fans who are interested in attending the show.
Please note
Registering does not always guarantee you will be eligible, receive an access code or have the ability to purchase tickets. All previous access codes that were issued in December 2017 are invalid, and a new access code is required to shop.
---
QUICK HELP GUIDE
We want to help as many of you as possible to see Taylor Swift. Below are some tips to help answer any questions while shopping for tickets during the Verified Fan Presale.
When will the Verified Fan Presale begin?
This presale will work differently than previous Verified Fan Presales you may have participated in. Taylor Swift's Verified Fan Presale will begin on Tuesday, January 23 at 2PM ET/11AM PT, and will be spread across two days. Access codes will be distributed one-by-one throughout the two days to ensure you have the best shopping experience and lower wait times during checkout. Fans who received an invitation to shop at 3PM ET/12PM PT will be the first group to access tickets each day during the presale.
When will I receive my access code?
On Sunday, January 21, we sent you an email with details about your Taylor Swift Verified Fan Presale invitation status, and included your designated presale invitation time. Keep your phone handy as your presale day/time nears, you can expect your access code to arrive around this time. Once you receive your code, you may begin shopping for tickets right away!
I received my access code, but I'm having issues or receiving an error when trying to use it. What do I do?
There may be a couple reasons why your access code is not working. First, confirm you are signed into Ticketmaster with the same email account that was selected for presale access. Codes are tied to the account they were issued to any may not be used with a different Ticketmaster account. Next, double-check you have entered your access code exactly as it appears, case sensitive. As a reminder, there is an eight (8) ticket limit, if you have already completed a purchase for these new shows, make sure you are not requesting a number of tickets that exceeds this limit in total. If you continue to have issues, please connect with us on Twitter @TMFanSupport for the fastest response.
My presale time is getting close, and I haven't received my access code. What do I do?
We know you're excited, but we kindly ask for your patience. Access codes are distributed one-by-one throughout the day and your code is expected to arrive in time for you to begin shopping at your designated presale time. Please also remember to watch your email, if we run into any text delivery issues, we will email your presale access code details.
Can I purchase presale tickets anytime after I receive my access code?
Yes. Once you receive your access code you may begin to shop for tickets right away! Don't forget, access to the Taylor Swift Verified Fan Presale will end on Tuesday, January 30 at 10PM venue local time, and all Verified Fan Presale access codes will expire. 
How much will tickets costs?
Through Verified Fan, Taylor Swift fans will have access to the best selection of seats at the best price for these new shows. Standard ticket prices will range from USD$49.50 to USD$249.50 (CAD$64.50 to CAD$324.50).
What is the ticket limit?
You may purchase up to eight (8) tickets maximum, for the new shows only.
Will everyone be able to shop for tickets to the presale at the same time?
No. We know everyone is excited, so you may see people post about access codes going out and shopping for tickets. As a reminder, the presale is spread across two days – Tuesday, January 23 and Wednesday, January 24 and your presale access time is unique. Please refer to the invitation status email we sent you on Sunday, January 21 for your designated presale time.
Will there be VIP packages available for the tour?
A limited number of VIP Package + Tickets will be available for all North American tour dates. When you begin to shop for tickets, you may select from both standard tickets and VIP experiences. For more details on VIP, visit https://www.ticketmaster.com/taylorswiftvip
I have an earlier presale time than my friend/family member. If I purchase tickets for them, will I be able to transfer their tickets to them?
Yes. Our ticket transfer feature will be available when the presale begins, so you'll be all set if you purchase a ticket for your fellow Swiftie. To transfer tickets, visit Ticketmaster My Account and locate your order to get started.
Is there a way to purchase tickets other than the Taylor Swift Verified Fan Presale?
Yes. If you were unable to find the tickets you wanted or did not receive an invitation to shop during the presale, there is a general onsale on Wednesday, January 31 at 10AM venue local time. Please visit Ticketmaster for more details.
If my parent or guardian uses their credit card to buy my tickets, does the card holder have to attend the show?
No. The tickets will be in the Ticketmaster account that is signed into and used to complete a purchase, so you will be just fine. Please make sure the credit card you plan to use, with the correct billing information, is in your Ticketmaster account ahead of time for a smoother purchase.
If I don't receive an access code, will I still be able to shop for tickets?
Yes. If you are unable to shop tickets during the Verified Fan Presale, the general public onsale will begin on Wednesday, January 31 at 10AM venue local time. Access codes are not required to shop for tickets during the public onsale.
Does receiving an access code mean I'm guaranteed to purchase tickets?
With our technology keeping the bots out, you have a better opportunity. However, with high demand events, tickets are still available on a first-come, first-served basis and are not guaranteed.
How do I learn more about the Taylor Swift reputation Stadium Tour outside of the U.S.?
Please visit Taylor Swift's official site at https://www.taylorswift.com for more information.
You Might Like
Everything you need to know about Ticketmaster Verified Fan.
Make sure you are always buying legitimate tickets.
The pop superstar will trek across North America with special guest Jenny Lewis.