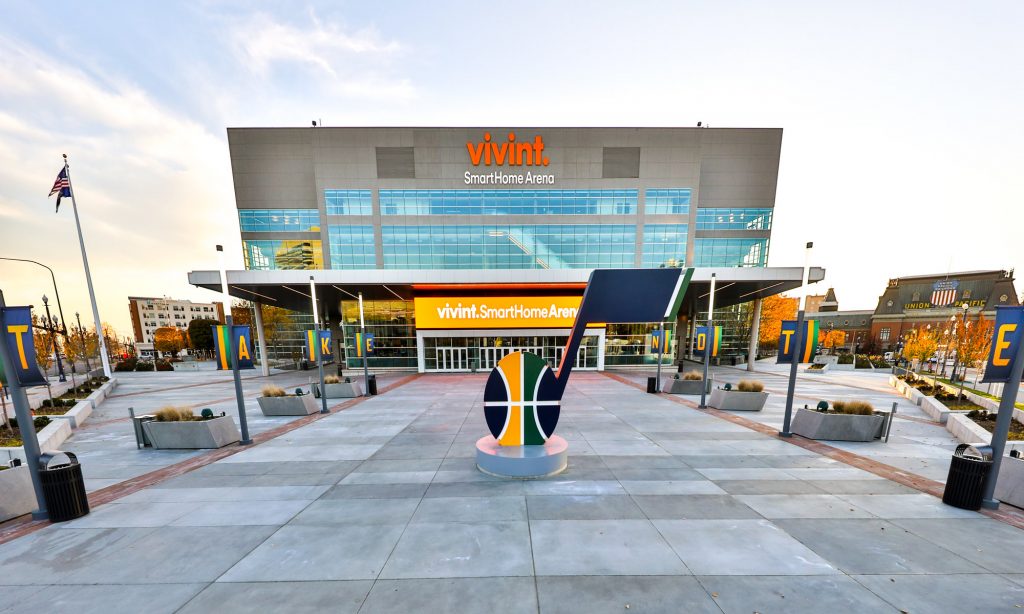 Located in downtown Salt Lake City, the Vivint Smart Home Arena is walking distance from hotels, restaurants and local must-see attractions like Temple Square. With more than 18,000 seats, this state-of-the-art multipurpose arena in the shadow of the epic Wasatch Mountains welcomes nearly 2 million guests each year, many of whom come to see the Utah Jazz play on their home court. But the NBA is hardly the only host. The Vivint features a broad array of sports, concerts and family events, plus has a rich history of its own.
Vivint Smart Home Arena History
The Vivint opened on October 9, 1991, but back then it was known as the Delta Center thanks to a partnership with the airline of the same name. The new arena cost $93 million and was financed by Larry H. Miller, a man who'd built an empire of car dealerships and wanted a nice home for the two teams he owned: the NBA's Jazz, and a minor-league hockey outfit called the Salt Lake Golden Eagles (which was sold and became the Detroit Vipers in 1994). Miller passed away in 2009, but the court at Vivint is named in his honor. You'll also find tributes to (and statues of) Jazz greats Karl Malone and John Stockton outside. 
The Golden Eagles weren't the only team to come and go. There were also the WNBA's Utah Starzz, the Arena Football League's Utah Blaze and the Utah Grizzlies, who drew the (then) largest crowd in minor-league hockey during the Turner Cup Finals in 1996. The arena has also played host to the 1999 U.S. Figure Skating Championships, various NCAA tournaments and two competitions in the 2002 Winter Olympics. The Jazz have called it home throughout.
In 2016, not long after naming rights were transferred to the Provo home security system provider Vivint Smart Home, the arena kicked off a $125 million renovation project that not only gave fans the beloved, illuminated, navy-green-and-gold J-Note statue out front — which stands 14 feet tall — but also brand-new cushioned seats and upgraded food and drink offerings.
Vivint Smart Home Arena Events
As a sports venue, the Vivint is legendary. The crowd noise has been known to hit decibel levels usually reserved for airplane takeoffs. And Jazz announcer Dan Roberts is a national treasure — he's been calling for the team since 1979, and by 2020 had missed fewer than ten games. But the Vivint is known for a variety of events beyond sports, including family-friendly fare — from Disney on Ice to Paw Patrol Live! — and, taking full advantage of the acoustics, fantastic concerts.
Oingo Boingo were the first band to break in the arena in 1991. Since then, Metallica's made a handful of appearances, as has Taylor Swift, which speaks to both the diversity of the artists who grace the stage and the venue's enduring status as a go-to stop for major stars. While a cavalcade of acts and genres continue to bring in enormous, cheering crowds, the Vivint's biggest draws of all time were sold out multiple-night runs for Garth Brooks, U2 and The Rolling Stones.
Vivint Smart Home Arena Food and Concessions
With four distinct areas devoted to concessions, the Vivint boasts more than thirty restaurants and vendors. Don't bother stopping at the ATM on your way to the arena; the Vivint is a completely cash-free venue. While national chains like Chick-fil-A are represented, the arena also highlights plenty of local favorites. There's Cubby's, serving up beloved tri-tip sandwiches and a burger known as the Dragonslayer, which features bleu cheese and buffalo sauce. El Chubasco offers up its signature El Chubby Burrito, not to mention tacos and nachos, and R&R serves barbecue classics like brisket, ribs, pulled pork and chicken. For a sweet treat, Farr Better Ice Cream, serving Utah for nearly a century, has several locations around the arena. Beer can be had at the various Hop Shops. 
If you're visiting the Vivint for a game, or just passing through the area, be sure to pop into the Utah Jazz Team Store. You'll find hats, shirts, jerseys and jackets for fans of all ages, not to mention brands ranging from Nike to Herschel, and All-Star shooting guard Donovan Mitchell's very own Spida collection. You don't need a ticket to enter the shop and celebrate your fandom, either.
You Might Like
The NBA trade deadline and buyout market deals are now in the rear view mirror, and it's safe to say that a handful of teams definitely seized the opportunit...
These players are keeping the thrills coming with killer performances.
Last Updated 2/18/2021 As we continually communicate with teams about how to best support and improve fan safety for this upcoming season, we're dedicated to...