Step Inside: Vivint Arena – Home of the Utah Jazz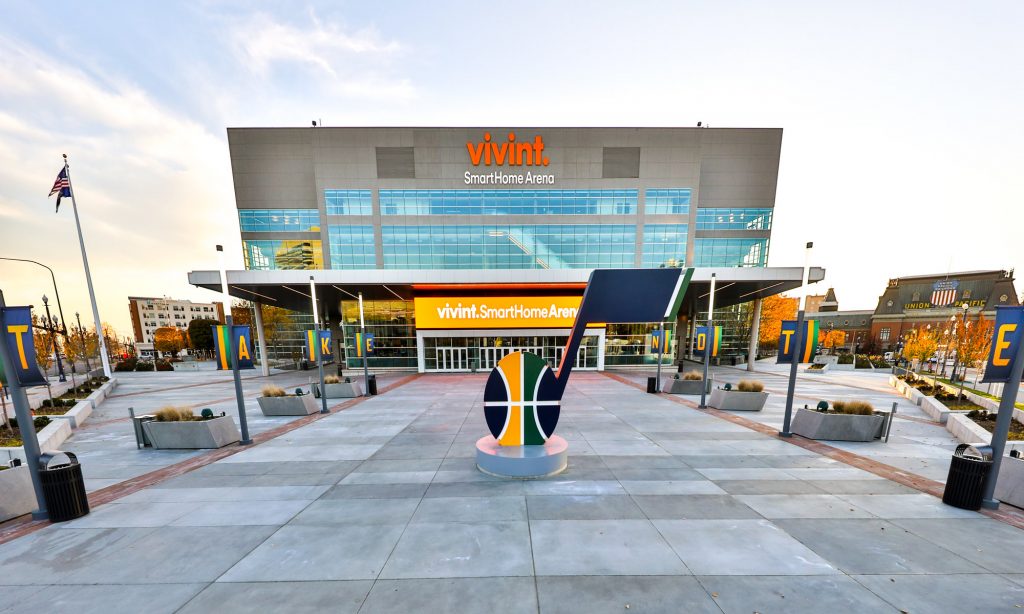 Stadium History | Parking & Admission | Seating & Capacity | Food & Concessions
Whether you're a die-hard basketball fan, enthusiastic concertgoer or simply looking for something extraordinary to do, the Vivint Arena in Salt Lake City, Utah, is the place to be. Stationed in the heart of Salt Lake City, the Vivint Arena is perfectly located within walking distance of the downtown area, hotels and restaurants and welcomes nearly 2 million guests each year.
Vivint Arena History
Opening as the Delta Center in 1991, the Vivint Arena has been the home to the Utah Jazz for more than 30 years. The new arena cost $93 million and was financed by Larry H. Miller, a man who'd built an empire of car dealerships and wanted a nice home for the two teams he owned: the NBA's Jazz, and a minor-league hockey outfit called the Salt Lake Golden Eagles (which was sold and became the Detroit Vipers in 1994). Miller passed away in 2009, but the court at Vivint is named in his honor. You'll also find tributes to (and statues of) Jazz greats Karl Malone and John Stockton outside. 
Along with Jazz games, Vivint Arena has been the venue for a number of historic events, including the 1993 NBA All-Star Weekend, two NBA Finals, the 1999 U.S. Figure Skating Championships, and events for the 2002 Winter Olympics.
Oingo Boingo were the first band to break in the arena in 1991. Since then, Metallica's made a handful of appearances, as has Taylor Swift, which speaks to both the diversity of the artists who grace the stage and the venue's enduring status as a go-to stop for major stars. While a cavalcade of acts and genres continue to bring in enormous, cheering crowds, the Vivint's biggest draws of all time were sold out multiple-night runs for Garth Brooks, U2 and The Rolling Stones. Unique shows like Disney on Ice and Monster Jam are other types of events held at the magnificent Vivent Arena.
After originally being named the Delta Center, this venue was renamed the EnergySolutions Arena in 2006 and then the Vivint Smart Home Arena in 2015, with "smart home" being removed from the name in 2020. In 2017, Vivint Arena was brought into the 21st century with a $125 million renovation. This renovation revamped all six levels of the arena and the seating, as well as created new clubs, dining and social areas. The Vivint Arena now features the intuitive Utah Jazz + Vivint Arena app, high-speed Wi-Fi and more than 400 TVs.
Hosting more than 100 events per year and attracting 1.8 million guests, Vivint Arena is a cultural and social hub that is one of the highlights of Salt Lake City.
Parking and Admission at Vivint Arena
There are six different parking lots around the Vivint Arena: the Park Place, Salt Palace Parking, the Gateway Mall, the Triad Center, City Creek Mall, and the Hyatt House. In order to view parking maps and available parking, visit parkingslc.com. Guests can also purchase monthly parking passes directly from Vivint Arena at vivintarena.com/maps/parking or single-event parking passes right here on Ticketmaster.
Bags, including purses, are not allowed inside Vivint Arena. However, there is an exception for diaper bags and medical bags, as long as they are no larger than 14" x 14" x 6". Clutches are allowed if they are smaller than 4″ x 6″ x 2″. Fans may bring in banners and signs as long as they are no larger than 11″ x 17″. These signs must show support for the group or team at the venue and can't obstruct the view or disturb any guests. Small digital cameras are also allowed in the stadium, as long as they don't have detachable lenses or professional equipment with them (tripods, recording devices, etc.). Weapons of any kind are prohibited. Other prohibited items include beach balls, drones, coolers, flashlights, laser pointers, noise making machines, pepper spray, outside food and beverages, strollers, and anything deemed inappropriate by management.
Vivint Arena Capacity & Seating Options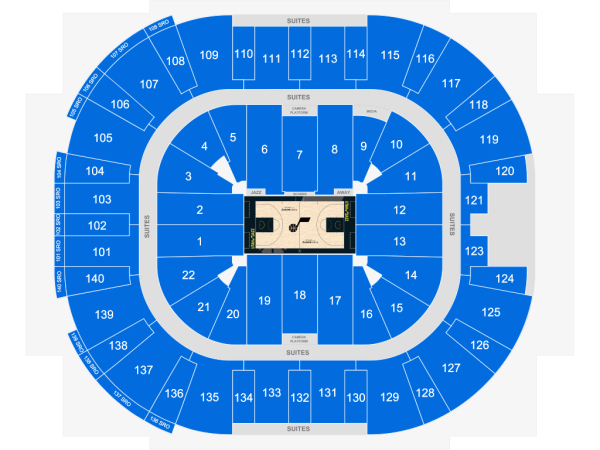 Fans will be sure to find the perfect seat for their event since Vivint Arena has a capacity of more than 20,000 for concerts, 14,000 for hockey and football, and 18,306 for basketball. Along with the thousands of general admission seats, Vivint Arena offers a number of premium seating options. Single Game/Event Rentals are available for anyone looking for a VIP experience. For larger groups, The Corner Lounge is located on the Lower Bowl Concourse level and can accommodate up to 34 guests while providing a lounge area, a 55″ TV and an incredible view. The Eide Bailly Club is located on suite level four and is perfect for mid-sized groups. This lounge features a four-seat lounge space, 55″' TV, coat closet, and excellent view both inside and outside the suite. For groups up to 12, the Eide Bailly Club is a shared space that features all the amenities of a private suite.
For season members, the list of suite and club options are outstanding. These areas feature fine dining options, some of the best seats in the arena, private bars, and much more. Season members have the options of the Courtside Suites, the Lexus Club, the Toyota Club, the Loge Box, the WCF Insurance Club, the LGCY Power Legends Club, and the Entrata Courtside Club.
Food & Beverage Options at Vivint Arena

Guests should bring an appetite when they visit the Vivint Arena. With four distinct areas devoted to concessions, this venue offers more than 30 restaurants and vendors and contains a magnitude of new and exciting culinary options. Don't bother stopping at the ATM on your way to the arena; the Vivint is a completely cash-free venue. While national chains like Chick-fil-A are represented, the arena also highlights plenty of local favorites.
There's Cubby's, serving up beloved tri-tip sandwiches and a burger known as the Dragonslayer, which features bleu cheese and buffalo sauce. El Chubasco offers up its signature El Chubby Burrito, not to mention tacos and nachos, and R&R serves barbecue classics like brisket, ribs, pulled pork and chicken. For a sweet treat, Farr Better Ice Cream, serving Utah for nearly a century, has several locations around the arena. Beer can be had at the various Hop Shops.
You Might Like
Historic venues and outdoor glory shine in Southern California.
Recently, the NBA made some changes to their playoff format to increase the excitement, and now 20 of the 30 franchises compete in postseason play. Learn more!
When Do the Boston Celtics and the Philadelphia 76ers Play Next? Philadelphia 76ers tickets and Boston Celtics tickets can be found on their respective team ...