Step Inside: UBS Arena – Home of the New York Islanders

Stadium History | Parking & Admission | Seating & Capacity | Food & Concessions
The UBS Arena is the pride of Elmont, New York. Located next to Queens and Nassau County, and home to the New York Islanders®, this $1.1 billion project was built with four key elements in mind: location, Islanders games and events, hospitality, and a space that creates memories. The UBS Arena is the perfect blend of excellent views, stunning acoustics, architectural perfection, and advanced technology.
UBS Arena History
Opening its doors in November of 2021, the UBS Arena in Elmont, New York, is the home ice for the NHL®'s New York Islanders®. Along with hockey, this multi-purpose arena hosts a wide array of events, including concerts, MMA, WWE, stand-up comedy, and other special shows. The designers of this stadium stated the venue was "made for music and built for hockey." With an opening concert performed by Harry Styles, the UBS Arena has already seen performances by Imagine Dragons, Billie Eilish, Barry Manilow, Kendrick Lamar, the Eagles, and John Mayer, as well as special events like Monster Jam, Disney on Ice, Sesame Street Live!, Cirque Du Soleil, WWE Monday Night Raw, UFC Fight Night, and Stars on Ice.
Built with the convenience of the fans in mind, the UBS Arena is perfectly situated within walking distance of local LIRR stations (Belmont Park Station, Elmont — UBS Station) and MTA/NICE bus stops. This 690,000-square-foot arena has amenities for any and all guests, with more restrooms than any public building in New York City, a fan-friendly uninterrupted lower bowl (which maximizes the viewing experience), two outdoor terraces open to all guests, and the largest arena scoreboard in all of New York State. The design for the UBS Arena was inspired by New York landmarks such as Ebbets Field, Grand Central Terminal, Park Avenue Armory, Central Park, and Prospect Park Boathouse.
The UBS Arena not only thought of as the fan's experience, but the players' and performers' experiences were top of mind as well. For the NHL® players, the UBS Arena has a state-of-the-art, 23,000-square-foot locker room and player campus, and for the performers there is an artist-friendly back-of-the-house campus and an extremely accessible load-in/load out area, making this the ideal venue for all sorts of different acts and their crews.
Parking and Admission at UBS Arena
View this post on Instagram

With five parking lots surrounding the the UBS Arena, and more than 5,500 spots, all guest are sure to avoid the hassle of searching for parking before the show or game. The UBS Arena recommends pre-purchasing parking before any event, as well as typing your designated lot into your GPS to avoid traffic and lines. The five different parking lots are the Belmont Park Garage, Emerald Parking, Silver Parking, Diamond Parking, and Ruby Parking. For New York Islander® games, the parking lots open 3.5 hours before the game, and for all other events, parking opens two hours before. Parking closes 90 minutes after the event ends.
For admission, all tickets must be on your mobile device. Bags must be smaller than 12″ x 12″ x 6″ to enter the arena, with a bag check available in the Great Hall for larger bags. Medical bags and diaper bags will be permitted after a screening. Other prohibited items include, but are not limited to, weapons, professional cameras or equipment, laptops, laser pointers, illegal drugs, outside food or beverages, projectiles, signs or banners larger than 11″ x 17″ and/or made of a hard material (wood/plastic/metal), lighters, larger or pointed umbrellas, coolers, noisemakers, flowers, and drones.
UBS Arena Capacity & Seating Options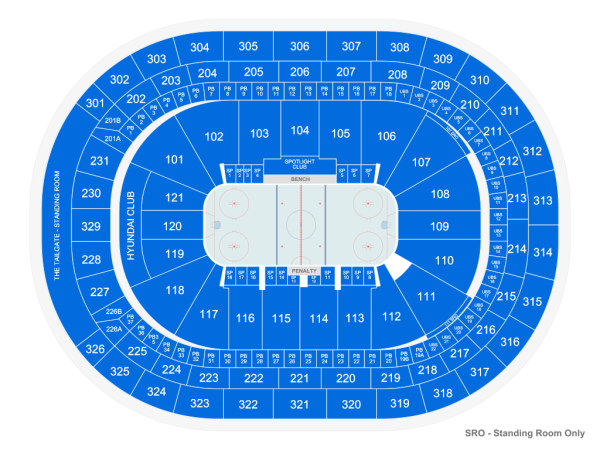 With a capacity of 17,500, guests will be able to find the perfect seat at UBS Arena. Along with thousands of general seating options, UBS arena also features premium and VIP seating. UBS Arena has made a point to limit the number of suites to ensure an optimal viewing experience for all guests. There will only be 56 suites, but with less suites comes more clubs. Focusing on the social element of the arena, the clubs in UBS Arena are reminiscent of high-end New York City-style cocktail bars and speakeasies. The different VIP suites and clubs at UBS Arena include the UBS Club, Spotlight Club, Spotlight Suites, The Pitchbook Suites, Verizon Lounge, Dime Club, and the Hyundai Club.
Food & Beverage Options at UBS Arena
View this post on Instagram

UBS Arena features market-style concessions throughout the venue. With multiple portable stands and 12 markets, including two with Amazon's Just Walk Out technology and three large, multi-concept markets, guests will easily find something delicious that hits the spot. Fans will also have the option to visit multiple public bars throughout the stadium, including the Heineken's Red Star Bar and Heineken Terrace Bar, Tailgate Bar, Offside Tavern Bar, Speakeasy Bar, and the Bacardi Bar.