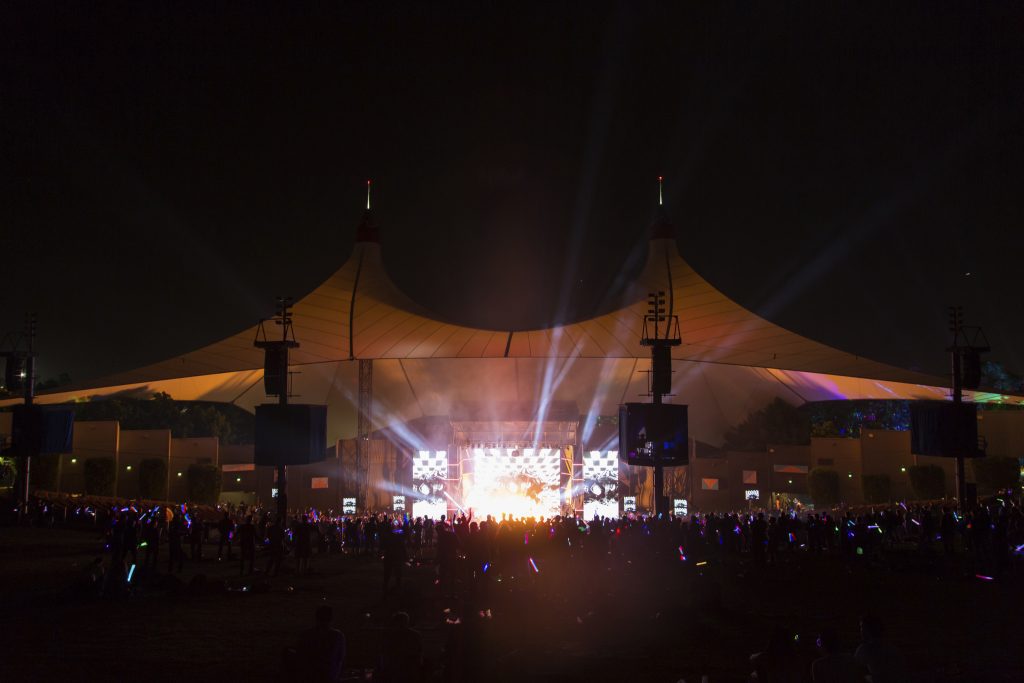 One of the San Francisco Bay Area's premier outdoor concert venues has rocked Silicon Valley since the earliest days of the Macintosh computer. The Shoreline Amphitheatre first opened in 1986 in Mountain View, California, and has been the go-to place for some of the world's biggest artists and the nation's top music festivals, including the first Lollapalooza tour in 1991, Neil Young's annual Bridge School Benefit charity concert from 1986-2016, and the 25th anniversary of the Vans Warped Tour in 2019.
Here's all that you need to know about the Bay Area's ultimate outdoor music venue.
1. It's in the heart of Silicon Valley.
All of tech's major players surround the Shoreline Amphitheatre, which is located 10 miles north of San Jose and 35 miles south of San Francisco at 1 Amphitheatre Parkway in Mountain View. It sits just off Highway 101, very near the Googleplex, Google's main global headquarters — just look for the two big carnivalesque white tents among the assortment of office buildings. Google itself has used the venue for its annual Google I/O developer conference since 2016.
2. It all started from trash.
The outdoor venue has become a Northern California institution, but its origins are not terribly illustrious. The Shoreline was actually built on landfill as part of the Shoreline Park project. After buying the site in 1967, the city of Mountain View built up the land with several feet of garbage, delivered straight from San Francisco, in order to prevent flooding. The park took several years to come together, and the amphitheater soon became its centerpiece, alongside a 50-acre artificial lake and the 18-hole Shoreline Golf Links.
3. It's a Deadhead's dream come true.
Pioneering music promoter Bill Graham (a major player in San Francisco's 1960s rock scene) helped make the Shoreline a reality. He designed the outdoor theater to look like the Grateful Dead's iconic "Steal Your Face" skull logo. Of course, you can't really see the full design unless you're up high in the sky. In fact, the Dead were scheduled to play the Shoreline's first-ever show in summer 1986, but had to cancel after Jerry Garcia fell into a coma. After Garcia's recovery, the band made their debut at the amphitheater on October 3, 1987. The Dead, in every incarnation (including the current Dead & Company), have been regular Shoreline guests ever since.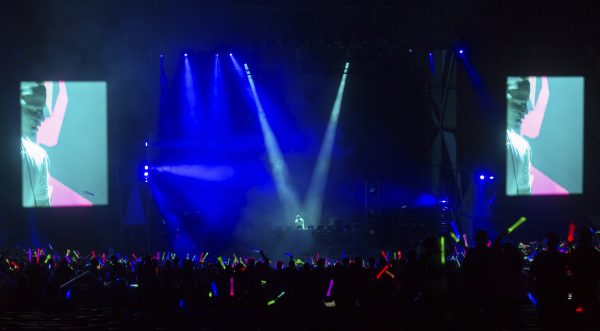 4. It's a Northern California institution.
The Shoreline Amphitheatre is one of the few outdoor venues of its capacity in Northern California, making it a beloved fixture among music fans residing on the West Coast. It offers 6,500 reserved seats with room for roughly 15,500 more on the lawn. Even more space opens up in the parking lot — enough to allow for a maximum of 30,000 people — for some of the bigger festivals that require multiple stages. If a major artist or festival plans to roll through the Bay Area, there's a good chance they'll be playing here.
5. It's been a special place for Neil and Pegi Young.
The Shoreline has hosted numerous festivals over the years, but nothing has quite compared to Neil and Pegi Young's beloved Bridge School Benefit, which ran from 1986 to 2016. The annual benefit concert brought in over $1 million each year to fund the Bridge School, which assists children with severe speech and physical impairments. Alongside the Youngs, performers included Metallica, Pearl Jam, Bruce Springsteen, Dave Matthews, and others.
6. It hosted one of the planet's most notable spiritual leaders.
Between major music festivals like Lilith Fair and Ozzfest, Shoreline found room to squeeze in a magical four-day event with the Dalai Lama in 2001. Buddhists from California and beyond — including Pierce Brosnan, who introduced the spiritual figure at Shoreline — flocked to the amphitheater to absorb his public teachings.
7. It also offers some comedy relief.
The Bay Area has long been a hot spot for both established and emerging comedians, and landing a slot at the Shoreline Amphitheatre is a major accomplishment for the funniest people in comedy. For several years, the annual Wild 94.9 Comedy Jam brought a prime group of comedians to the stage, while other stars like Dave Chappelle, George Lopez, and Jo Koy have made regular appearances.
8. It's the best spot to catch some Independence Day fireworks.
The San Francisco Symphony are also a Shoreline favorite, especially come Independence Day. The prestigious orchestra fill the city of Mountain View with majestic music for the annual 4th of July fireworks spectacular — a show so huge, it can be seen (and heard) from all over the Bay Area.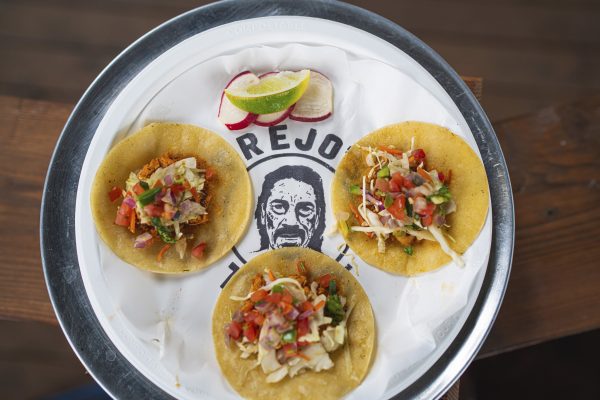 9. Get yourself a taco… or two.
There's more than just awesome tunes at Shoreline — there are plenty of tasty food options, too. Food trucks and drink vendors offer classic outdoor festival fare like popcorn, pretzels, beer, churros, and the Bay Area's famous garlic fries, but you won't want to miss one of actor Danny Trejo's traditional street tacos filled with meat or veggie-friendly options like mushroom asada.
10. Indulge in a Top Chef experience.
If you're in the mood for a taste of Italy, saunter on over to Top Chef Fabio Viviani's eatery, which offers favorite dishes from his popular restaurants in cities like Los Angeles and Chicago. That's right, you can delight your tastebuds with fried ravioli and a side of truffle potato skins while delighting your ears with the sounds of your favorite artist. Now, if that's not la dolce vita…
11. Enjoy some of nearby Napa's finest grapes.
The award-winning Sterling Vineyards offers a wide selection of their top reds, whites, and rosés. You can also sip California wines from Dark Horse, Cakebread Cellars, and others at the Shoreline.
12. Options for driving or catching a ride.
Most visitors get to the Shoreline by car, though some companies offer shuttle buses to and from nearby Caltrain stations. There are also dedicated pickup and drop-off zones for Uber and Lyft riders. Even better, though, is the VIP bus transport service, which offers round trips from Union Square in San Francisco, as well as the Concord and Dublin BART stations.
13. Get in the fast lane.
Pay a little extra to get Fast Lane Access, which allows you to skip the lines and get to your seats without missing a beat. Shell out a bit more to get Mini Club Access, which allows you to breeze right through the VIP Pass Gate and enjoy some classy cocktails at the private bar.
14. Never experience FOMO.
You won't miss out on anything if you spring for Shoreline season tickets. These hot items will get you the best seats, premium parking, VIP Club access, and even private restrooms (did you ever think that'd be possible at a concert?!).
—Stephanie Garr
You Might Like
One more place to catch excellent entertainment on the strip.
The Home of the Blues celebrates music, sports and entertainment of all kinds.
The Sooner State boasts a premier destination for sports, music and a vast array of other entertainment.