Step Inside: Budweiser Stage — Toronto, ON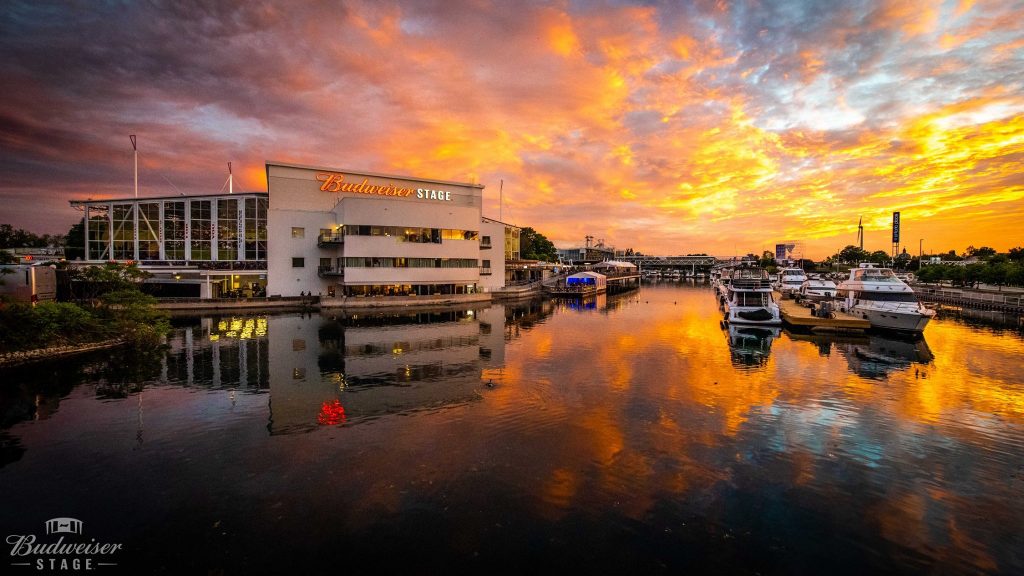 Toronto music fans have plenty of excellent venues to choose from when they want to scratch that concert itch. But when it comes to outdoor shows, there's only one Toronto music venue that offers an incredible atmosphere combined with all of the convenience you'd expect from modern amenities.
Hands down, the Budweiser Stage is the best open-air amphitheatre in all of Ontario. So, if you hail from Toronto, Hamilton or Ottawa, it's your best option for an outdoor concert. Here's what you need to know about this outstanding Toronto venue.
1. It has the best view in Toronto.
Forget the CN Tower. With its vantage point along Lake Ontario, the Budweiser Stage gives you an amazing view of the city's surroundings. Plus, you get to take in a mind-blowing performance from your favorite acts. Hmmm, awesome concert or a long trip up an elevator? We know what we'd choose.
2. Canadian rock royalty christened the stage.
When the Budweiser Stage (then known as the Molson Canadian Amphitheatre) opened its doors in May 1995, promoter knew exactly how to draw a crowd: Get Canadian rock god Bryan Adams to hit the stage. The gambit worked, as Adams played not one, but two sold-out shows to his adoring fans.
3. It has more options than just lawn or pavilion.
The Budweiser Stage's 16,000-person capacity is split between 5,500 covered seats, 3,500 open-air reserved seats and a grass bowl fit for another 7,000. On top of that, there's a general admission floor area that can seat 1,000 concertgoers.
4. It hosted a "lost" Van Halen live album.
For decades, Van Halen fans have been begging the SoCal hard rockers for two things: One, for the Van Halen brothers to bury the hatchet with David Lee Roth and reform the group under its original lineup (mission accomplished as of 2007). Two, to release the live album the band recorded in Toronto in 1995. That's yet to materialize, but a Van Halen fan can dream. A Van Halen fan can dream.
5. Rush fans know "that feeling" all too well.
Geddy Lee and company had big plans to release their first live album on DVD using footage from two 1997 shows at the Budweiser Stage. Those plans fizzled when technical difficulties sprang up. Although a good chunk of that concert footage would appear in later compilations, fans are still salivating over the possibility of seeing the full shows.
6. It was the site of Drake's OVO Festival.
Hometown hero Drake hosted his OVO Festival exclusively at the amphitheatre for the first four years of its existence. Since then, it has shared hosting duties with other venues, but it has always been a fixture of the annual event.
7. It's not the first venue on the grounds.
The amphitheatre history can be traced back to the construction of Ontario Place, an amusement park situated right next to the lake. The park opened with its own open-air forum in 1971. A revolving stage was later added to the venue, allowing for a unique, completely circular seating arrangement. Today's larger, more modern amphitheatre replaced that structure in 1995.
8. There's no need to grab a bite before the show.
The Budweiser Stage has a whole assortment of dining options, from concession stands to rotating food trucks, to satisfy your appetite.
9. Whet your whistle with local craft beer.
For all those craft beer aficionados out there, you'll be happy to hear that the Budweiser Stage has more than just the tried-and-true Bud products on hand. Mill Street Brewery is Toronto's signature crafter brewery, and for good reason: It's line of organic ales, lagers, stouts and IPAs are second to none. If you have a hankering for craft beer, be sure to mosey on over to one of their stalls.
10. There are tons of public transportation options.
As the largest city in Canada, Toronto does not disappoint when it comes to public transportation. There are plenty of different routes you can take to the Budweiser Stage, depending on where in the city you're coming from. And if you're averse to trains, busses and streetcars, don't worry, there's ample parking to take advantage of, too.
11. Get ahead of the line with VIP seating.
The Budweiser Stage's VIP seating options don't just allow you to pick seats in exclusive locations, they let you get into the venue before everyone else. If you want to grab a primo spot on the lawn without scuffling with crowds, there's a VIP option for that.
12. Get in touch with your inner lumberjack.
Toronto has its fair share of landmarks and attractions: Niagara Falls, CN Tower, the Hockey Hall of Fame, etc. But if you want to check out something equally cool with a lot fewer tourists, check out the Backyard Axe Throwing League. Yes, it's exactly what it sounds like. Book ahead or walk right in to the nearest venue and try your hand at the other Canadian pastime.
If you find yourself in the Great White North and looking for a once-in-a-lifetime concert event, be sure to check out the Budweiser Stage. Among the many amazing Toronto music venues, it's right at the very top of the list.
You Might Like
One more place to catch excellent entertainment on the strip.
The Home of the Blues celebrates music, sports and entertainment of all kinds.
The Sooner State boasts a premier destination for sports, music and a vast array of other entertainment.