Miami HEAT Home Schedule 2019-20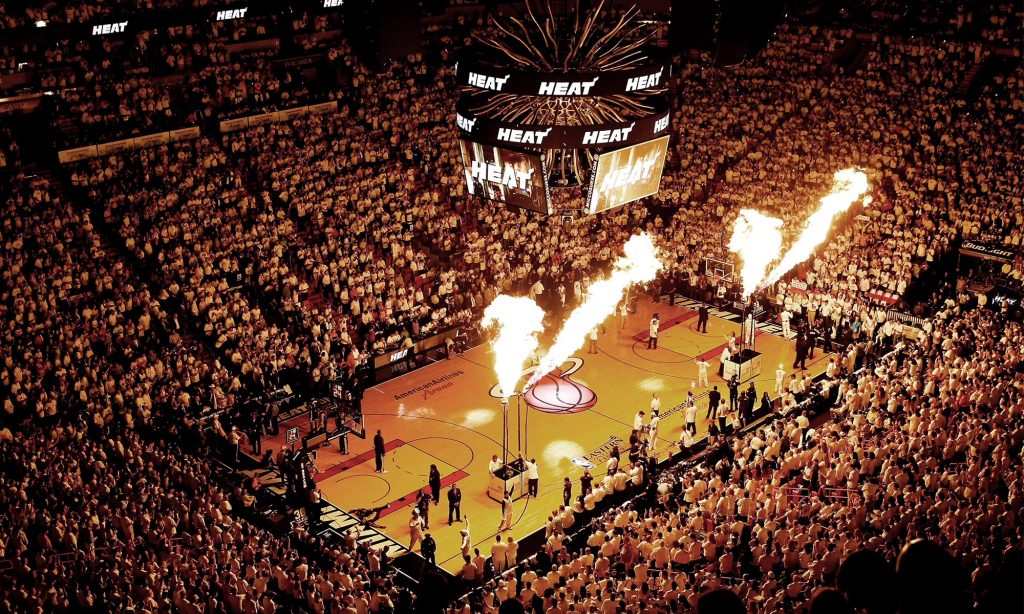 The Miami HEAT start the 2019-20 season at home vs. the Memphis Grizzlies (Oct. 23). They begin the season with three of their first six games at home. Similar to last season, most Friday and Saturday home games begin at 8 p.m. Eastern to allow fans additional time to get to the games.
The HEAT have 41 home games, including several exciting matchups such as the Houston Rockets (Nov. 3), the Golden State Warriors (Nov. 29), the Los Angeles Lakers (Dec. 13), and the Los Angeles Clippers (Jan. 24). They have two home games against the Philadelphia 76ers (Dec. 28 and Feb. 3), and one agains the Milwaukee Bucks (March 2).
Miami has 18 weekend games at home (eight on Friday, seven on Saturday, and three on Sunday). The longest homestand is two five-game stretches from January 20-28 and February 26 – March 4. The HEAT play 13 sets of back-to-back games. They have eight home contests in each of December, January and March.
Miami HEAT at AmericanAirlines Arena
The Miami HEAT play NBA basketball in downtown Miami at AmericanAirlines Arena, which opened in 1999 and is owned by Miami-Dade County. The Arena seats 19,600 fans for NBA games and concerts; luckily for fans, the arena is amply served by public transit on the Metrorail, Metromover, and Metrobus. The Heat was founded just 11 years before the stadium, in 1989, and in that time they've won three NBA championships and the Eastern Conference title five times.
Miami HEAT Seating Chart – AmericanAirlines Arena
Individual game tickets for all games are available now.
Stay up to date on the HEAT all season on Twitter @MiamiHEAT.
All game times are local and subject to change.
You Might Like
With so many new NBA rosters, this season is going to be ridiculously fun.
The Lakers are set for a league-high 43 nationally televised games this season.
Browse the Minnesota Timberwolves' home schedule at Target Center.