Harry Styles Ticket Redistribution Process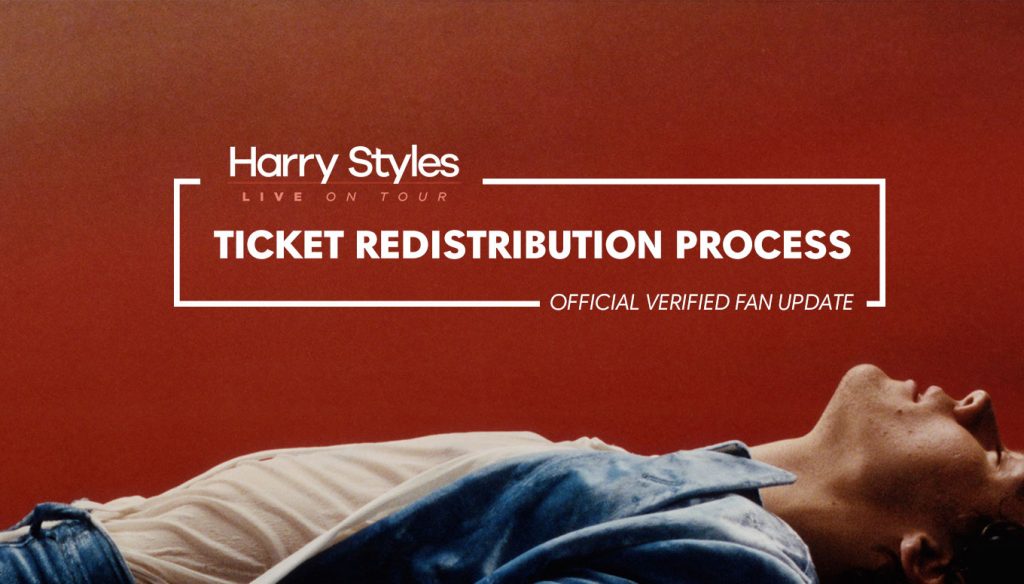 Fans, we know this has been a long process but it has been in the service of making sure we get this next phase right and putting you, the fans, first. We are using new technology that has been designed to get as many tickets as possible to the right people – FANS. The numbers show our #VerifiedFan technology is working. Again, 95%  of tickets during the onsale went to fans.
We want to thank you for your feedback. For fans that have reached out to us about the process, we are taking each and every bit of feedback extremely seriously.
Ticket Cancellations Update
Our goal has always been and remains to be as fair as possible and to get tickets to fans. Not scalpers and not bots.
We are restoring tickets to several fans who had their tickets cancelled. We extend our deepest apologies to these fans for putting them through an upsetting situation. And we thank them, and all of you, for your collective patience as we took our time to carefully review all of the issues so that we can correct them (where necessary), and learn from them for the future.
We also need to clarify incorrect information that was circulated about shared Wifi networks. For the record, shared Wifi networks (dorms or otherwise), among human fans who otherwise follow the rules is not a reason tickets were or will be cancelled.
Ticket Redistribution Process
We have listened to all of your feedback and as you know there is no way to do this that will satisfy everyone. There are still hundreds of thousands of you and only enough tickets for about 1%.
Harry, his team, and Ticketmaster want to be as fair as possible and there are simply not enough tickets to put you through another highly competitive onsale process. Here is how the few tickets we have will get to fans:
Fans will be randomly selected from the #VerifiedFan pool (only fans who previously registered and were selected for #VerifiedFan will be included; fans who successfully purchased tickets will not be included)
These randomly selected fans will be notified via text message on Wednesday (May 17) evening with new offer codes
To include as many fans as possible, new offer codes will have a maximum TWO (2) TICKET limit
We will only send out as many codes as there are tickets, however, receiving a code DOES NOT guarantee you will have the ability to buy tickets
Codes will be active for two hours. Once the two hour window expires and if there are still tickets left, we will send out more codes until all tickets have been purchased by fans
Once all tickets have been purchased, we will post out an announcement via Twitter, so you are not left in the dark.
Thank you again for working with us throughout this process to make sure tickets go to fans. #VerifiedFan for Harry Styles Live on Tour has been a huge step forward and we are so proud to have taken that step with all of you. Good luck fans, we appreciate you.
Tags
You Might Like
Everything you need to know about Ticketmaster Verified Fan.
Make sure you are always buying legitimate tickets.
The pop superstar will trek across North America with special guest Jenny Lewis.