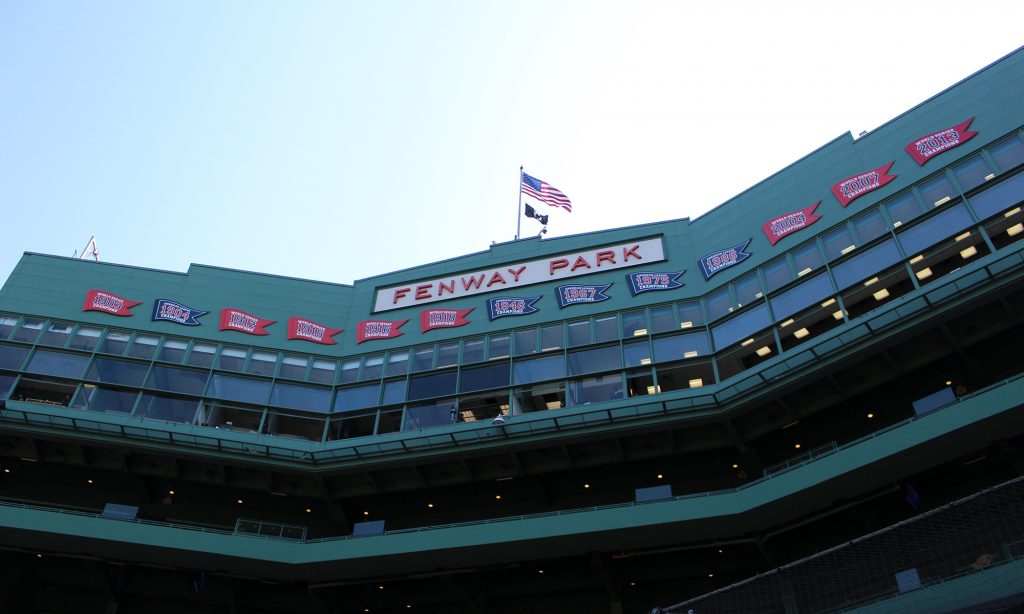 Since I moved to Boston in 2013, I've been in attendance for quite a few memorable events at Fenway Park, the city's central cathedral of a non-religious sort. There was Lady Gaga's 2017 concert in the park, the first time a female artist headlined the venue's concert lineup. There was the Foo Fighters' 2018 concert that was opened by Boston DIY heroes Speedy Ortiz and Massachusetts indie-rock legends Dinosaur Jr. There were baseball games, both regular-season and playoff, all soundtracked by the organ stylings of Josh Kantor and the DJ selections of TJ Connelly, as well as nearly endless concerts featuring the biggest names from rock, country and pop.
Because of the pandemic, this year was the first that I didn't visit Fenway Park at least once—until the middle of October, when I went there to vote in the year's local, state, and Federal elections. In September, spurred on by the COVID-19 pandemic and the heightened conversation about this year's balloting, the Boston City Elections Commission approved the park as an early voting location for city residents. "Voting is one of the best ways to support and champion the issues and policies we value," Red Sox president and CEO Sam Kennedy said in a statement, "and what better way … to help with that effort than to open up our ballpark for Boston residents to cast their early ballots."
Fenway was open only for the first two days of early voting in Boston, October 17 and 18 — a Saturday and a Sunday. Photos of the line snaking down Jersey Street and bending onto Van Ness Street began populating my social-media feeds on Saturday. After a couple of hours of seeing these images, I realized that, even though my apartment is a ten-minute walk from another early-voting site, not going to Fenway would render me almost derelict in my duties as a Bostonian.
View this post on Instagram

That realization came a bit late in the day, and voting hours were over at 7. Luckily, Sunday afternoon was a gorgeous fall day, so I hopped in a Lyft to Fenway, getting dropped off at the corner of Brookline Avenue and Lansdowne Street — just a block from the David Ortiz Bridge, named for the retired baseball hero who filled Fenway with roars countless times. The bars lining Lansdowne were offering drink specials to folks sporting "I Voted" stickers, and the outdoor brunch crowds at Loretta's Last Call and Bleacher Bar seemed extra-lively. I passed the in-progress MGM Music Hall (a 5,000-person venue scheduled to open late next year) and continued down Van Ness Street, which was mostly populated by tourists taking photos of the statues honoring baseball luminaries.
The entrance to the voting area was near the corner of Jersey Street and Brookline Avenue, and the line was short — only two socially distanced people were in front of me. Voting had taken over the Jersey Street concourse, usually the home for Fenway Franks and locally brewed beers. Instead, I gave my name and got some ballot stickers. From there, I was routed to pick up a ballot and envelope. I would be charged with filling out the ballot and using a glue stick to firmly seal its casing. (No licking here, please.) After being guided to a voting station, I filled out my ballot, dropped off the glue stick and ballot marker on a nearby bar then walked to the main concourse, where I exchanged my ballot for an "I Voted at Fenway Park!" sticker. The exit went up through the Fenway stands to facilitate any post-voting selfies, using the field's lush green as a backdrop. I snapped a couple, naturally.
It sounds kind of run-of-the-mill when it's described step by step. But even though the process was relatively simple, it felt pretty good to cast my ballot at Fenway, a place that's become very special to me during my time here. Though I can hardly wait for the day when my fellow Bostonians and I can once again safely pack into Fenway and cheer on artists and athletes, I love knowing that this storied park gets to play a part in a very memorable chapter for our democracy. May this not be the last time that the park becomes a place for not only sporting and musical events, but civic ones as well.  
Header image by Lauren Thimmesch on Unsplash
Tags