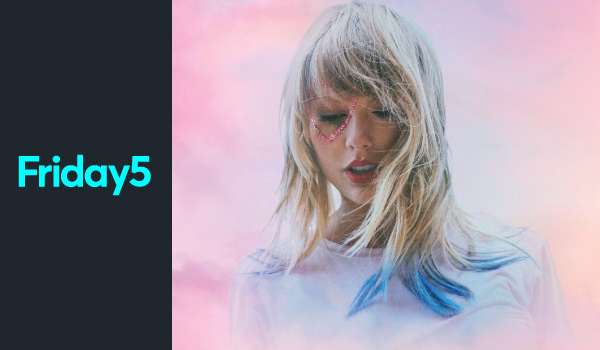 Another week, another big Taylor Swift announcement. This time, the pop queen makes her debut on the big screen with an upcoming documentary about her life and career. If leading ladies of the '90s are more your scene, then you'll want to grab tickets to Alanis Morissette's 25th anniversary tour for Jagged Little Pill, featuring guests Liz Phair and Garbage. Or, maybe you're up for seeing last year's Super Bowl halftime headliners Maroon 5, who have announced a massive 2020 tour as well. Speaking of football, this Sunday sees a rematch between AFC leaders the Patriots and the Chiefs. And if you're looking for some pre-game tunes, may we recommend a listen to NFL partner Jay-Z's entire catalog, now officially back on Spotify. 
1. Taylor Swift to Release Documentary at Sundance 2020
As fans continue to soak up Taylor Swift's most recent album, Lover, the pop superstar has dropped another surprise announcement. She tackles yet one more medium in 2020 with the release of Miss Americana, a documentary that takes a "raw and emotionally revealing look" at Swift and her career. The film is directed by Emmy Award–winning filmmaker Lana Wilson and premieres at the Sundance Film Festival early next year. As of now, Swift has just four U.S. tour dates scheduled in 2020, with her Lover Fest West and Lover Fest East set for the summer. 
2. Maroon 5 Announce 2020 Tour
Adam Levine and co. will be making their way back out on the road next summer with stops at amphitheaters, pavilions, basketball arenas and baseball stadiums across the nation. The tour starts on May 30 in Chula Vista, California, and hits up hot spots like Chicago's Wrigley Field and Boston's Fenway Park along the way, before closing out on September 17 in Tampa, Florida. Before then, the band will also be headlining the 2020 Bud Light Super Bowl Music Fest in Miami, the day before the big game. Tickets for the tour go on sale next Friday, December 13. If you're hoping for a ticket before then, just be on the lookout for a meter man who may look a lot like Levine.
3. Patriots Take on Chiefs in AFC Rematch
This weekend, the AFC East-leading New England Patriots (10-2) will be hosting the AFC West-leading Kansas City Chiefs (8-4) at Gillette Stadium in one of the most anticipated games of the season. The two teams last met up in the 2018 AFC Championship Game in Kansas City, where the Patriots won in overtime, leading them to another Super Bowl victory. The Patriots have a 5-1 advantage when playing the Chiefs at home. Tune in at 4:25pm ET on Sunday to see if Kansas City can break that streak.
4. Jay-Z Celebrates His 50th Birthday With a Return to Spotify
For his big 5-0, Jay-Z gave
us
a gift by returning his music to Spotify after over two whole years off the service. Spotify tweeted the special birthday announcement on Wednesday, December 4. Now's your chance to binge on HOV's entire music catalog, from his 1996 debut,
Reasonable Doubt
, to 2001's
The Blueprint
, and up to 2017's
4:44
.
5. Alanis Morissette Takes Jagged Little Pill on Tour
Alanis Morissette is having us feel all sorts of fuzzy nostalgia with the announcement of her 2020 North American tour, which celebrates the 25th anniversary of her massive 1995 breakthrough album, Jagged Little Pill, with special guests Liz Phair and Garbage. The tour kicks off on June 2 in Portland, Oregon, and winds its way through the U.S. before a final date on July 2 in Nashville. Tickets go on sale next Friday, December 13. And if you happen to be in New York, you'll definitely want to snatch some tickets to her new Broadway show, Jagged Little Pill, which debuted last night at the Broadhurst Theatre.
You Might Like
Plus: The Smashing Pumpkins return, Netflix Is a Joke Fest and more.
Plus: Maren Morris announces tour, the NFL combine and Kraftwerk turn 50.
Plus: NCAA Men's Basketball rankings, a new album from Grimes and The National hit the road