Edmonton Oilers Home Schedule 2019-20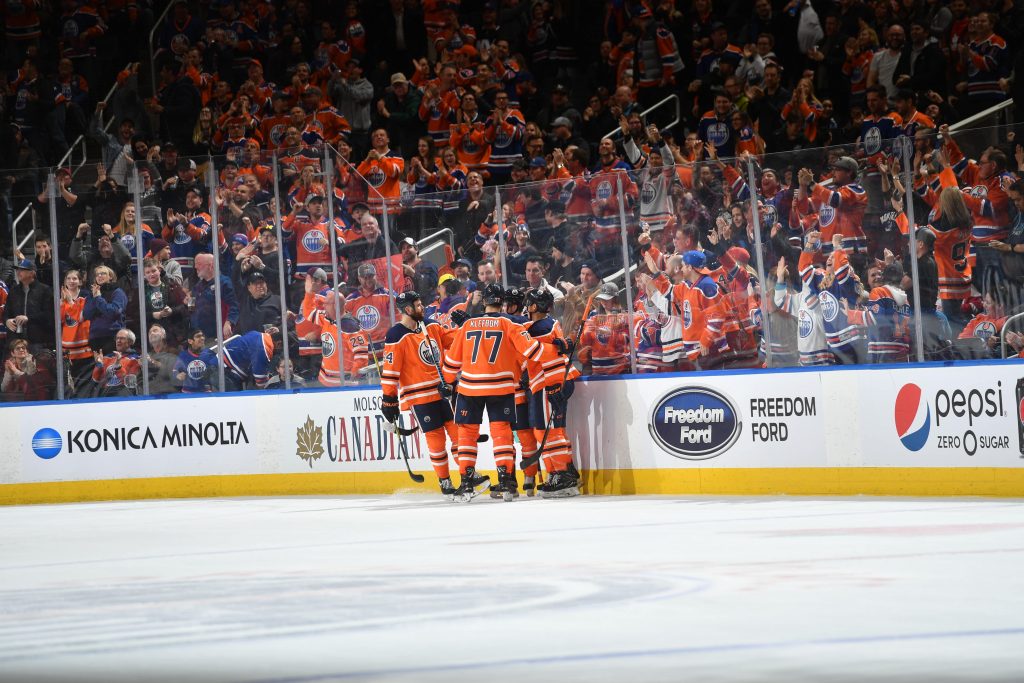 The Edmonton Oilers open the 2019-20 season at home against the Vancouver Canucks (Oct. 2). Their home schedule includes many early marquee matchups.
The Oilers host the Los Angeles Kings (Oct. 5), the Philadelphia Flyers (Oct. 16), the Original Six™ Detroit Red Wings (Oct. 18), Alex Ovechkin and the Washington Capitals (Oct. 24), and the Florida Panthers (Oct. 27) for the first matinee game of the season. Key November home matchups include the Arizona Coyotes (Nov. 4), Stanley Cup Champion St. Louis Blues (Nov. 6), and the New Jersey Devils (Nov. 8).
There are more exciting matchups at Rogers Place, including Jack Eichel and the Buffalo Sabres (Dec. 8), Toronto Maple Leafs (Dec. 14), the Montreal Canadiens (Dec. 21), and a New Year's Eve game against the New York Rangers (Dec. 31). The Oilers play their final home game against the Vegas Golden Knights (March 31).
Edmonton Oilers at Rogers Place
The Oilers, founded in 1971, play their games at Rogers Place, which is owned by the City of Edmonton and was completed in 2016. For NHL and WHL hockey games, the arena seats more than 18,000 attendees. (The venue also hosts concerts and basketball games.) Fans arrive to Rogers Place, and its 9-foot-tall bronze Wayne Gretzky statue, by city bus or via MacEwan Station on the Metro Line. The Oilers have won the NHL's Stanley Cup® five times.
Edmonton Oilers Seating Chart – Rogers Place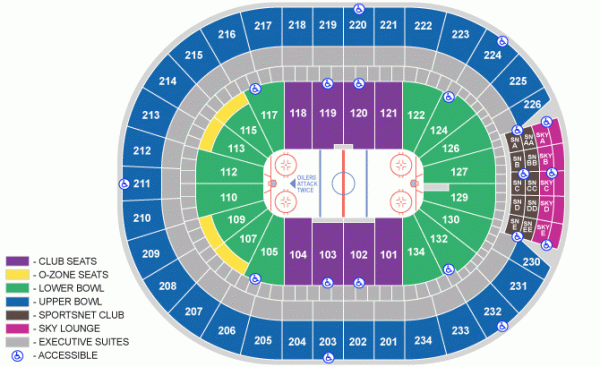 Individual game tickets for all games are available now.
Stay up to date on the Oilers all season on Twitter @EdmontonOilers.
All game times are local and subject to change.
NHL, the NHL Shield, the word mark and image of the Stanley Cup, the Stanley Cup Playoffs logo, NHL Ticket Exchange, and the word mark NHL Winter Classic are registered trademarks and the NHL Winter Classic logo, NHL Heritage Classic name and logo, NHL All-Star logo, and NHL Stadium Series name and logo are trademarks of the National Hockey League. All NHL logos and marks and NHL team logos and marks depicted herein are the property of the NHL and the respective teams and may not be reproduced without the prior written consent of NHL Enterprises, L.P. © NHL 2019. All Rights Reserved.
You Might Like
One more place to catch excellent entertainment on the strip.
"The Rock" is a solid destination for an endless parade of sports, music and other entertainment.
Welcome to the home of the NHL's Blue Jackets, hosting events that cover the spectrum.