Dallas Stars Home Schedule 2019-20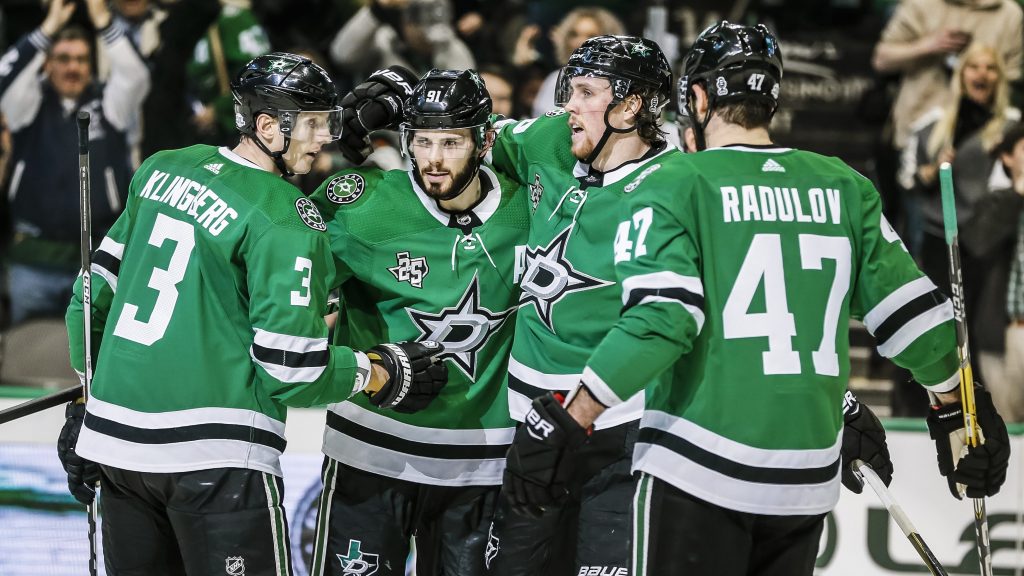 The Dallas Stars 2019-20 schedule includes 41 regular season home games. They start the season at home against the Boston Bruins (Oct. 3). Their longest homestand of the season is four games, which happens four times. The first of which occurs in October as they face the Ottawa Senators (Oct. 21), Anaheim Ducks (Oct. 24), Pittsburgh Penguins (Oct. 26), and Minnesota Wild (Oct. 29). The last homestand is in March with the Nashville Predators (March 7), New York Rangers (March 10), Florida Panthers (March 12), and San Jose Sharks (March 14).
The Stars play 22 of their first 41 games at home, and finish the second half with 19 of the final 41 games at home. They have 26 games against division foes, 13 of which at home. There are 18 weekend contests. Dallas hosts the Predators in the 2020 Bridgestone NHL Winter Classic® at Cotton Bowl® Stadium in Dallas, Texas on Jan. 1. It is the first regular season outdoor game for the Stars and Predators. The Stars have a five-day break without any games from Jan. 19 – 23, leading into the NHL® All-Star Break from Jan. 24 – 26.
Dallas Stars at American Airlines Center
The Stars, founded in 1967, play at American Airlines Center in Dallas, Texas. They play in the NHL's Central Division of the Western Conference with the Chicago Blackhawks, Colorado Avalanche, Nashville Predators, Minnesota Wild, St. Louis Blues, and Winnipeg Jets.
The Stars have won eight division titles in Dallas and two conference championships. They won the Stanley Cup® Championship in 1998-99 and have two Presidents' Trophies as the top regular season team in the NHL. Their team colors are victory green, black, silver and white.

Dallas Stars Seating Chart – American Airlines Center

Individual game tickets for all games are available now.
Stay up to date on the Stars all season on Twitter @DallasStars. 
All game times are local and subject to change.
NHL, the NHL Shield, the word mark and image of the Stanley Cup, the Stanley Cup Playoffs logo, NHL Ticket Exchange, and the word mark NHL Winter Classic are registered trademarks and the NHL Winter Classic logo, NHL Heritage Classic name and logo, NHL All-Star logo, and NHL Stadium Series name and logo are trademarks of the National Hockey League. All NHL logos and marks and NHL team logos and marks depicted herein are the property of the NHL and the respective teams and may not be reproduced without the prior written consent of NHL Enterprises, L.P. © NHL 2019. All Rights Reserved.

You Might Like
One more place to catch excellent entertainment on the strip.
"The Rock" is a solid destination for an endless parade of sports, music and other entertainment.
Welcome to the home of the NHL's Blue Jackets, hosting events that cover the spectrum.