What to Wear to a Country Music Festival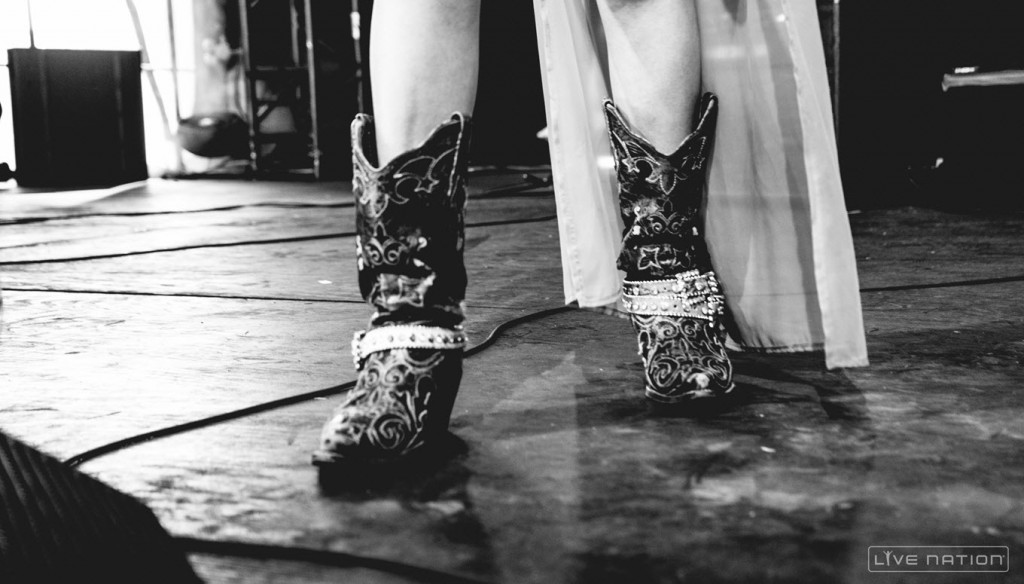 With the arrival of the warmer months also comes country music's high season, when dancing the days away under the sun seems to be the only right thing to do. In addition to its spirit of camaraderie and no-frills fun, country is known for the wildly unique fashion style that sets its crowds apart from the rest. While cowboy boots and denim cut-off shorts will always be staples of country's fashion camp, there are many other ways to make a statement that are fresh and inspiring — and sure to catch a couple eyes along the way.
Below we provide a little insight into the country fashion trends that will have your fellow concertgoers gazing with envy and admiration this year.
CAMOUFLAGE
Thought all those camouflage vests and suits you bought back in the day went out of style? Think again! This season, camo is making a serious comeback in both clothing and accessories, especially as recycled pieces. From simple, laidback sweaters to jeans with a pop of camo lining, the possibilities for working in the versatile print this year are virtually endless. Dressing up your simple black dress with a long camo jackets is a great way to incorporate a flirtatious edge at this year's country fests. For you more adventurous folks out there, full-on camo jeans are another bold option — just make sure to get the right tone or you might appear as more of an optical illusion than a trendsetter. The material is also a durable option for those who like to rough it at festivals and need something sturdier to last through the weekend.
SUEDE
Looks like leather is taking a backseat this spring as its more delicate cousin suede grabs the spotlight. Suede boots are the footwear of choice this year, introducing a more feminine flare to the rough-and-tumble look of their leather counterparts. Keep an eye out for ankle boots, because they provide a perfect exclamation point to those comfy boyfriend jeans you've got in your closet. Suede boots boast comfort and supreme style all at once — how can you go wrong with that?
COWBOY BOOTS
Reinventing an iconic fashion statement is one of the most exciting things trendsetters can do. This season we're seeing numerous innovations on classic cowboy boot styles. One twist on the traditional boot is a boho chic look, which incorporates stressed, tan leather and lends a more casual, laidback vibe to your outfit. Then there's the more extravagant approach – bedazzling your favorite pair. Stud detailing and elaborate embroidered designs are back in fashion, providing the perfect opportunity to get creative with an old pair. And if you really want to step it up a notch, boot tights are making a comeback this spring, offering splashes of bright color to the earthy tones usually favored by country fans.
MESSENGER BAGS
Backpacks have been a recurring trend in past years, but this year it's all about a good ole messenger bag to get you through the day. This is a great opportunity to show off your unique sense of style, so feel free to incorporate suede, turquoise gems, and even fringe. Throw it over your shoulder and voila — you've got the perfect bag for all of your toting needs.
HAIRSTYLES
When the guitars cue up and the debauchery begins, you'll want your hair to be on point. Luckily, trends are favoring the relaxed look. From the "straight-out-of-bed" look to asymmetrical bobs, hairstyles this season are low-maintenance and plenty flirty. If you want to add a little flare, try throwing on a head wrap or casual headband to support that cute new do.
SILVER BRACELETS
While clothes tend to get the most attention, sometimes it's the accessories that really make you pop in a crowd. This year it's the little things that count. Sleek and sexy silver bangles are a great way to add flare to both your casual and high-fashion outfits at festivals. They catch the eye without overwhelming the rest of your look — you're the main attraction after all!
You Might Like
As we prepare for Lollapalooza's virtual 2020 installment, let's look back at the moments that made the festival iconic.
Headed to Voodoo? Here's everything you'll need.
The first weekend of Austin City Limits Music Festival was picture perfect.