New Music Favorite: Get to Know ARKELLS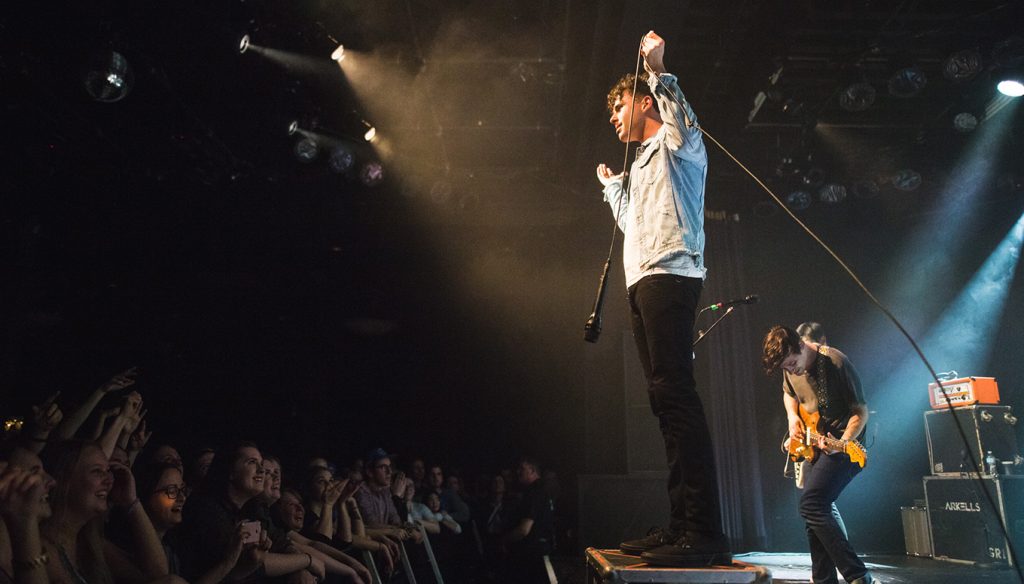 Hometown: Hamilton, Ontario
Latest Release: Their latest single "Knocking At The Door" is out now! Download your copy here.
See Them Live: Always on tour. The hottest ticket is their SOLD OUT show at the Budweiser Stage in Toronto on June 24th.
If You Like: Kings of Leon, The Black Keys, Arcade Fire
FYI: The band named themselves after a street in their hometown of Hamilton, Ontario.
It's a funny thing, that border that separates the United States and our friendly neighbors to the north. We share a landmass, a language (for the most part), and an accent (for the most part) but when it comes to music there's a host of kickass Canadian bands that are rightfully respected at home but still fighting to break big Stateside. First among them are Hamilton, Ontario's Arkells.
The band, which on its website traces its origins to the "mid-2000s Canadian indie-rock renaissance," plays to massive crowds at home and has won multiple JUNO Awards, which are like the Canadian version of the Grammys, but actually a lot cooler. Arkells high-energy soulful rock has matured over four albums to include various keyboards, samples and horns, along with the usual surging guitar chords and sing along vocals. Arkells' frontman Max Kerman explains the band's increasingly varied sound by saying, "I was kind of getting sick of indie rock being so self-serious."
Up until now, Arkells have been building their audience south of the border, but that's going to change in 2017. The band's latest single, "Knocking at the Door," sounds like some unholy alliance of indie rock darlings The Hold Steady and MTV-hit era Peter Gabriel, with horn stabs and 3-dimensional production highlighting all their strengths as a band. It's already hit the tops of the Canadian rock charts and we're hoping to see it in the U.S. rock charts next.
The band is putting together a U.S. tour right now, which will hit several high-profile fest dates and launch following an appearance at The Meadows Music and Arts Festival at New York's Citi Field. Keep an eye out for when Arkells come to your town and keep checking Ticketmaster Insider's New Music Favorites for exclusive online content from the band.
*Mobile users please visit a desktop computer to download your track
Watch
Tour
| | |
| --- | --- |
| Nov 2 | Detroit, MI |
| Nov 3 | Chicago, IL |
| Nov 4 | St. Louis, MO |
| Nov 8 | Cleveland, OH |
| Nov 9 | Cincinatti, OH |
| Nov 10 | Atlanta, GA |
| Nov 11 | Chapel Hill, NC |
| Nov 13 | Richmond, VA |
| Nov 15 | Philadelphia, PA |
| Nov 16 | Boston, MA |
| Nov 18 | Washington, DC |
Tags