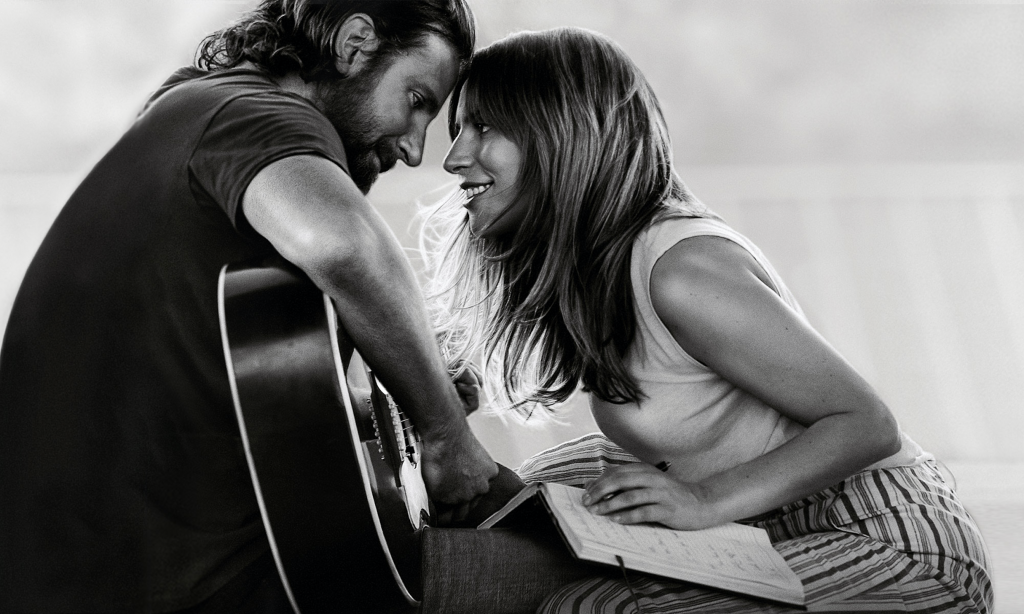 Watch the official trailer:
In her accomplished and exciting career, Lady Gaga has conquered everything from stopping hearts and shocking the world on award shows, to flying high above Super Bowl halftime.
This Fall, she makes her most serious and exciting leap yet – skyrocketing onto the silver screen as the lead character of Ally in the forthcoming remake of A Star Is Born – and the Oscar whispers honoring something other than her previously-nominated songwriting have already started upon the trailer's initial screening at CinemaCon.
Coming to a theater near you October 5th from Warner Bros. Pictures, Live Nation Productions, and Metro Goldwyn Mayer Pictures, the feature film is directed by and co-stars Bradley Cooper (yes, the Bradley Cooper), with the rest of the cast rounded out by Sam Elliott, Dave Chappelle, Anthony Ramos, Bonnie Somerville, Andrew Dice Clay, and more.
The film will also feature a slate of new songs from Lady Gaga – all performed live on-screen and co-written with the likes of her Joanne collaborator Mark Ronson, as well as alt-country staples Lukas Nelson and Jason Isbell, and surprisingly, Bradley Cooper.
On the heels of the former classic takes – like the 1937 original, the 1954 musical starring Judy Garland, and the 1976 rock opera starring Barbra Streisand – 2018's shot at A Star Is Born is anything but your typical remake, with the trailer being celebrated thus far as "terrific… utterly electric… genuine… [and] excellent" by critics and viewers alike.
Let us know what you think about the trailer across social using the hashtag #AStarIsBorn as the world shares their excitement over seeing Gaga shine like a whole new ray of light. We've rounded up the best reactions right here as we wait for opening day.
"Stop watching the trailer for #AStarIsBorn" pic.twitter.com/jdOpSLvQ77

— Bobby Caruso (@BobbysByline) June 6, 2018
Acting is what Gaga wanted to do since the beginning but she stopped chasing her dream because people discredited her talent. Well look at her NOW! Making her debut on the big screen this October! We should be proud of her. #AStarIsBorn pic.twitter.com/TuqlO7iUWw

— Lady Gaga (@artpopf) June 6, 2018
Come for Cooper and Gaga, but stay for the amazing cinematography of Matthew Libatique. Wow does #AStarIsBorn look absolutely gorgeous: https://t.co/EXR0KkF977 pic.twitter.com/rR4CET09G9

— Zack Sharf (@ZSharf) June 6, 2018
Lady Gaga achieved her dreams of becoming an actress.

This is an incredible moment for Gaga and her career! #AStarIsBorn ⭐️ pic.twitter.com/ym1GqCgYxF

— Lady Gaga (@ladygagaIoo) June 7, 2018
me arriving at the cine at 11:59 pm on October 4 #AStarIsBorn #ASIB pic.twitter.com/KVnRLT15VZ

— THE ⭐ IS A #ENIGMA (@IamPrincessDie) June 7, 2018
Me after watching Gaga in that first trailer for A Star Is Born. The vocals. The production. Her MIND pic.twitter.com/PldGc0CDAV

— Alexander (@alex_malloyy) June 6, 2018
Me yesterday pretending to know the lyrics and singing to "The Shallow" during the #AStarIsBorn trailer. pic.twitter.com/Uby3Dz6uMB

— Eduardo | Gaga ⭐️ (@BogantesEduardo) June 7, 2018
me hitting replay on the trailer for #AStarIsBorn pic.twitter.com/KRHNzkdMtE

— ASIBriehl (@ambriehlx) June 6, 2018