2020 Sports Preview: The Biggest Games You Need to See
It's the dawn of a new year and a new decade, and 2020 is already packed with more opportunities than ever to experience some of the greatest sporting events available. The following are some events to look out for to start the 2020s off right, so be sure to mark your calendar.
NHL Winter Classic (Dallas, TX)
January 1
The Cotton Bowl has long been known for its legendary moments on the gridiron, as the onetime home to the Dallas Cowboys and the Cotton Bowl Classic football game, and the current home of the Red River Showdown football matchup between Oklahoma and Texas. The Dallas Stars and Nashville Predators will add ice hockey to the venue's long resume, as part of the annual National Hockey League Winter Classic this New Year's Day.
College Football Playoff National Championship (New Orleans)
January 13
The four best teams in college football — LSU, Ohio State, Clemson and Oklahoma — will face each other in the Peach and Fiesta bowls to determine who will get their shot at glory. The CFP National Championship caps off an incredible year in FBS football, and will set the tone for the rest of the college sports calendar.
NHL All-Star Weekend (St. Louis)
January 24-26
The reigning Stanley Cup champions St. Louis Blues will be hosting the city's first NHL All-Star Game since 1988 at the Enterprise Center on January 26. The game follows a unique format in which the best players from all four divisions face each other in 20-minute semifinal periods, with the winners of each period facing each other in one final period to determine the winner.
Super Bowl LIV (Miami Gardens)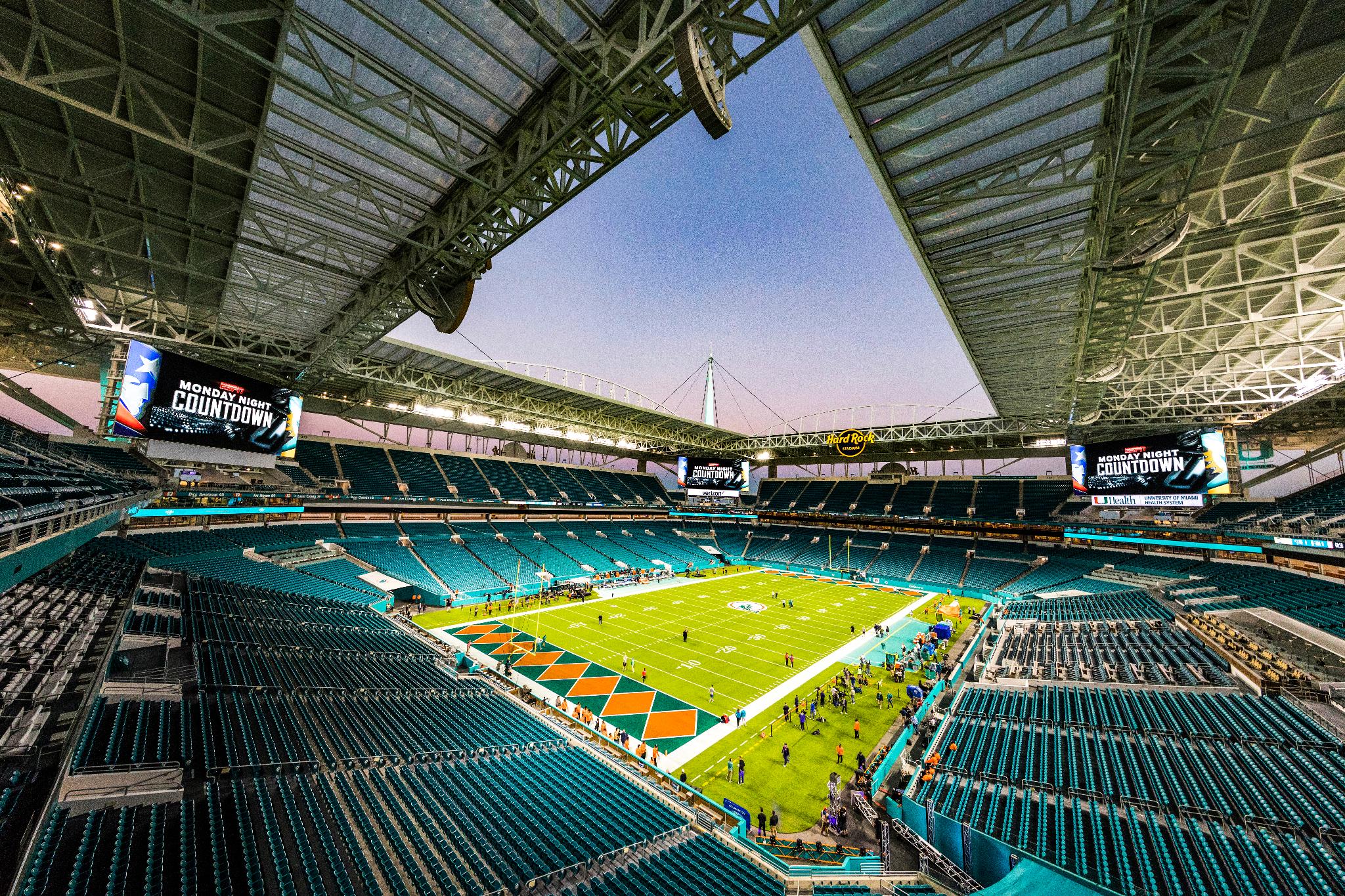 February 2
Super Sunday will grace South Florida for the eleventh time this February at Hard Rock Stadium. Over the last five decades, the Super Bowl has grown from a mere championship game into a national holiday, and this year's edition will be no exception. Musical legends Shakira and Jennifer Lopez will headline the halftime show, while the in-game action promises to be just as action-packed.
NBA All-Star Weekend (Chicago)
February 14-16
Valentine's Day weekend will be perfect for the basketball lover in all of us. This will be the first NBA All-Star Game held at Chicago's United Center; the game returns to the Windy City 32 years after Michael Jordan and Dominique Wilkins dueled each other in one of the greatest slam dunk contests of all time. The all-star game will be just one part of an entire weekend of thrilling hoops action, which also will include Friday's Rising Stars Challenge and Saturday's Skills Competition, featuring the slam dunk and three-point contests.
NCAA March Madness
March – April
The nation's eyes will focus on the best players in men's and women's college basketball this spring, as the NCAA Division I tournaments heat up. Mercedes-Benz Stadium in Atlanta will host the men's Final Four on April 4 and 6, while New Orleans' Smoothie King Center will feature the women's Final Four on April 3 and 5.
NBA Playoffs
April – June
The playoff field is as wide as it's ever been, giving more teams a shot at glory. With stars like Kawhi Leonard, Kyrie Irving, Luka Doncic and Anthony Davis shaking things up in the league, few know what to expect this postseason, besides a sure-to-be epic Finals.
MLS All-Star Game (Los Angeles)
July 29
The best players in North American professional soccer will face each other at Banc of California Stadium this summer, as the MLS All-Stars take on a likewise all-star squad from Mexico's Liga MX for the first time. Bob Bradley, whose LAFC team calls Banc of California Stadium home, will be coaching the MLS team in what should be a spectacular exhibition game.
US Open (Flushing Meadows, NY)
August – September
The best players in tennis will head to Flushing Meadows for the final major of the season from August 24 to September 13. In 2019, Bianca Andreescu upset legend Serena Williams to take her first Grand Slam title, while Rafael Nadal beat Daniil Medvedev for his fourth U.S. Open and 18th Grand Slam singles title.